Home
»
Disney Pixar CARS 3
,
Mattel Disney Pixar Diecast CARS 3
Mattel Disney Pixar CARS 2 Diecast: San Diego Comic Con 2012
It looks like it's really happening – it was rumored but now it looks like it's actually happening …
This year's Comic-Con vehicle captures the hilarious scene from Cars 2 when our beloved Mater finds himself in a Tokyo bathroom stall. Just like in the movie, Mater is surprised with flashing lights, catchy music, and a thorough scrub down! This memorable moment comes to life with moving side jets, as well as a jet that springs up to clean Mater's undercarriage, lifting his back wheels off the floor. Covered in suds, Mater experiences hi-tech action unlike anything he's ever seen in Radiator Springs!
It takes three batteries and while there's no actual pic of Mater yet, hopefully, we will gets Sudsy Mater …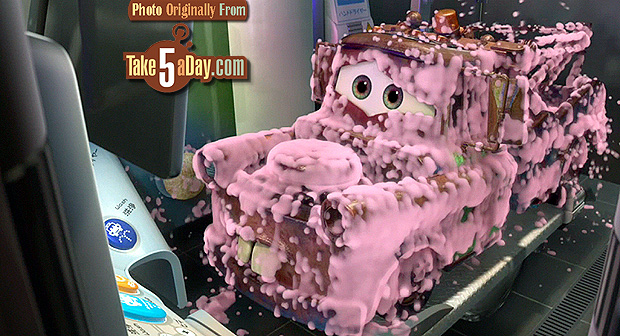 But it sounds like the playset will replicate this clip from the film (without any water or suds shooting out, of course) …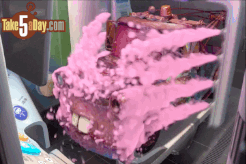 So, that sounds pretty promising – actual interactivity …
And the box looks nice so far …
Like last year, you can pre-order (not YET!) if you are definitely going to SDCC, you pick it up there (with ID and all that) or of course, wait in line (or for East Coasters, wait ON line) at the show to buy there.
(NOTE: If you select SDCC pickup and you do not personally pick it up, you "forfeit" it so ONLY pre-order if you are definitely going).
If there are extras, they will be available after the show online at MattyCollector.
It's $30 each not including shipping.
As usual, Kevin NASCARBronco will take pre-orders to help out if you're not attending – I'm sure he will add his email below. If there any other volunteers, drop a line below and you can work out your arrangement. I will also add this as a forum topic if you want to continue it there.
Join the forum discussion on this post

metroxing

28 April 2012

Disney Pixar CARS 3, Mattel Disney Pixar Diecast CARS 3


35 Comments