Home
»
Disney Pixar
,
Disney Pixar CARS 3
Disney California Adventures: CARS Land Opening June 15, 2012
While Disney has only officially said June, Al Lutz of Miceage/MiceChat.com has much more reliable and detailed info for us.
"The dates for DCA's grand re-opening event have finally been chosen. June 14th will be the media day and private celebrity party, and June 15th will be the official first day of operation for customers. There will only be a handful of days for Annual Passport Previews and soft openings for Cars Land in early June, and those dates aren't confirmed yet. June 15th will also kick off DCA's new operating schedule of daily 8AM to 11PM hours through the summer."
Al also says that D23 members and Annual Passport holders may get an early preview – maybe just a walk through? Or not all the rides up & running everyday in the preview day.
"… Plus expect several soft opens as they finish up CARS land. If you check back on our coverage of the Star Tours and Mermaid ride opens it may give you an idea of what to expect. Except for a few installs and tweaks on the Racers, the rides are pretty much done. The work you see now going on involves shops, dining, and overall theming still underway."
If you get a D23 email update, let us know … or if you're a passport holder in the SoCal, you might want to start checking it out in early June.
Al notes that the relaunch Star Tours was a 5-hour wait on day one so keep that in mind if you decide June 15, 2012 is the day you want to go. 🙂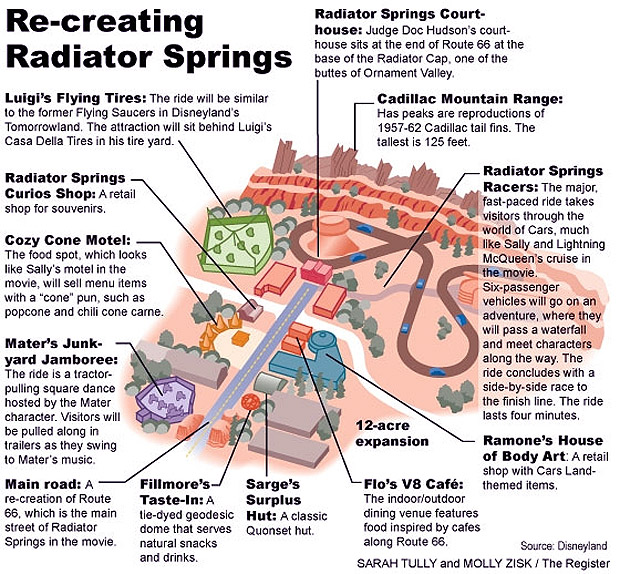 Map courtesy of the OC Register who also have been tracking the build closely in the past few years.
These dates are not 100% locked in – Disney is not announcing official official dates just in case like Luigi's tires falls over or something but short of that, I think we can pretty much bank on Al's info that CARS Land is opening June 15, 2012.
More travel info as we get closer but if you've been thinking about heading out to Cali this summer, come on out! There's lots to do and lots of great eats and all freeway traffic low 'n slow – just for you!
Thanks Al of MiceAge!


metroxing

17 February 2012

Disney Pixar, Disney Pixar CARS 3


4 Comments