Home
»
Disney Pixar
,
Disney Pixar CARS 3
MagCloud Sale: Take Five Checklist Magazine Sale (LAST DAY)
LAST DAY – LAST HOURS
MagCloud is having a sale* …

So, all of our magazines are $1 to @$2 off … CARS 1 is now complete. 6 volumes cover Desert Art to Lenticulars. Each issue features high res photos of everything released under that motif or year.
Click through to each magazine issue and underneath is a button to launch the preview.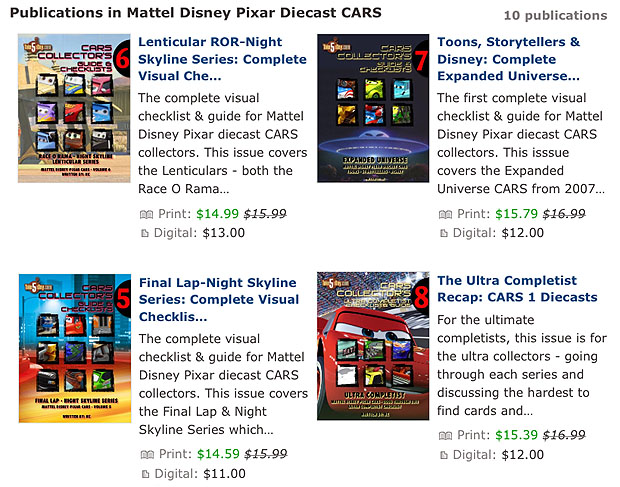 Issue #7 is for all the Expanded Universe CARS: Storytellers, Toons, Mail-Aways, exclusives, etc, etc … Issue #8 is detailed information on the most collectible releases of each series – in some cases, counterfeit CARS spotting as it were.
The "annual" issues feature everything released in that given year/design motif-theme including all cards, box sets, playsets and anything relevant … the OPENER issues are just that. No on-card photos, just a individual VISUAL checklist of every CAR open since in 95% of the cases, if you're opening, they pretty much look the same from Supercharged or Final Lap (exceptions and variants are noted).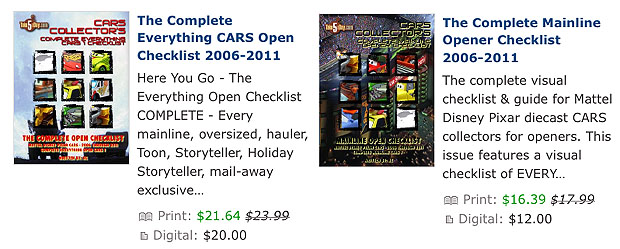 You have two choices.
COMPLETE EVERYTHING is just that – it includes every mainline, and every expanded universe CARS diecast from 2006 to 2011.
COMPLETE MAINLINE 2006 to 2011 does not include Toons or the Holiday Storytellers plus a few others not "mainline."
That is the difference.
Thanks for your support and enjoy! (Your purchase supports TakeFive).
*Note – while Magcloud's Sale says 25% off, it's really 25% off the wholesale price which is different than our retail price (which varies depending on the page count) so it translate into $1-$2 off …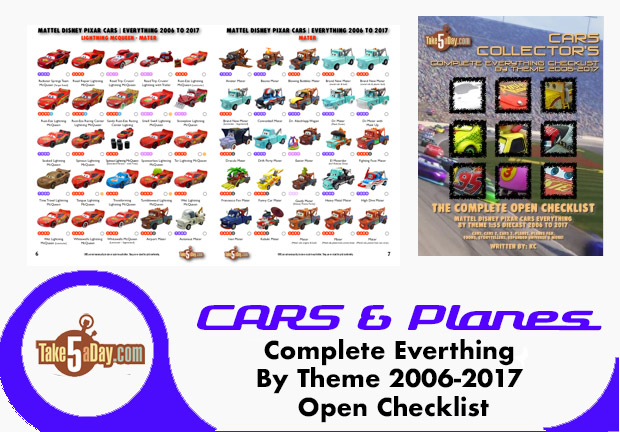 metroxing

14 February 2012

Disney Pixar, Disney Pixar CARS 3


3 Comments