Home
»
Film
Ferris Bueller's (Older Dude's) Day Off – Honda Commercial
The Matthew Broderick Ferris Bueller Super Bowl ad is available for early viewing …
(the extended version)
There are "dozens" of references to the film … some are pretty obvious and direct and others are subtle such as … "Behind Broderick on the roller coaster on the Santa Monica Pier is a man wearing Cameron's Detroit Red Wings jersey and at the museum a man is seen wearing Bueller's leopard print vest."
Fans of the film will love the BIO Channel's "Inside Story" of Ferris Bueller Day Off. It's great fun as they leave no stone unturned and get nearly all of the original cast back to reminisce about the film.
And it's even available to stream COMPLETE and FREE! (click on the graphic below for link also) … or if you prefer it in HD and on your TV, the BIO channel is airing it on Tuesday, the 7th and Wednesday the 8th.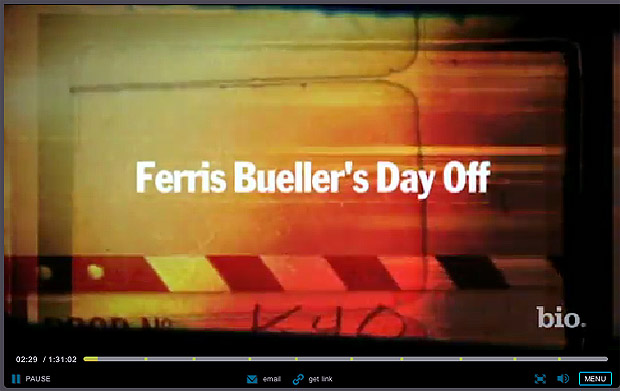 Did you know you can buy an Abe Froman t-shirt? Or if you're feeling, really, really nostalgic, Ferris Bueller NEW SEALED on VHS!