Home
»
Film
Adventures of Tintin Opens Today & Book Checklist
The "animated" film Adventures of Tintin opens later today – directed by Steven Spielberg and produced by Peter Jackson – two guys who know how to tell a story.
You can check out all the trailers and featurettes here …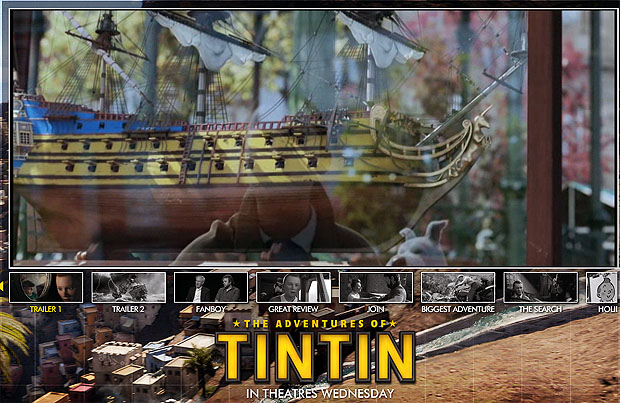 For most Americans, they don't know much about Tintin, Tintin is really kind of a blank slate, a boy/teen who's a journalist but winds up with adventures all over the world.
While I have not seen the film yet, the graphic novels are great fun and hold up pretty well even though some are nearly 80 years old.
There are technically 24 of them but really #1 is an anti-communist diatribe that repeatedly hammers that point home over and over and over (and over again) and really not worth reading. Herge, (writer and artist admits this as much himself that this was before he knew how to make an point in an entertaining manner).
#2 is frankly racist. Adults can read it in context and get a glimpse and snapshot of prevailing attitudes in Europe and most Western countries in 1930 towards Africans and Africa. It is available in the US now but generally only by special order.
#3 is un-PC so again, you don't want to have your pre-teen kids read it without context but adults can separate out the old un-PC from the parts that are still entertaining. It's basically Tintin in the American wild west and you can guess some of the interaction and attitudes in the 1930's. Adults can also skip it as it's frankly not that entertaining and probably the weakest entry of the rest.
#24 is really incomplete. It's interesting to huge fans but not much of a story so you can pretty much skip it.
So really #4 is the starting point for most readers – certainly pre teens and interested adults – really 20 solid adventure graphic novels that still hold up.
The film is stories #11 and #12 – the Secret of the Unicorn and Red Rackham's Treasure.
Amazon links below – most have a preview – note, some are 2-parters.
What's perfect is you can buy one – read it yourself and decide if it's appropriate for your kids but it's entertaining enough still for adults.
These are the dates of original publication, plus revisions via Wikipedia.
1. Tintin in the Land of the Soviets (1929–1930, 1930)
2. Tintin in the Congo (1930–1931, 1931, 1946)
3. Tintin in America (1931–1932, 1932, 1945)
4. Cigars of the Pharaoh (1932–1934, 1934, 1955)
5. The Blue Lotus (1934–1935, 1936, 1946)
6. The Broken Ear (1935–1937, 1937, 1943)
7. The Black Island (1937–1938, 1938, 1943, 1966)
8. King Ottokar's Sceptre (1938–1939, 1939, 1947)
9. The Crab with the Golden Claws (1940–1941, 1941, 1943)
10. The Shooting Star (1941–1942, 1942)
11. The Secret of the Unicorn (1942–1943, 1943)
12. Red Rackham's Treasure (1943, 1944)
13. The Seven Crystal Balls (1943–1946, 1948)
14. Prisoners of the Sun (1946–1948, 1949)
15. Land of Black Gold (1948–1950, 1950, 1971)
16. Destination Moon (1950–1953, 1953)
17. Explorers on the Moon (1950–1953, 1954)
18. The Calculus Affair (1954–1956, 1956)
19. The Red Sea Sharks (1956–1958, 1958)
20. Tintin in Tibet (1958–1959, 1960)
21. The Castafiore Emerald (1961–1962, 1963)
22. Flight 714 (1966–1967, 1968)
23. Tintin and the Picaros (1975–1976, 1976)
24. Tintin and Alph-Art (1986, 2004) Unfinished work.
Keep in mind, that while in theory, these collected versions are better deals price wise, they actually have shrunk the illustrations and are almost unreadable so skip these versions …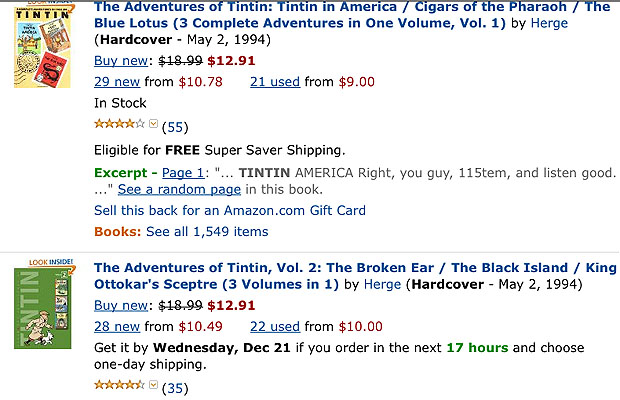 Instead you want the 8.5″ by 11″ paperback ones that are one story in one book.
They are about $9 dollars each on Amazon – the hardcover ones are about $40 each. The list of the 20 or so you want above are linked to Amazon.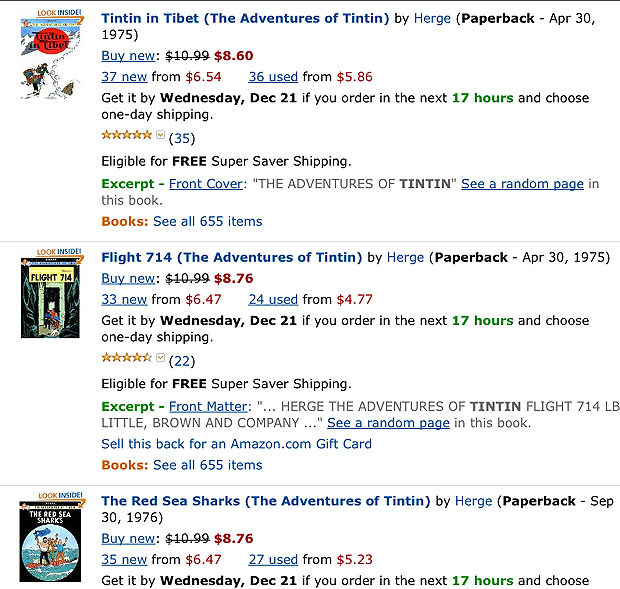 You can read more about the artist and series at Wikipedia.