Home
»
Disney Pixar CARS 3
,
Mattel Disney Pixar Diecast CARS 3
,
Retail
Amazon Toy Clearance – Supply & Demand Pricing Changes
Last week, I posted links to many CARS 2 items (plus a few other toys) and just casually checked in to see if prices had changed and lo and behold, it's like an active stock market – the power of supply & demand. Some have more price drops, a few had price increases and I guess TakeFivers are active market makers?
Again, just click on the Amazon photo block to be internet transported to that page …
Or check out all the CARS Clearance HERE.
Fan Stand Carry Case … apparently still not selling – another 6% price drop to $14.99!

Another $3 buck drop on the Playtown …

The Pop Open Speedway, I guess Amazon sold a few so the price went up $.01 … (I'm not going to bother to replace the pic because, really, $9.99 is $10. 🙂  ).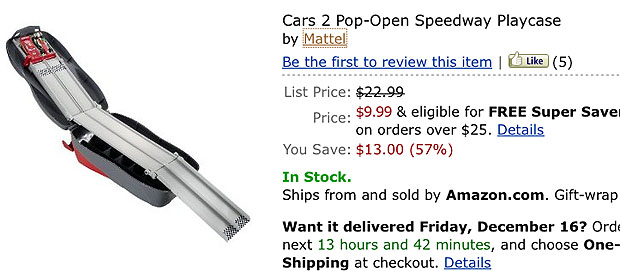 Holley with Wings, I told you she was hard to find, NOW, $2.50 MORE than a few days ago … still a nice price (and below original wholesale).

You can also pick up the Double Decker Bus 3-pack is now up a dollar – $8.99 and the Finn Sub 3-pack remains stable at $9.99.
The Spy Jet Escape Playset is the best, it's another $.10 less – because they are already scrapping the margin barrel. They can cut no more but ok, one more thin dime to entice you buy the stock out of the warehouse.

On the other hand, the Barrel Blowout is clearly 12% much more fun as it went up in price and now as the people have spoken – it's 37% more fun than the Spy Plane set.

You can also get the Stunt Ramp Getaway playset for $5.99 now. Up $.89 – it's slightly more fun.
The Miguel & Lewis Hamilton launchers have no changed in price – there's not much more to cut from a way below wholesale price and apparently at $4.80 was not enough to entice enough buyers to move the market.

And I'll bet you exactly $4.80 that you do not get a chrome Lewis … but it's your money. 🙂  You can also get Lightning McQueen.

Spy Train still no action – price stays the same.

Though they must've sold a few of the Crabby Boat, it's another $.39 extra this week, I won't bother changing the graphic …

No surprise, the only Lego item is up $2 to $9.99 now (old art-same link).

Well, they must've sold enough fake logs this week as the price is steady and holding …

Same with these, must be there's not much more to cut …

But Zero Grav Finn is in price freefall … if you thought 70% off was a decent, now, it's another $2.01 off to $9.99. How bad can it be for $10?

A Carerra slot set for 50% off … I won't update the artwork but another $3 off to $51.99

And you can pick up some extra GeoTrax CARS 2 …

For the Seinfeld fan, at the right price!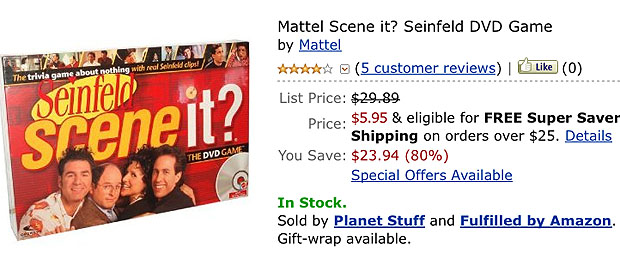 Even Spongebob is on sale … Guess he's not Spongebob worthy …

Giant Star Wars.

Everything's on sale – even Hello Kitty! As I suspected, the MILLION-BILLIONS of Hello Kitty fans rallied- she's back to $7.63 …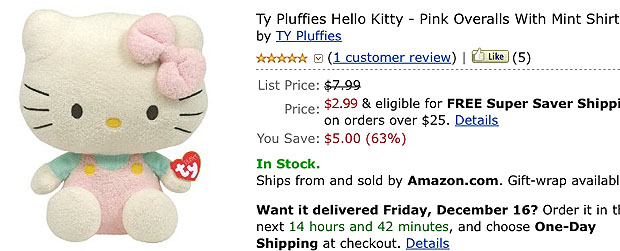 And apparently enough Chet BoxKaar's were sold to drive the price all the way to "list price."

You can scroll to the bottom of the Chet Boxkaar page to see the other haulers which range from $10.50 and up … most with free shipping. Paul Valdez is the low price leader now.
And a 3D HDTV sale … and Nerf.
So, CARS is not only entertaining but you can teach the kids the world in action: supply, demand, price elasticity, market price, cornering the market on $8.99 haulers, sell high, buy low, market correction and when Hello Kitty is on sale, you go all in.
Happy Shopping!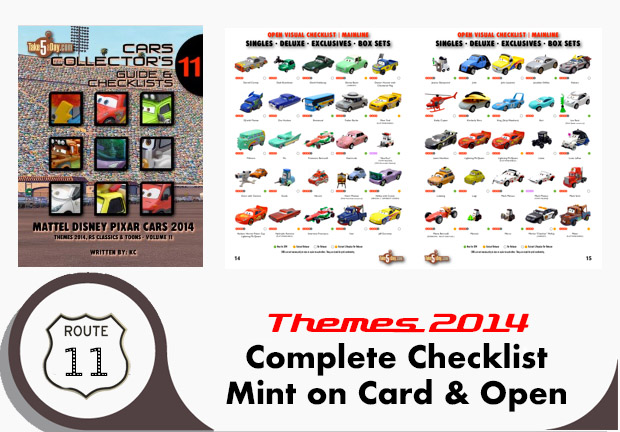 metroxing

17 December 2011

Disney Pixar CARS 3, Mattel Disney Pixar Diecast CARS 3, Retail


3 Comments