Home
»
Gadgets
FreeTalk Connect: Now Skype From Your Home Phone
Just attach this to your router and plug in the home phone you're using and you can Skype away.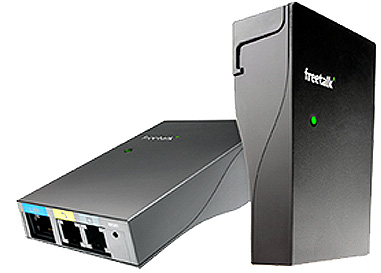 # Free Skype-to-Skype calls – call anyone else that's also on Skype for free – whether they're using a computer, mobile, tablet or TV.
# Calls to landlines and mobiles – Need to speak to someone who's not on Skype? Use Skype on your home phone to call their land line or mobile instead at low rates.
# Inbound and Outbound calls: Accept incoming PSTN and Skype to Skype call as well as initiate Skype to Skype or SkypeOut calls directly from your home phone.
# Call Forwarding: Forward existing home or business line to either Skype voice-mail or forwarding number of choice.
You can read more about it here.
You do need a Mac or Pc to configure the device but after that – you can skip the computer so perfect for the not-so-tech literate who might not want to use a laptop to make a call – this works on their regular phone.
Normally $39.99 at Amazon but OS right now or if you definitely want it for a holiday gift, $49.99 is available from an Amazon 3rd party seller (free shipping).
If you did not know, Skype is also available for your iPhone. (FREE APP).
If you're not familiar with Skype, you can read all about it here.