Home
»
Mattel Disney Pixar Diecast CARS 3
Mattel Disney Pixar CARS Diecast – Museum Exhibit "Preview" & Auction Reminder
Don't forget the RV prototype auction is TOMORROW so if you intend to bid in person, online or via the telephone, get all your paperwork and registration in order.
You can read all the details on viewing, bidding, etc, etc in this post HERE.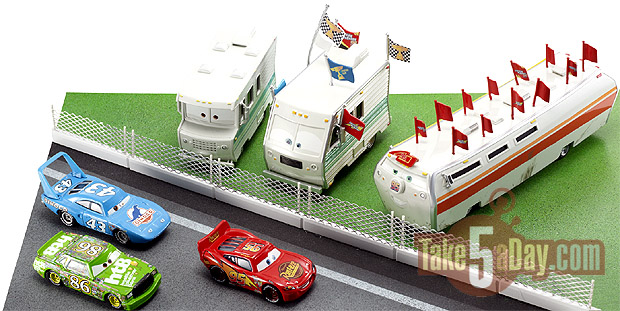 Lot No: 144A
A Piston Cup Race scene display inspired by Disney·Pixar Cars film,featuring hand-built, plastic prototypes of never produced in die-cast characters Albert Hinkey "the Buffet Master", Doug "R.M.", and Clayton Gentlebreeze; cheering on their favorite racer Lightning McQueen, as he races against Chick Hicks, and Strip "The King" Weathers. Die-cast racers are from the Desert Art Original Series released in 2006. All cars removable from display unit.
Proceeds from the sale will go to benefit the Robert E. Petersen Free School Bus Program, which provides free transportation to the Petersen Automotive Museum for schools in underserved communities.
The auction takes Saturday, November 12, 2011 at the Petersen Museum in Los Angeles.
The auction is being run by auctioneer, Bonham's who has estimated it will sell for US $300 – 500 but I have a feeling it should go for much more. 🙂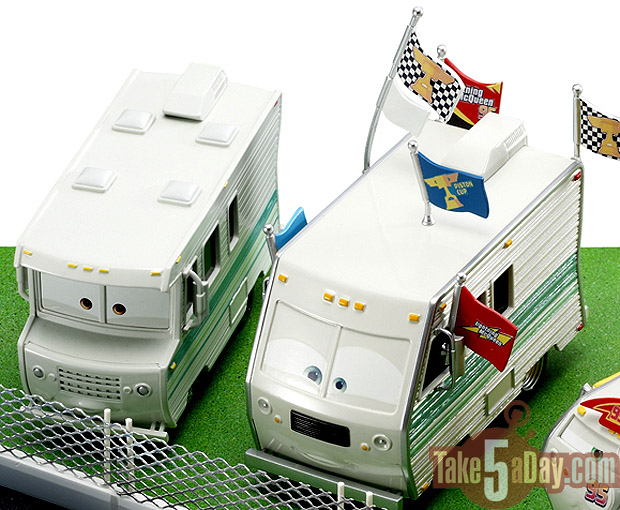 These are ONE of a KIND Prototypes so if you want them, only one available. Here's Clayton Gentlebreeze & Doug "R.M."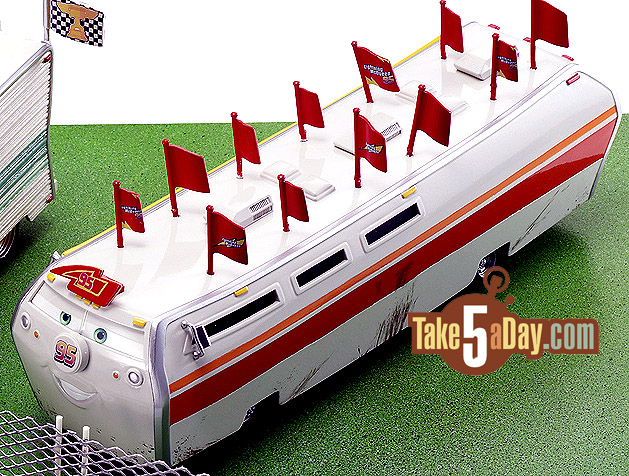 And of Albert Hickey.
Yes, you get the diorama and the three racers (NOT prototypes).
The auction takes place at the Petersen Museum which is also hosting a new Matel Disney Pixar CARS exhibit which is opening to the public tomorrow on the 12th also.
While I won't make it to LA for the invited guest opening TODAY, we'll be represented by friends of T5 who promise to take lots of photos and test out the prototype security barricade.
Here is a preview of a preview taken with an iPhone through a Blackberry. 🙂

In celebration of their Disney•Pixar Cars die-cast vehicles collection, Mattel, the #1 toy maker, will unveil From Silver Screen to Die-cast: Disney•Pixar Cars Imagined by Mattel, a comprehensive exhibit showcasing the history of its Cars die-cast collection. Located within the Petersen Museum's "Hollywood Gallery," this special six-month exhibit offers families and Cars collectors an entertaining
and informative glimpse into Mattel's blockbuster toy line.
From Silver Screen to Die-cast: Disney•Pixar Cars Imagined by Mattel features:  
•Movie scene dioramas featuring hundreds of real die-cast Cars vehicles
•Rare and never before released to the public die-cast vehicles
•New 2012 Super Chase Collection featuring limited run vehicles for the ultimate collector  
•Innovative micro-technology showcase of the hottest holiday toy of 2011: Lightning McQueen Alive  
•The journey of Cars die-cast packaging, a design that revolutionized the die-cast
category
So, if you're headed there on the 12th, you can check the exhibit and bid often and early on LOT 144A. Good luck!

metroxing

11 November 2011

Mattel Disney Pixar Diecast CARS 3


8 Comments