Article Archive for 1 November 2011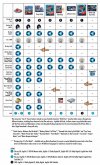 Disney Pixar CARS 2: So Which Blu Ray DVD Disc Version Did You Buy?
Posted in
Disney Pixar CARS 3
on 1 November 2011
Stats: and
30 Comments
Did you get your Blu Ray DVD yet? Watch it already? Do you feel differently about CARS 2 watching it at home? What version did you choose? How's the 3D? How are the extras? Don't forget your Disney coupon and rebates offers!