Home
»
Disney Pixar CARS 3
,
Film
Disney Pixar CARS 2 Blu Ray & DVD Pre Order + Options
The CARS 2 Blu Ray + DVD options just grew even larger.
First, the MASSIVE Director's Edition – this 8-DISC set also comes with a diecast, "John Lassetire."
Available at Amazon or at Walmart (with free shipping offer).
Both @$79.99 – Amazon is currently offering $7 off if you buy another Pixar BR-DVD set.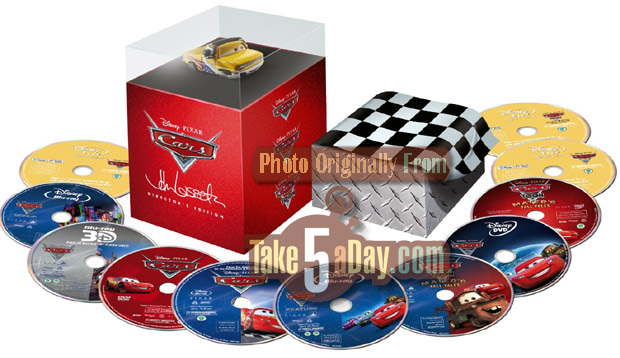 Technically, you get 11 discs as you get 3 discs that launch the process to download the digital copies of CARS, CARS 2 & Mater Tall Tales Toons.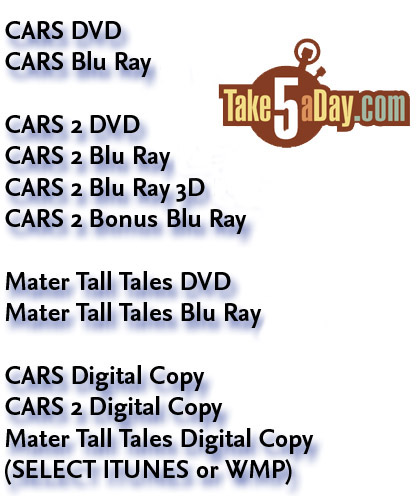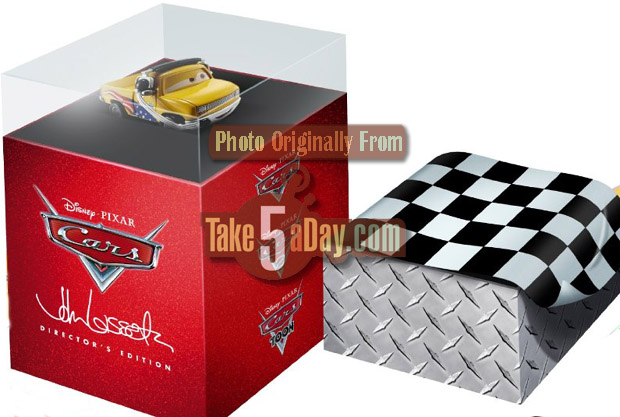 (the silver box is the 11-disc holder).
Now, John Lassetire is scheduled as a Kmart Crew Chief 2-pack to arrive "soon." (It's already out in Australia – will this box set version be "different?" Ransburg? Different eye position – seems likely but?).
Some of the extras are:
Director Commentary, Short Films, Featurettes, Trailers; Languages: English and Spanish; Subtitles: English SDH (Subtitles for Deaf and Hearing Impaired) and Spanish.
New Cars Toon: "Air Mater"
Exclusive (Toy Story) Short Film: "Hawaiian Vacation"
Theatrical Short Film: "Paths to Pixar"
Featurettes:"'Cars Land' Sneak Peek"; "Studio Stories: McQueen Has No Hands"; "Making 'Mater's Tall Tales'"; "Unmade Tales Intro by Rob Gibbs" and "Cars Toons Storyreels"; "'Mater Private Eye' Trailer," "Runway Mater"; "Stunt Mater"; "Backwards To The Forwards"; "Car-nival"; "Import Mater"; and "Mater Bumper-to-Bumper"
Old Mater Tall Tales: "Mater the Greater"; "Unidentified Flying Mater"; and "Mater P.I."
WALMART EXCLUSIVE: CARS 2 Blu Ray Combo Pack Gift Set.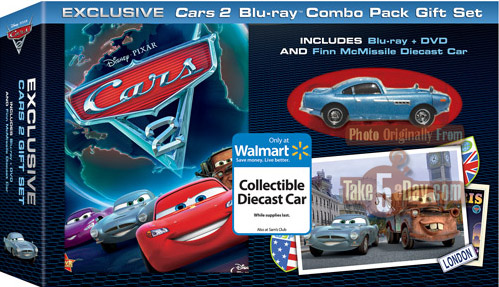 You get the Blu Ray disc, a DVD version + a Finn McMissile diecast. As far as I can tell, it looks like the regular Finn McMissile but we'll keep you posted.
For VUDU streamers, Walmart.com also offers a Blu Ray + DVD + VUDU Digital Copy version. Vudu is Walmart's new streaming service – you can read more about it here.
If you have a 3D TV and don't want the 11-disc version, the Disney Stores is offering a nice deal. If you pre-order, you get 4 (10″x14″) lithos of the retro posters as part of the deal AND you get a "coupon code" for $20 off your $40+ purchase at the Disney Stores or $10 off $39.99 or below purchase. You only have two weeks to use this coupon code so if you plan on buying other products, it's a nice deal. (click on the link for more details) but you do have to pre-order online by October 31, 2011 to get both extra offers.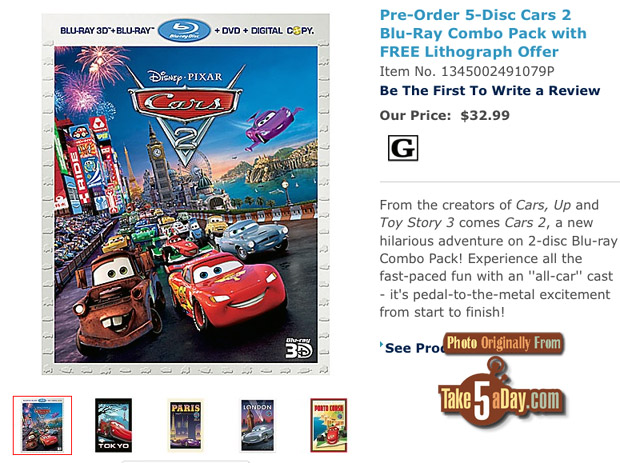 If you don't have a 3D TV, Disney is offering the same exact deal on the regular Blu Ray + DVD + 4 Mini Lithos + Coupon if you pre order by October 31, 2011 (click on link or graphic below).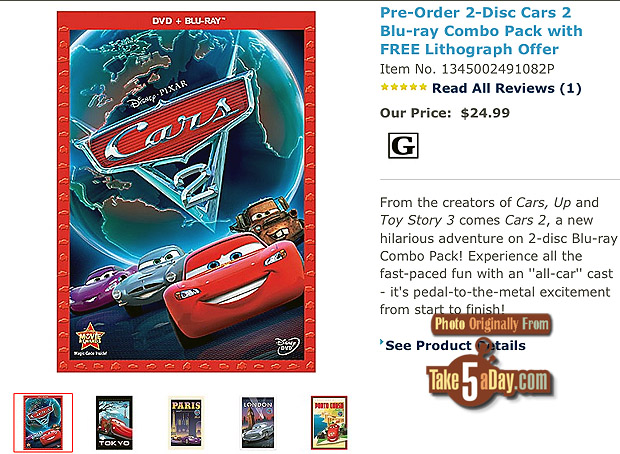 And of course, TRU has an exclusive also.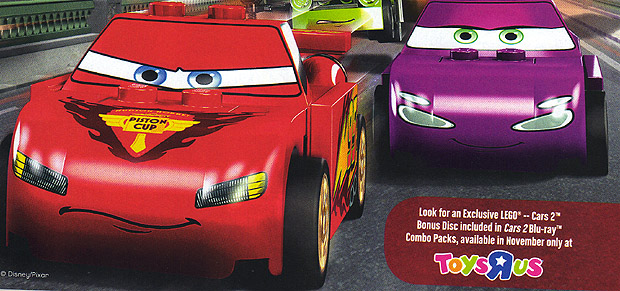 There's not much more info than the heads by from CollectorMOM (nothing online yet).
Presumably, both the 5-Disc 3D version and the 2-disc set will come with an extra disc of Lego material.
It's almost certain to contain the CARS 2 trailer done up as Lego-style …
And of course, the MAKING OF CARS 2 Lego Trailer …
But both these only fill about 5-minutes so hopefully there's much more?
So, if ToysRUs got a special 2-disc version, can Target or Best Buy be far behind? Nothing listed yet but we'll keep you posted. Best Buy seems to be offering their "special" metal DVD case for CARS 2.
If you're not interested in the posters or the Lego disc, you can also get the regular versions from Amazon.
The CARS 2 Blu Ray DVD – the 5 pack comes with: CARS 2 DVD, CARS 2 Blu Ray DVD, CARS 2 Blu Ray 3D DVD (requires a 3D TV), CARS 2 Bonus Disc in Blu Ray and the Digital Copy trigger disc.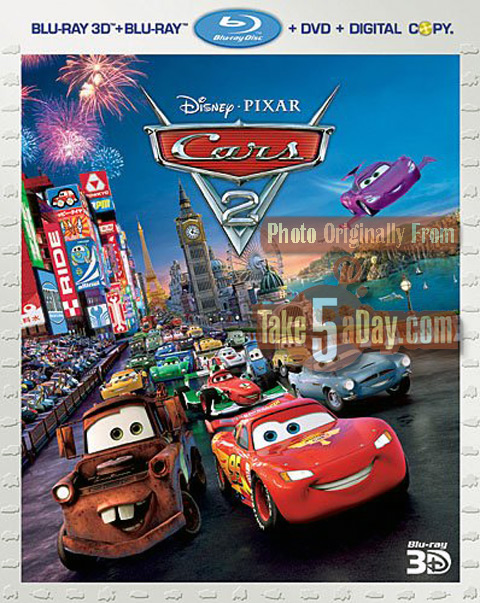 You can find all your Walmart options on this page.
Or if you just want a digital copy – available for pre-order on iTunes.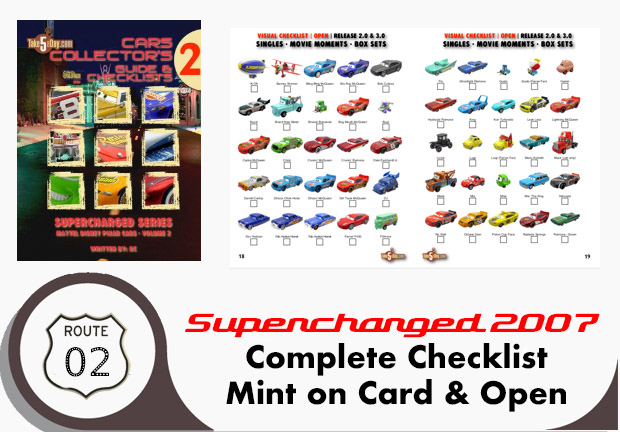 metroxing

7 September 2011

Disney Pixar CARS 3, Film


15 Comments