Home
»
iPhone
,
Mobile
Buying a Mobile Cell Phone in America
Surprise, the mobile cell phone companies try to make life as complicated as possible so here's a quick top down look at your choices and options as you answer questions along the way.
Note – this is intended as a guide for the average person, if you know your way around LTE and rooting your phone, you know what you're doing and you can bork your phone with the best of them and do not need my help. 🙂
For everyone else …
#1 The big question is whether you want a state of the art smartphone or you just want a phone.
If you want a new state of the smartphone, you pretty much have to go with the Big 4 or perhaps better described, the Massive 2 and the 2 Others.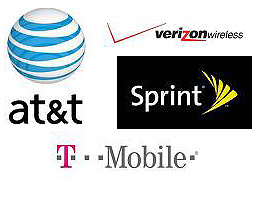 That would be AT&T & Verizon as the two massive choices and Sprint & T-Mobile as the slightly smaller but still huge companies. Basically you can choose from among the newest phones (including iPhones, the latest Android phones & Blackberry's) at a subsidized price – you sign a 2 year contract with a large termination fee (up to $350) if you opt out early. Though after a year or slightly more, you can generally upgrade to a new phone – of course, they reset and roll forward the 2-year contract to your new date.
You choose a package of call minutes, text options and internet surfing. With most smartphones now, you have to sign up for the "big bundle." For the single user, this usually is $70 to around $100 – you can upgrade to the family plan with additional users as part of your pool of minutes and internet usage for around $10-$15 per person.
You generally need a good credit rating to get an account – though you can also provide a security deposit so you don't run off with your phone.
And unlike in most/many other countries, the phone is locked to the carrier so you cannot switch to another carrier with this phone (there are also technological reasons that we'll get to later).
If you're ready to sign up, add another phone or take a look, Amazon Wireless is set up for you to look through all 4 of these carriers.
Now the big geek decision is that AT&T & T-Mobile are GSM and Verizon & Sprint are CDMA. Without too detailed of an explanation, it's simply two standards of transmitting your voice & info. Ultimately, it's not really all that important – the two main differences are if you intend to use your phone overseas, there are a lot more GSM standard carriers than CDMA and the other one is that GSM allows you to talk and surf on the net at the same time – for instance, you can be talking on the phone and look up an address on Google maps. So, if you think this might be important to you, then go with GSM.
One next technology looming is the 4G or 4G LTE that is being bandied about. that is the next transmission standard for data retrieving and sending – much faster than the current standard, "3G GSM or 3G CDMA"  The main problem is in 2011, it's really very incomplete and surprise, full of hype, puffery and outright lies. 🙂
So, again, if it's important for you to download full movies or surf much faster, and you don't mind paying A LOT extra for the privilege and it's a HUGE battery drain, you know what you need and you don't need our meager advice … but for the average user, LTE is incomplete (not nationwide), costlier, questionable as to how much faster it is and a battery drain so for now, it's an option but not necessarily a very good option for most. And of course, at home, work, the office and even in a lot of places, WiFi is faster than 4G.
Here are all the phones available at Amazon with a phone contract (with the "subsidized" prices).
#2 If you don't want a 2-year contract; don't really care about the absolute latest smartphones; or just want a regular phone or don't care to deal with a credit check; then there are at least a dozen "pre-paid" or no-contract mobile options with these as your most popular choices …

And no surprise, to be competitive, they are cheaper than than Big 4 – usually offering you unlimited call, text and internet from $40-$70 a month. While they do not generally offer the absolute newest phone releases, these companies do offer you a wide variety of choices ranging from $200 phones to nearly free. Amazon offers a wide variety of no contract phones & mobile choices.
It should be noted that to be more competitive, the Big 4 also offer no-contract phones so you have the full range of choices – the Big 4 tends to offer you fewer minutes, texts or internet usage so you can decide accordingly. Also, note, these smaller companies simply "rent" bandwidth from the Big 4 so it's the same network. Again, you can look through Amazon's choices to decide which is best for you.
The advantage no contract is pretty obvious of no long term commitment so if you don't need the latest phone or the biggie, no iPhone.
(the Big 4 include general inducements to be under contract such as AT&T offering rollover minutes, etc, etc …)
#3 What about the iPhone?
Amazon, does not sell the iPhone directly. You can buy an unlocked iPhone at Amazon (or at Apple stores now – at the unsubsidized price, of course). If you buy a GSM one, you can use it on AT&T's network by buying a SIM card (see next section) and sort of on T-Mobile's network. The problem is T-Mobile's 3G is not currently compatible with the iPhone so you only surf the internet at the much slower 2G … though of course, it's just as speedy on WiFi and the phone portion (and apps) work just fine (that do not need the internet at 3G speed). As noted above, phones are locked to the carrier because they subsidize the cost of the phone and basically spread out that cost over 2 years. You can generally find a small mobile shop who will unlock a phone for you – or if you're handy and not afraid, you can look around the internet for software to DIY.
You can also find a multitude of other unlocked phone choices at Amazon.
#4 What's a SIM card?
A SIM card is a tiny plastic card that has your carrier and phone "ID." When you buy a phone with a contract, a SIM card is included and your activation includes accessing that information to ID and keep track of your phone (otherwise, hard to find where to direct your calls to). For instance, if your phone breaks and you get a new phone, you simply take out the old SIM card and put it in your new phone and your phone number and ID is identified with the new phone now. But you can buy an unlocked iPhone-phone and buy a carrier SIM card to open an account and you can avoid a contract (or if you have an older phone to pass along to a family member – just buy a new SIM card). Amazon sells them by carrier – some include minutes – others do not. Keep in mind the iPhone uses a MINI SIM so if you're looking to add an iPhone to a current phone plan, be sure to get the IPHONE MINI SIM. You can cut an existing one or simply buy a new AT&T or T-Mobile one.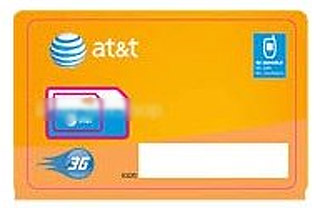 That little "card" under the AT&T logo is the regular & mini SIM that you punch out and install. Having an unlocked phone is also nice for overseas travelers. Instead of having to pay exorbitant roaming rates – just swap out your SIM card in another country and you have "switched" to that carrier while overseas (Note – CDMA phones do not have SIM cards).
#5 Yes, the new iPhone is coming?
Yes, the iPhone 5 is almost certainly coming in September or October so if you need a temp phone, get a prepaid one until the iphone 5 comes out and you can decide if its what you want. The most credible rumors is that it's faster, has a slighter larger screen, and higher camera resolution. The biggest addition is IOS 5.0 and the inclusion of iCloud & iTunes matching (though IOS 5 will run on the iPhone 4 – free upgrade).
So, here are your choices in the US.
Sign a 2-year contract with the 2-4 "majors" to get a subsidized newest phone.
Opt for a slightly older phone and just pay month to month.
Buy a SIM card to re-activate an older phone.
Buy an unlocked phone with no subsidy and buy a SIM card to go month to month on the majors.
Or cut yourself off from the mobile grid. 🙂
Good luck!