Home
»
Disney
,
Disney Pixar
,
Film
Disney Pixar: Shorts, Toons and Film Recap Announcements
Extras on the Blu-Ray DVD Combo Pack include:
"Scenes Composition" (preview)
Mater Tall Tale Short:
Air Mater
Coming to Blu Ray-DVD on November 1st – Check our previous post on ALL the bonus features and the John Lassetire CAR included.
Coming in 2013 to Blu Ray-DVD, Disney Toon Studios – PLANES …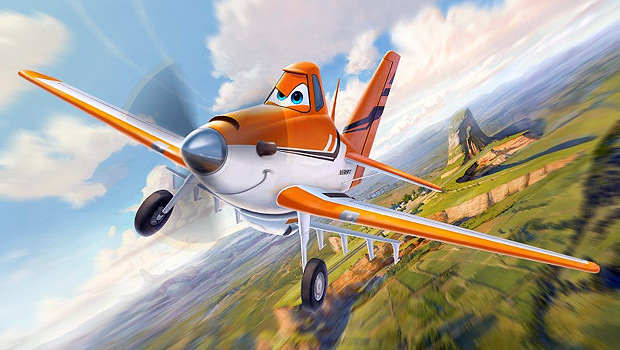 Announced at D23 Expo … "Jon Cryer (TV's "Two and a Half Men") will voice the main character in DisneyToon Studios' Planes." (of course, to some people, he will always be 'ducky' 🙂 )
Dusty, the small-town crop-duster from DisneyToon Studios" upcoming feature "Planes," has found his voice: Emmy Award®-winning actor Jon Cryer, lands the role of the daring dreamer who takes on the most notoriously grueling air race in history, and in the process gives a spellbound world the inspiration to soar. "Planes," an all-new, CG-animated comedy action adventure, flies into homes on Blu-ray™ and DVD in Spring 2013.
"We are incredibly excited to have Jon Cryer on board as the voice of Dusty," said John Lasseter, chief creative officer for Walt Disney and Pixar Animation Studios. "Jon brings so much comedy and believability to this character who dreams of soaring alongside his heroes in the "Wings Around the Globe" Rally. "Planes" is a wonderful story that takes audiences on a great ride and Jon brings so much heart to the film."
Dusty lives in the small town of Propwash Junction, and the single-prop agriculture plane could not be further from the lean, mean, trophy-winning machines he idolizes – and his co-workers remind him constantly. His mentor Skipper is convinced that Dusty has the engine to compete with the best, and helps encourage him to pursue his lifelong dreams. But if Dusty wants to make his dreams a reality, he"ll need to push himself further than he ever imagined. With the help and support of a crew of all-new and hilarious characters, Dusty wings his way into the biggest challenge of his life.
"Planes," set to introduce audiences to an entirely new and hilarious crew of daredevils from every corner of the globe, draws inspiration from the immensely popular world of Disney•Pixar"s "Cars." Created, written and produced by DisneyToon Studios under the creative leadership of John Lasseter and directed by Emmy® nominated Klay Hall, "Planes" takes off with an international cast of the fastest air racers around, in a comedy packed with action and adventure.
And the Teaser Trailer …
And yes, Mattel has the license to make planes with eyes on the windshield …
A new Toy Story short is airing before the Muppets …"The plot for the forthcoming "Small Fry" will center on Buzz Lightyear who is left behind at a fast-food restaurant and must find his way back, encountering a bunch of older Happy Meal toys including Jane Lynch as a Mermaid." 
No Preview or images available yet though you check out the Muppet Theme update.
Speaking of Toy Story – REJECTED Toy Story alt titles in 1995 – via Slash Film.
The New Toy
Made in Taiwan
Moving Buddies
To Infinity and Beyond
Wind-Up Heroes
The Cowboy & The Spaceman
Spurs & Rockets
Bring Me The Arm of Buzz Lightyear
Wind the Frog
Rex's First Movie
For the Love of Peep
Toyz in the Hood
Each Sold Separately
Wings & Pullstrings
Some Assembly Required
The Favorite
More Muppets stuff – official Disney site.
FROM PIXAR … Brave in 2012
"Since ancient times, stories of epic battles and mystical legends have been passed through the generations across the rugged and mysterious Highlands of Scotland. In "Brave," a new tale joins the lore when the courageous Merida (voice of Kelly Macdonald) confronts tradition, destiny and the fiercest of beasts.
Merida is a skilled archer and impetuous daughter of King Fergus (voice of Billy Connolly) and Queen Elinor (voice of Emma Thompson). Determined to carve her own path in life, Merida defies an age-old custom sacred to the uproarious lords of the land: massive Lord MacGuffin (voice of Kevin McKidd), surly Lord Macintosh (voice of Craig Ferguson) and cantankerous Lord Dingwall (voice of Robbie Coltrane). Merida's actions inadvertently unleash chaos and fury in the kingdom, and when she turns to an eccentric old Witch (voice of Julie Walters) for help, she is granted an ill-fated wish. The ensuing peril forces Merida to discover the meaning of true bravery in order to undo a beastly curse before it's too late.
Directed by Mark Andrews and Brenda Chapman, and produced by Katherine Sarafian, "Brave" is a grand adventure full of heart, memorable characters and the signature Pixar humor enjoyed by audiences of all ages. The film takes aim at theaters on June 22, 2012, and will be presented in Disney Digital 3D™ in select theaters."
Spoiler Alert post at SlashFilm – TODD, PIZZA PLANET TRUCK makes an appearance even though film takes place in the 10th century.
MONSTER UNIVERSITY in 2013:
Mike Wazowski and James P. Sullivan are an inseparable pair, but that wasn't always the case. From the moment these two mismatched monsters met they couldn't stand each other. "Monsters University" unlocks the door to how Mike and Sulley overcame their differences and became the best of friends.
 Screaming with laughter and fun, "Monsters University" is directed by Dan Scanlon ("Cars," "Mater and the Ghostlight," "Tracy") and produced by Kori Rae ("Up," "The Incredibles," "Monsters, Inc."). The film opens in U.S. theaters on June 21, 2013, and will be shown in Disney Digital 3D™ in select theaters.
(Young Sulley & older Sulley – never call a monster old).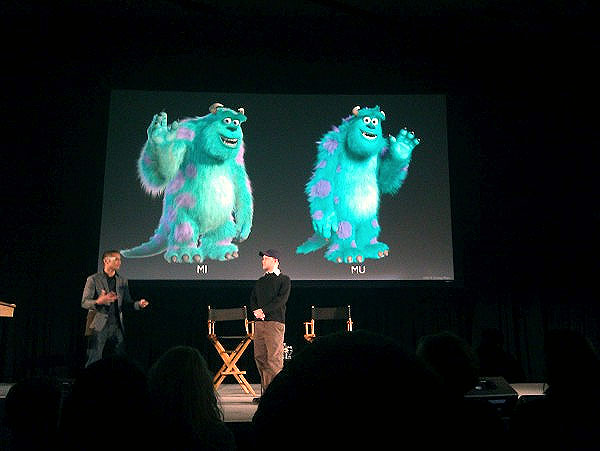 (more D23 Monsters University presentation photos at: MovieBuzzers.com)
(spoiler alert post at SlashFilm).

Pixar 2014:
Untitled Pixar Film From Director Bob Peterson.
What if the cataclysmic asteroid that forever changed life on Earth actually missed the planet completely and giant dinosaurs never became extinct? This hilarious, heartfelt and original tale is directed by Bob Peterson (co-director/writer, "Up;" writer, "Finding Nemo") and produced by John Walker ("The Incredibles," "The Iron Giant"). U.S. Release Date: November 27, 2013
(HEY, ISN'T THIS JUST CARS WITHOUT ANY CARS AND STARRING THE DINOCO DINOSAUR???  😆  SEE, ANYONE CAN PLAY THIS GAME  😆  )
Pixar 2015:
Untitled Pixar Film From Director Pete Docter – Pixar takes audiences on incredible journeys into extraordinary worlds: from the darkest depths of the ocean to the top of the tepui mountains in South America; from the fictional metropolis of Monstropolis to a futuristic fantasy of outer space. From director Pete Docter ("Up," "Monsters, Inc.") and producer Jonas Rivera ("Up"), the inventive new film will take you to a place that everyone knows, but no one has ever seen: the world inside the human mind. U.S. Release Date: May 30, 2014.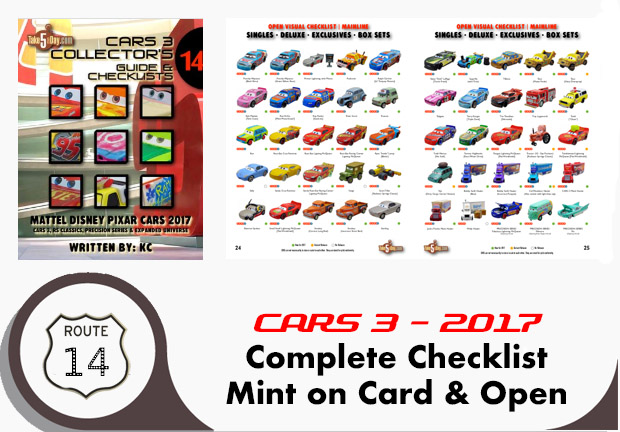 metroxing

28 August 2011

Disney, Disney Pixar, Film


8 Comments