Home
»
Disney
,
Disney Pixar
,
Disney Pixar CARS 3
,
Disney Store
Disney Pixar D23 Expo: Finn McMissile, CARS Presentation + Rest

The event runs 3-days, you can buy tickets by day or for all three days.
For CARS 2, Mattel has created a Finn McMissile.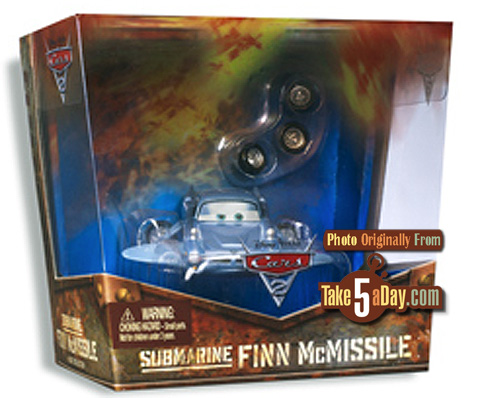 No additional photos but here's a shot of the outside PAPER box. Yes, it looks like wood but no, it's not a mini wood crate …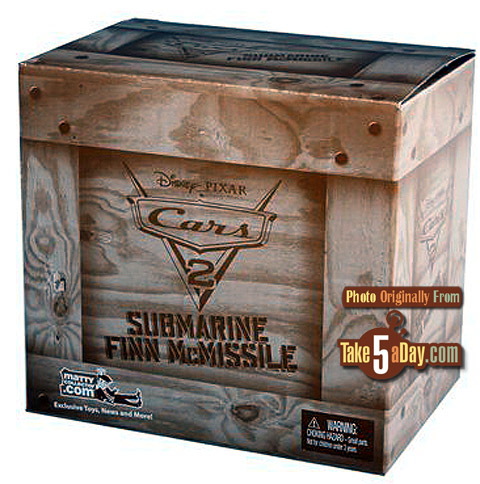 Original post HERE.

You can pre-order at Matty to pick up at Mattel's booth at the D2 Expo. There is an apparent limit of 6 pre-orders and your credit card info has to match your badge. But beyond that, you should be able to place as many separate orders as you can handle.
They will also sell these at the Mattel booth – of course, pre-ordering means you can pick them up at your leisure any of the three days but at SDCC, they managed to screw that up and some people were left holding a voucher and no merchandise because they sold out or couldn't figure out the correct inventory.
Keep in mind this is NOT SDCC and there will not be 120,000 people. Most people going are Disney-Disneyana fans and there are shows, presentations and events going on all day to pull people away from the shopping areas.
I have no idea how many they produced but for geeks, I can tell you there's 16 to a case.
So, what day should you go?
Obviously, if you're most interested in buying merchandise, you can be pretty safe going on Friday.
If you are going more for Pixar presentations?
SATURDAY
10:30 a.m. – 1:00 p.m.    
THE WALT DISNEY STUDIOS
Get a fascinating behind-the-scenes glimpse at the exciting roster of projects on the horizon at The Walt Disney Studios. From exclusive video clips and live performances to filmmaker discussions and star appearances, this session will be hosted by Rich Ross, chairman, The Walt Disney Studios; Sean Bailey, president, Production, The Walt Disney Studios; John Lasseter, chief creative officer, Walt Disney Animation Studios and Pixar Animation Studios; and Kevin Feige, president, Production, Marvel Studios.
SUNDAY
1:30 p.m. – 2:30 p.m.    
RADIATOR SPRINGS REALITY
Pixar's John Lasseter and Roger Gould join Imagineers for a sneak peek look at Cars Land.
During each day, there are random activities, exhibits and presentations such as:
11:40 a.m. – 12:40 p.m.    
D23 EXPO TALENT ROUND-UP
Join us for a meet and greet with ABC Family's Melissa Joan Hart and Joey Lawrence.
2:30 p.m. – 3:30 p.m.    
MAGIC SECRETS
Find out how Disney Toys are made with the Disney toys creative team.
4:30 p.m. – 5:30 p.m.    
LEGENDS OF WALT DISNEY IMAGINEERING
Disney Legend Marty Sklar will lead a celebration of Imagineering careers and accomplishments.  
6:00 p.m. – 7:45 p.m.    
THE LION KING 3D
Get an exclusive advance screening of the Disney Digital 3D version of The Lion King.
Each days activities pretty much run from 9:30 AM to 9:30 PM so you definitely will have a lot of fun choices. You can check out the EVENT SCHEDULE HERE.
And that does not include the shopping – There will be a D23 Store, a Disney Theme Park Store, and a pop-up Disney Store where you will get new merchandise and buy exclusives.
Plus hundreds (?) of exhibitors – we know Mattel, Ridermakerz, Hallmark, LEGO, and Funko will be there with exclusives. Might as well spend the last $28 of your 401k. :-/
Disney Theme Park Merchandise debuts some of its newest releases, including the Disneyland Vintage Collection, which pays tribute to attractions from yesteryear, as well as the release of the much-anticipated, limited-edition TRON Monorail and the Disneyland Monorail play set. In addition, the latest releases from Disney licensees and artists, including Precious Moments, Robert Olszewski, Jim Shore, and more will be unveiled.
D23 Expo Anniversary Collection pays tribute to this year's historical anniversaries of the beloved Disney classic films One Hundred and One Dalmatians, Alice in Wonderland, and Dumbo. Each day of the Expo, the Dream Store will release limited quantities of commemorative merchandise from each of these celebrated films.
Disney Dream Collection and D23-Exclusive Jewelry will captivate and dazzle audiences with new pieces of fine jewelry featuring classic Disney icons and characters, such as the Sleeping Beauty Castle, Mickey Mouse, Minnie Mouse and Tinker Bell, among others.
Acme Archives Limited invites guests to make the magic come alive in your home with the latest releases from Disney·Pixar, Disney Studio Art, Disney Limited, and Disney Underground.
Dream Store Autograph Sessions will give D23 fans the opportunity to meet and greet some of their favorite authors, artists, Disney Legends and other notable celebrities. Autograph sessions will be posted daily at the D23 Expo Autograph exhibition area.
Dream Store Showcase and Trading Area invites fans to find out more about what is "in store" from the world of Disney Theme Park Merchandise, including Disney Pins, Vinylmation, Duffy the Disney Bear, limited-edition ear hats, and more. This special area is the place to trade, collect, and swap stories with fellow Disney fans.
Ticket info here. You do not have to be a D23 member to buy D23 Expo tickets.
See you there!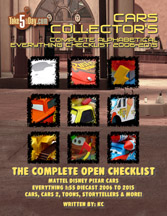 metroxing

9 August 2011

Disney, Disney Pixar, Disney Pixar CARS 3, Disney Store


21 Comments