Home
»
Checklist
,
Disney Pixar
,
Disney Pixar CARS 3
,
Mattel Disney Pixar Diecast CARS 3
Mattel Disney Pixar Diecast CARS 2: Exclusives Checklist By Retailer
Here is the breakdown by retailer exclusives – keep in mind that some of the "exclusives" are only the configuration or the 'box' itself … it's like saying partly cloudy or partly sunny … technically, it's correct but it may not mean much of anything.
With CARS 1, there were not a lot of releases where a variant or 'exclusive' release was marked as such even though the only real difference was eye position or expression. It's clear with CARS 2, the word 'exclusive' is now much more broad.
So now, 'exclusive' encompasses one or more of these definitions and parameters.
1) Available only to a retailer in this packaging configuration.
2) Available only to a retailer in this packaging configuration with another vehicle(s).
2) Available only to a particular retailer (aka: might be available in another configuration at this retailer).
3) Available only to a retailer with this expression & eye position.
4) Available only to this retailer in this design motif (current year).
5) Available only to this retailer with, without an accessory or additional extra (ie: trading card).
6) Available to this retailer in this particular deco or color.
7) If we snipe it as exclusive.
So, now when you see the word EXCLUSIVE, it's like saying PARTLY SUNNY – it might mean 70 degrees and cloudy with a 25% chance of rain or it might mean 55 degrees and cloudy with zero percent chance of rain.
So, your buying strategy?
If you're an opener and you want to try to keep duplicates to a minimum, you might consider starting with the largest box sets and working your way down. However, the TRU 10-pack is not due out until late May to mid-June so you might have another 2-4 weeks before it's available – can you wait that long before beginning to buy CARS? 🙂
It's almost as if they planned it that way. 🙂
Each TRU box seems to contains at least one 'exclusive' but that is 'subjective.' In one case, it looks like a Lightning McQueen eye position-face expression is different than any other we've seen so far. And the Wasabi Mater that was "exclusive" in the Toyko Race Party 5-pack is also now available in the 10-pack – same expression? Unknown but presumably so – leaving the Kabuki Dancer #1 & #2 as the only true exclusives.
(Each retailer is a separate JPEG file)
(Thanks MCL Sydney for the updated 5-pack pics).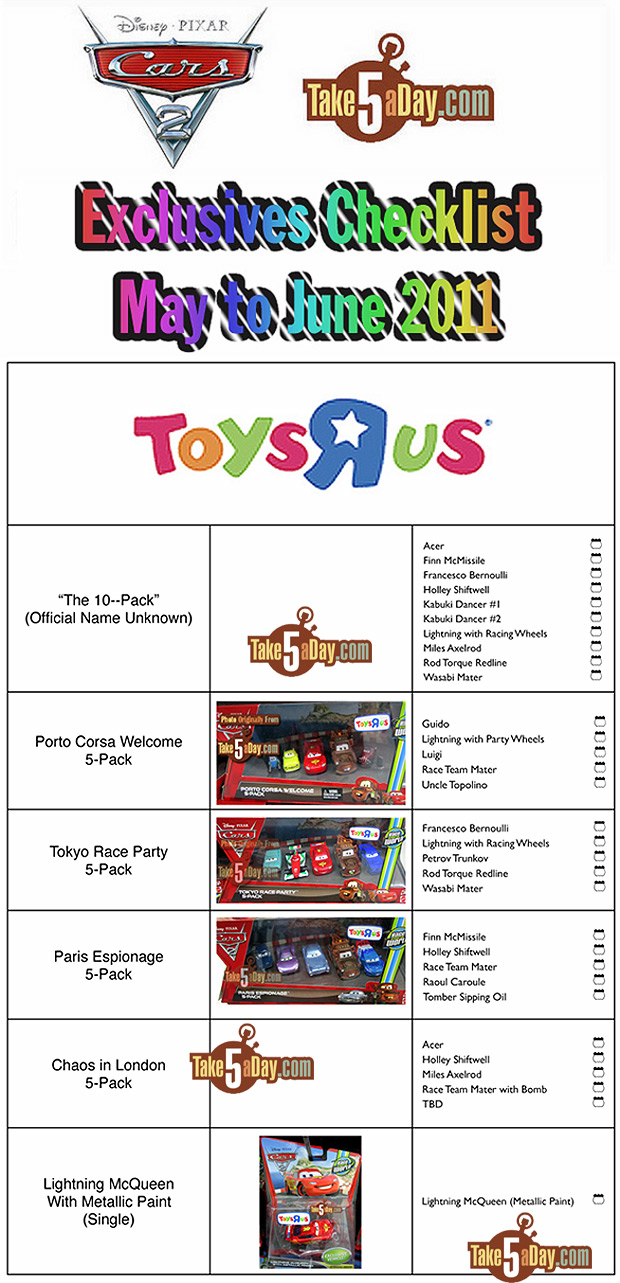 The Wasabi Mater is not as hilarious as the Disney Store one – Mater's tongue is "green" but it's not very extended though he has crazy eyes.
And McQueen's eye position in the Porto Corsa box seems to be in a position not previously seen but until we get everything released in the other boxes, it's just a first look guess.
Target's 'exclusives' are mostly really configuration exclusives – and if you want to scoop up everything in big chunks like all the first wave racers which are not coming out as singles until much later in the year – and you save money by not buying them as launchers. Again, until they get released – it's impossible to verify if every eye position & expression is the same or different.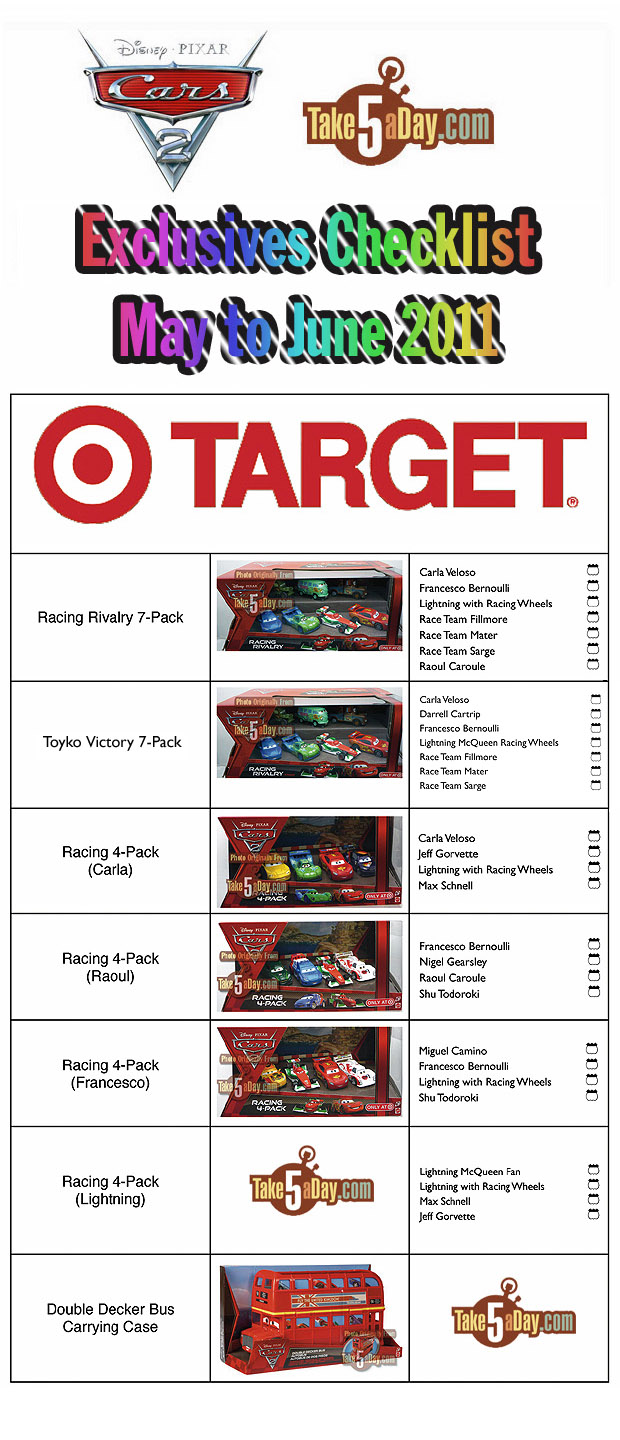 The last listed 4-pack may not be out until mid-June.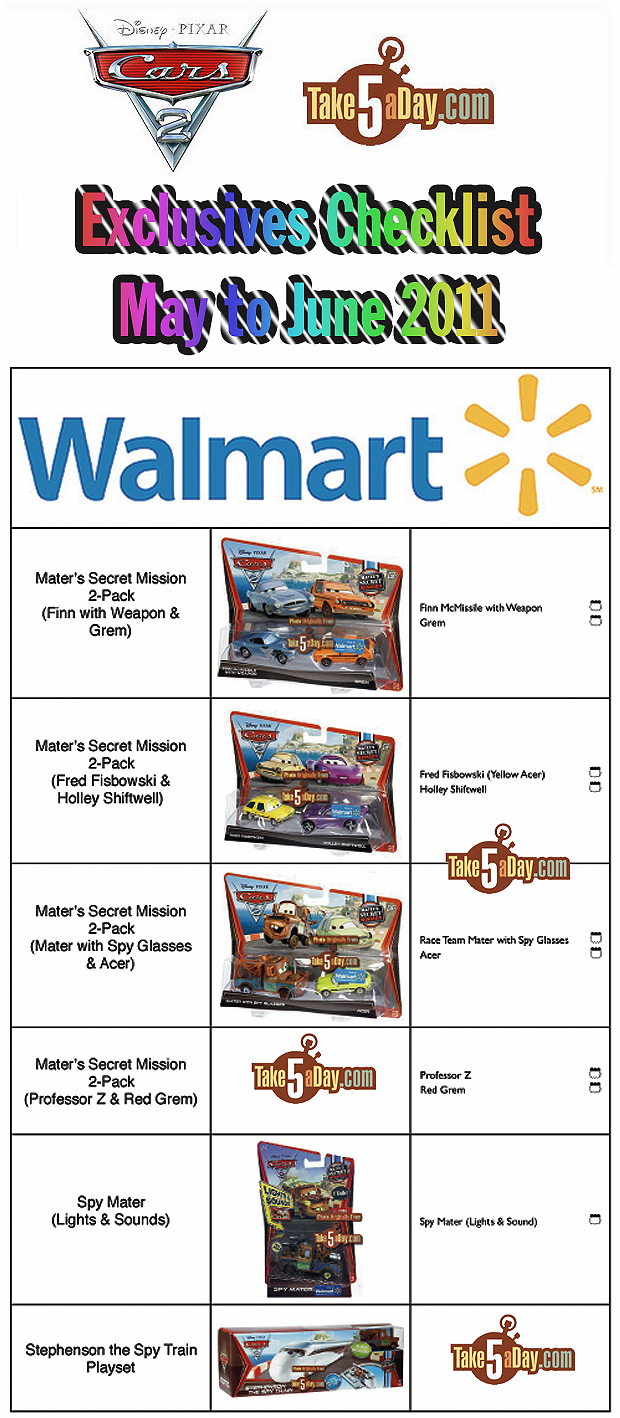 Walmart's exclusives are actually easier as each of the two-packs seems to contain one vehicle not available elsewhere – so if you want a complete set, you'll have to buy them – along with an extra CAR.

While the Pit Crew Mater with headphones (and it seems with an 'exclusive' expression) has been spotted so we can presume it will be available on May 16th – the Pit Crew 2-packs have not been spotted anywhere so perhaps they might not be available until later in June or even with the Kmart CARS Day on June 25?
So, if you buy EVERYTHING or nearly everything on the list above, the following list is what you will need to buy to complete the wave 1 releases in its entirety.
These are NOT retailer exclusives (though the three-packs are technically available at all stores to EVERYONE but the Big 4 so in a way, they are an exclusive). 5 of the 7 deluxe releases are available in the 3-packs so it can be an either or choice if you are an opener completist – sothey are listed both ways depending on what you prefer.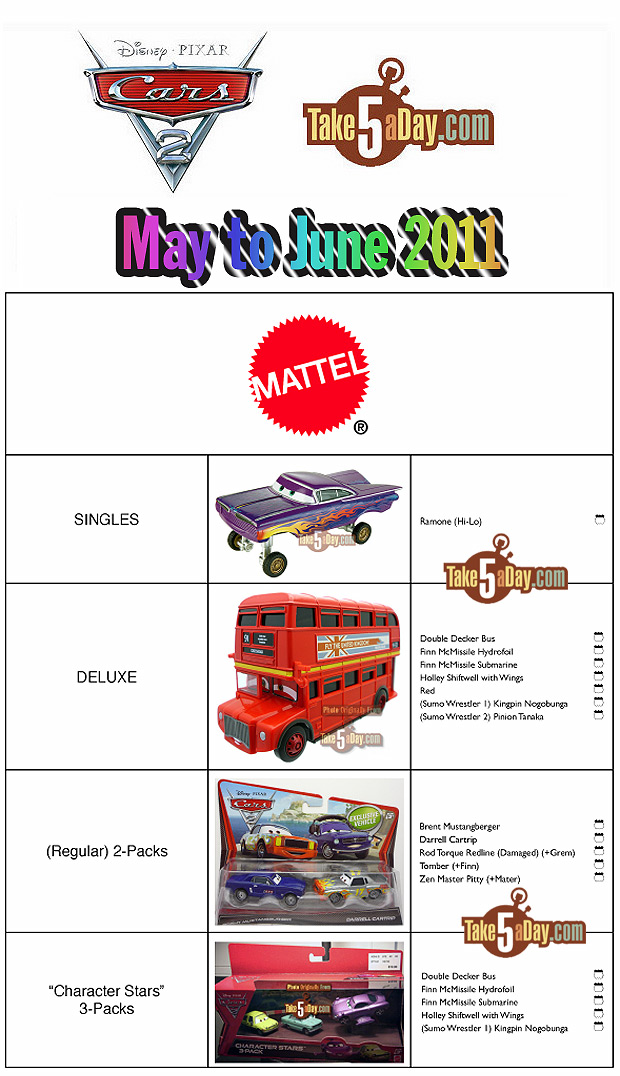 Also note, it seems pretty likely there will be some sales going on – whether it's next week or closer to June 24th … so don't let the current retail price be your only guide.
And an update to the overall checklist – so good luck!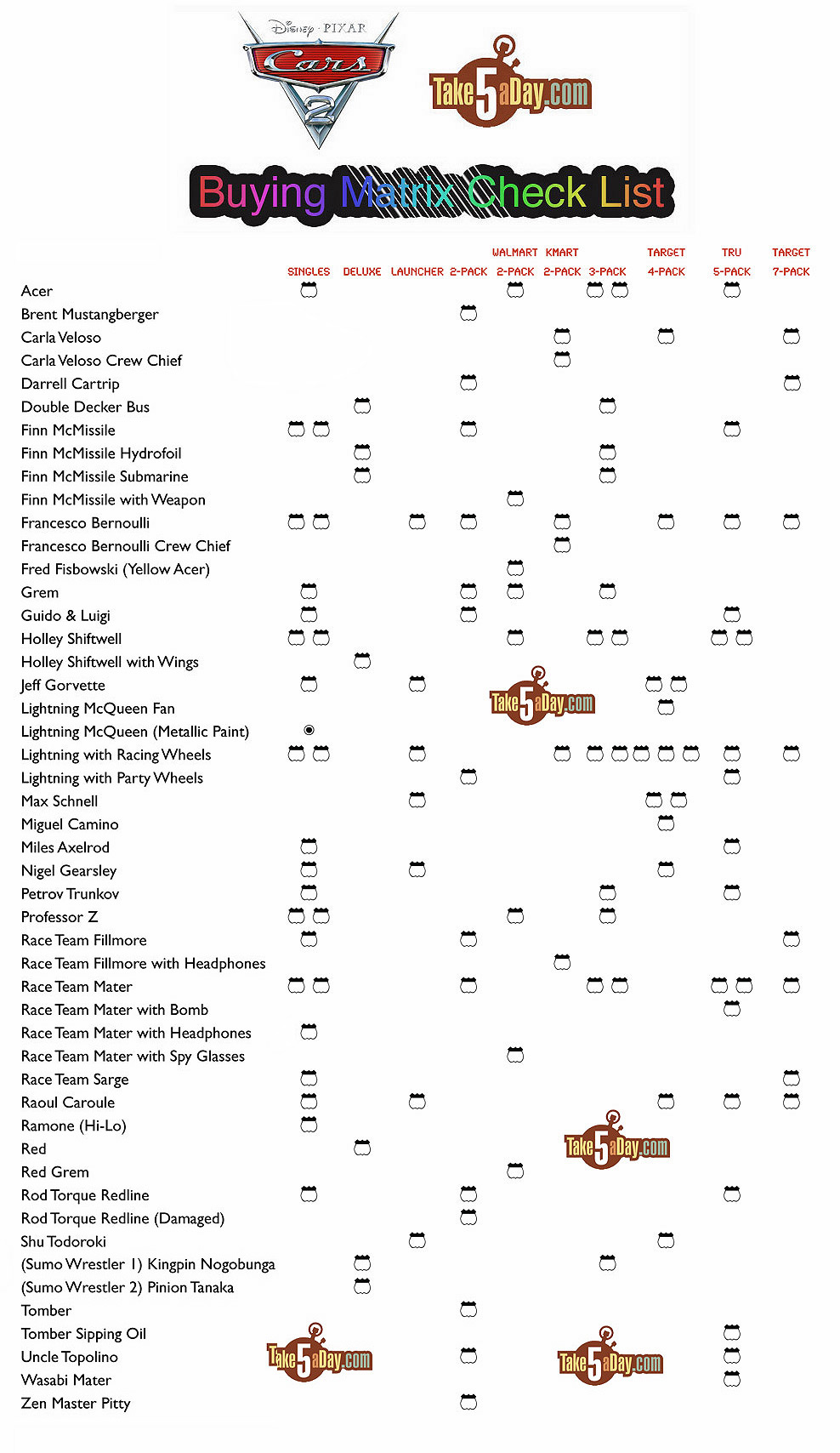 The TRU 10-pack is not listed as it's not likely to be released until mid-June. Completists will have to buy it anyway to get the Kabuki Dancers but I didn't want anyone planning on buying that one first as the foundation … since it may not be out for another 3-5 weeks …

metroxing

9 May 2011

Checklist, Disney Pixar, Disney Pixar CARS 3, Mattel Disney Pixar Diecast CARS 3


81 Comments