Home
»
Disney Pixar
,
Disney Pixar CARS 3
Disney Pixar CARS 2: CARS 2 Party Breaking Out Everywhere!
Of course, there is the Los Angeles (Hollywood) CARS 2 "playland" and CARS on the big screen starting June 24, 2011 and going for most of the summer.
And at Charlotte Motor Speedway over Memorial Day weekend is the NASCAR Coca Cola 600 with "Mater" (Larry the Cable Guy) as honorary pace car driver plus the State Farm agents on a Mission Tour along with more CARS 2 going on …
But the party starts at EPCOT in Orlando FL on May 13th.


From the Press Release:
Immerse yourself in the world of Pixar films at Pixar's 25th Anniversary Weekend. As the Epcot® International Flower & Garden Festival at Walt Disney World® Resort in Florida wraps, celebrate Pixar with exciting activities, special character appearances and a speaker series with Pixar insiders.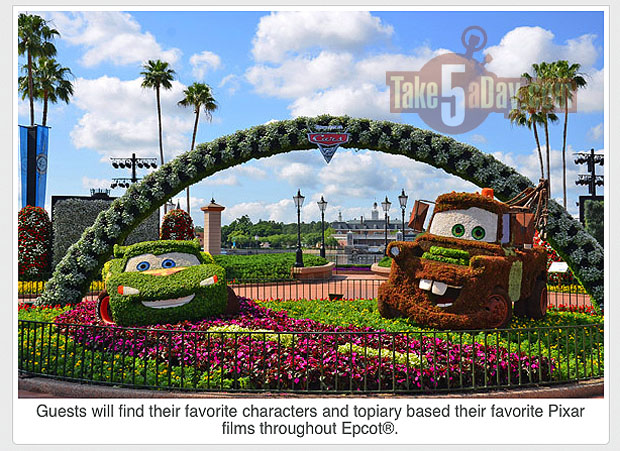 (careful where you park your car, that kudzu plant is crazy. 🙂 )
Special Pixar Meet and Greets
Pixar films come to life! Meet your favorite Pixar characters in exclusive meet-and-greets held throughout Epcot®.
Future World
Buzz Lightyear from Toy Story at Mission: SPACE
Mater from Cars and Cars 2 at Test Track
Living Coral Stilt Walkers at The Seas with Nemo and Friends
Crush at Turtle Talk with Crush
World Showcase
Woody, Jessie and Bullseye from Toy Story at the American Adventure
Flick, Atta, Gypsy Moth and stilt walking Slim from A Bug's Life at the Art of Living Garden
Remy and Emile from Ratatouille at France
Pixar Celebration Headquarters
World Showplace, located between the Canada and United Kingdom pavilion, will serve as the celebration weekend headquarters.
Here, you can meet even more Pixar favorites:
Mr. & Mrs. Incredible and FroZone from The Incredibles
Lotso from Toy Story 3
Mike, Sully, Boo and Smitty from Monster's Inc.
Carl, Russell and Dug from Up
PLUS… Browse a photo gallery that reveals some of the best "Easter Eggs" from Pixar films, and explore the art gallery for a behind-the-scenes look at the incredible creative work that goes in to Pixar films.
Spaceship Earth will showcases the Cars 2 logo projected on it following the performance of Illuminations: Reflections of Earth, along with some music from the Cars films.
Activities
Fun activities abound, including the Cars 2 Race Around World Showcase. Journey through World Showcase pavilions in search clues that lead to a special reward at the end.
("Race Around World Showcase" kids activity that, when completed, earns a collectible button).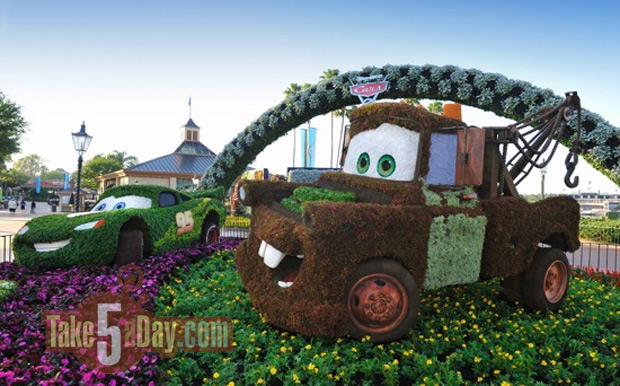 And SPECIAL SPEAKERS from Pixar!
Pixar Speaker Sessions
Get the inside scoop from Oscar®-nominated Pixar producer Jonas Rivera, Oscar®-winning composer Michael Giacchino and Cars Franchise Guardian Jay Ward at the speaker series held inside World Showplace Saturday and Sunday.
Daily Speaker Session Schedule: May 14 – 15, 2011
Noon: Jay Ward
2:00 PM: Jonas Rivera
4:00 PM: Michael Giacchino
6:00 PM: Special Presentation by Jay Ward, Jonas Rivera and Michael Giacchino
You can make
reservations here
– SEATING IS LIMITED!
Apparently, they will also set up a special Pixar kiosk store with special merchandise.

Note – you do need an admissions ticket to EPCOT. There is no addition charge for the Pixar Weekend.
It is the final day of the EPCOT International Garden & Flower show (hence the topiary of Lightning & Mater). You can stay for the free Herman Hermit's concert with Peter Noone … so get out your suede fringe jacket.
The Pixar weekend will be extended beyond the perimeters of Epcot into the Downtown Disney district, Lightning McQueen, Tow Mater and Finn McMissile from the State Farm 'Agents on a Mission' tour be there along with dozens of classic cars.
Sounds like a pretty full weekend!
The EPCOT Pixar Weekend Website is HERE. Have fun and send us some pics!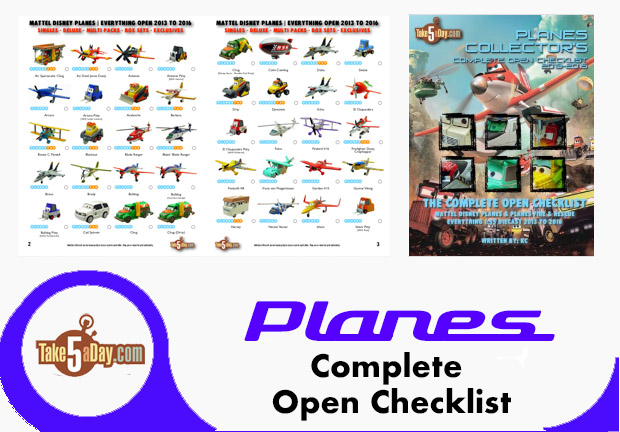 metroxing

29 April 2011

Disney Pixar, Disney Pixar CARS 3


7 Comments