Home
»
Mattel Disney Pixar CARS
,
Retail
Mattel Disney Pixar Diecast CARS: Lizzie – Here, There, Nowhere
Since we seem to have spend the weekend in the comments section on Lizzie, here's a recap on the apparition known as Lizzie …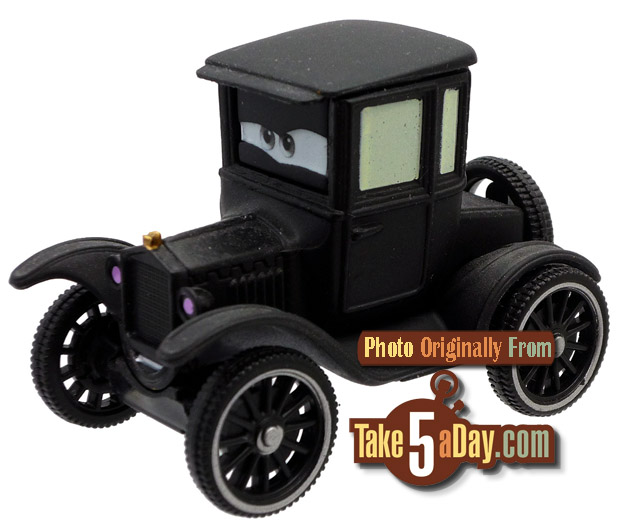 Hey, everyone, come quick, there's a picture on the internet that looks just like me.
And obviously these dates are intended as a general guideline – each region can be completely different or shift earlier or later slightly …
From the beginning.
April 2006 to July 2006
Collectors was sure she was a 'short pack,' or even a secret chase HUNT or TREASURE HUNT CAR, she was hard to find and in short supply. And in some senses, it was true, in the original 36-pack of CARS or on the display standee of 36-72-84 CARS (some were Mini standees), no doubt there was not many in each case. Obviously compared to Lightning, Mater, King or Chick – a model T was presumably not going to be a kid's first choice so it was probably a prudent decision not to fill a case with them. Add in the fact there was a feeding frenzy already and that she was a "girl," CAR + a Model T … there was probably some truth to the PERCEPTION she was a short pack – clearly if there were two Lizzie's and you're the second to arrive at the remnants of even a 36-CAR case during the first CARS frenzy, and you see 8 Lightning's left, a couple Mater's, etc, etc … your perception is Lizzie is a short pack … and if everyone thinks Lizzie is a short pack, you just buy as many as you see.
August 2006 to November 2006
By now, it was clear that Lizzie was not a short pack and while she was not common "common," there was no need to panic. She was NOT a Treasure Hunt and would show up in different cases along the way. This point was probably the only normal period of Lizzie distribution. She was clearly a better seller for completists. Of course, towards the end of this period, it was the holiday season but again, the reality is a gift giver might have bought her with a few others but hardly the mass market's first choice. At this point, the shelves were pretty much stripped bare as they arrived but Sally, Lizzie and Doc were generally the last to go.
December 2006 to March 2007
The Supercharged cards arrived and cases changed to 24 by now. There were still fewer than 20-ish CARS available on single cards so pretty much everything showed up in every case. Things were stabilizing (after the Cruisin' McQ & Hamm craziness) and it was also after the holidays. In addition to the availability of Lizzie in a few box sets …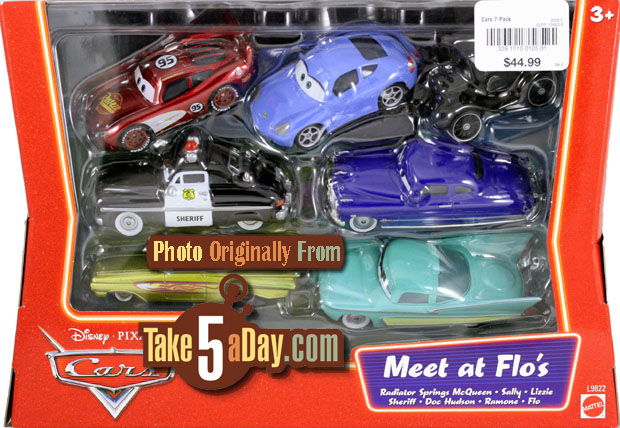 I believe a bunch of Lizzie's were returned by ebay sellers when they realized Lizzie was not really a short pack and that demand was slackening since it looked like CARS would NOT be like Hot Wheels, that the Supercharged version of Lizzie (and others) were essentially the same.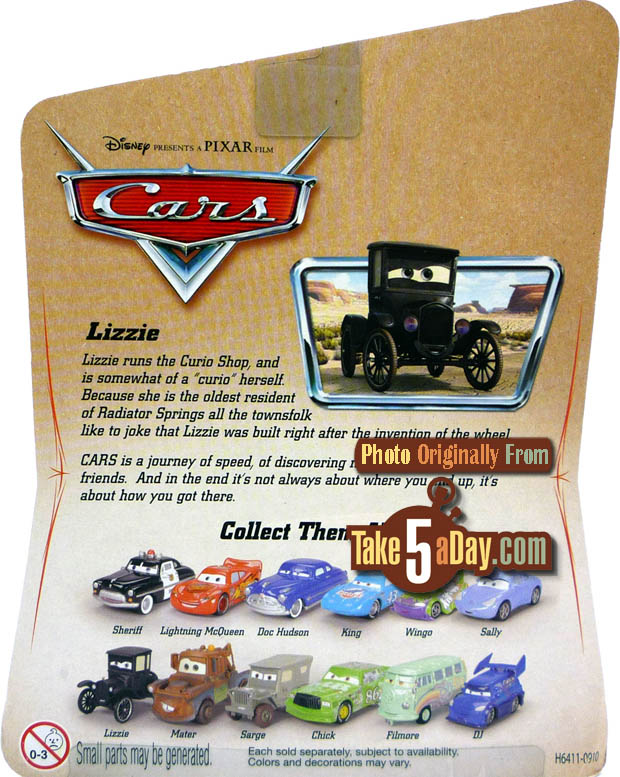 April 2007 to June 2007
There was a release gap – Mattel had not planned on the line going so long so the first wae of Supercharged NEW was not really very 'new,' most of the releases were re-decoed CARs like Fabulous Hudson Hornet or Yellow Ramone or even just renaming Willie Butte McQueen from the playset to Dirt Track McQueen as a single. So this was the catch up time. Lizzie was consistently being replenished but she was probably no easier or harder to find than King. It was probably around this time the serious collectors were beginning to realize the differences in the Desert Art cards so there was some action in finding/trading for the various Desert Art versions – and so if there's ebay action, resellers will buy one as soon as they see it on the shelves, feeding into the cycle … of course, the SC versions were all the same so easier to find.
July 2007 to August 2007
The first wave of NEW Supercharged cards and CARS started to hit so that was the main focus.
August 2007 to September 2007
Sarge recall. For at least a few weeks, store shelves were bare of CARS – TRU who keeps separate SKU's generally got all non-Sarge items back on the shelf back first then WM & Target – in some places, maybe 6 weeks of no CARS so of course, eBay was pretty much the only place to buy CARS … any CARS.
October 2007 to January 2008
Since Target & WM seems to have returned all their older stock to Mattel, now it all depended on what was in each new case assortment and naturally, Lizzie was an oddball car that was neither critical nor a showcase for the CARS lineup … so way down the list … and yes Lizzie – fairly large and an oddball car that cannot really be re-purposed … same as Red.
February 2008 to September 2008
While Lizzie was not the regular schedule, most of the SC Box sets were available online and even the Meet at Flo's set with Lizzie was even on sale at JCP during their Christmas toy section. My feeling is there's always been interest in finding Lizzie to add but the vast majority are unwilling to pay more than $8-$10 for one so the interest simmers but it never becomes a frenzy. It's like, I can always pull the trigger at a high point but I'll bargain hunt first.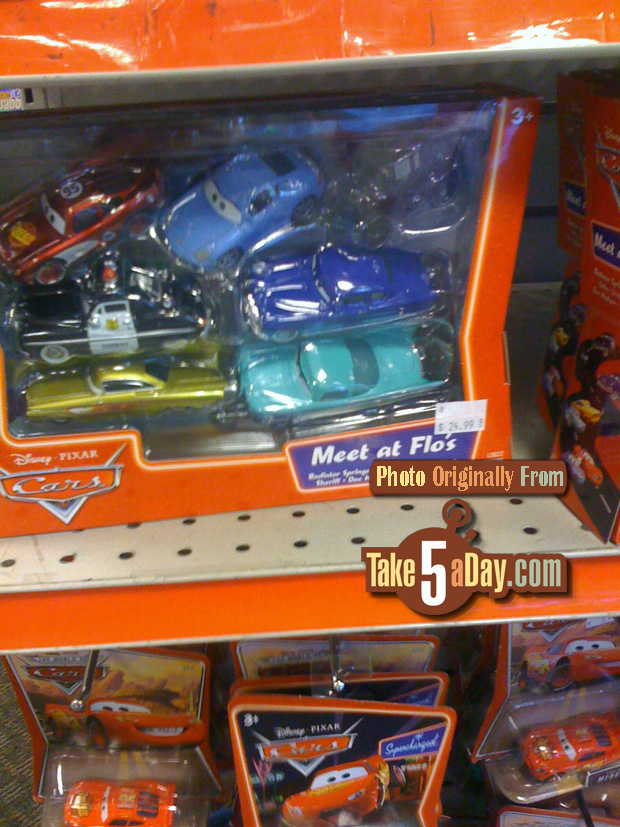 September 2008 to December 2008
Lizzie on Desert Art maintained its steady premium but Lizzie on SC was fairly common on eBay especially as noted yesterday, Mattel sold their entire "recall return" CARS to Mervyn's in September 2008 so for a few brief weeks, there was literally thousands of Lizzie's on the shelf.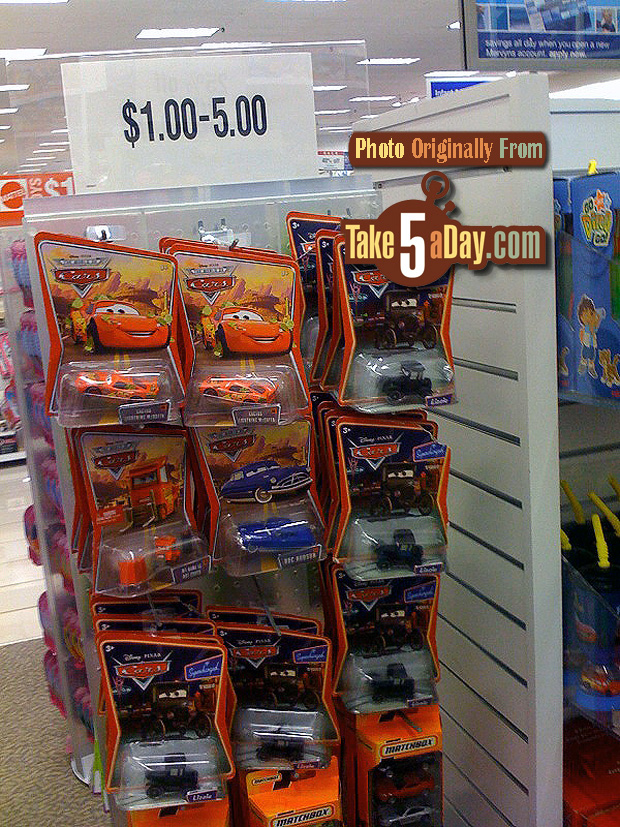 (The sign is misleading, CARS was not $1, they were 40% off $5 I believe)
That dump of Lizzie (presumably bought up by West Coast eBayers) mostly sustained the market. There was probably a price drop for a few weeks but I'm sure prices returned to normal a few months later – Lizzie SC at a slight premium.
Mervyn's was a west coast only chain of about 100-ish stores and they basically got a Mattel toy shop for the holidays. They closed up in Spring 2009 but when I went back at the 75% off sale, no CARS left.
January 2009 to October 2009
The WORLD OF CARS was the new release motif and it was a busy time. While people were wondering when Lizzie was coming back, it was more to fill in the "number" hole in their collection. Openers could go to eBay and find a SC Lizzie. Finally in the nearly last shipment, Lizzie was included in the WM endcap.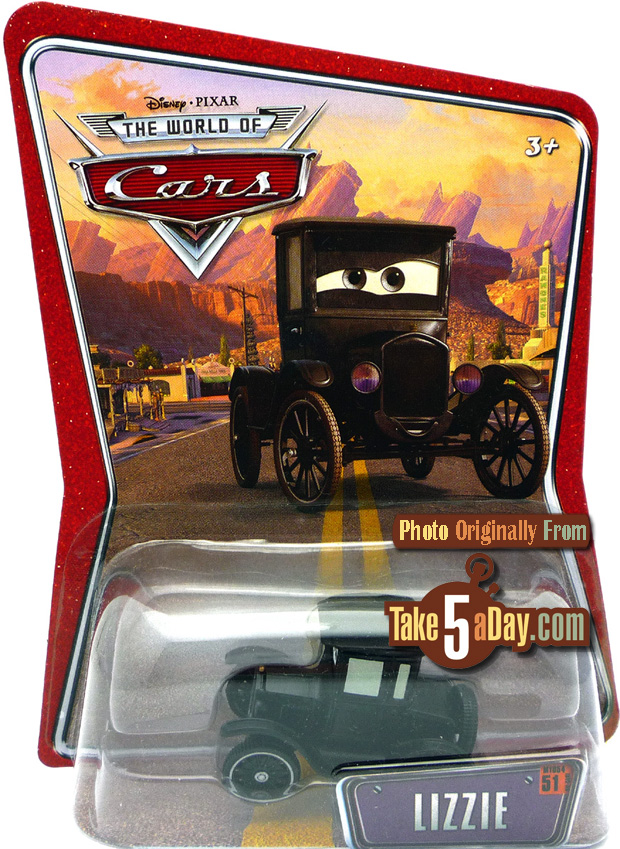 While there was not a lot of Lizzie's in the endcap, there was not a frenzy … but this is the last release of Lizzie and HOLDING. So, now a year later +, no re-release of Lizzie and we're not likely to see one. It seems there are not a lot of re-releases coming for Final Lap – only new CARS and lenticulars will be on hiatus in a few months also … so this looks like the last Lizzie on a regular card for a while … at least as of right now.
What will the rest of 2011 bring?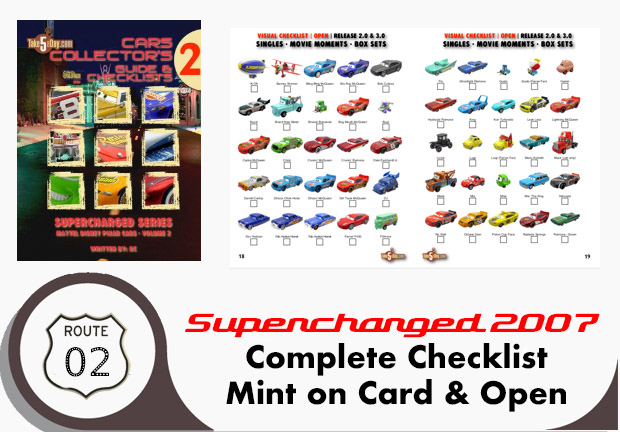 metroxing

18 January 2011

Mattel Disney Pixar CARS, Retail


21 Comments