Home
»
Mattel Disney Pixar CARS
Mattel Disney Pixar Diecast CARS: Collecting CARS on Supercharged Cards (+ One More Canada?)
Last week, we covered collecting the Desert Art Series 1 & Desert Art Series 1.5 CARS "mint on card." It's hard to really even agree what constitutes a complete set – 15? 16? 20? all the way to 48?
In late 2006 – Mattel switched design motifs … SUPERCHARGED!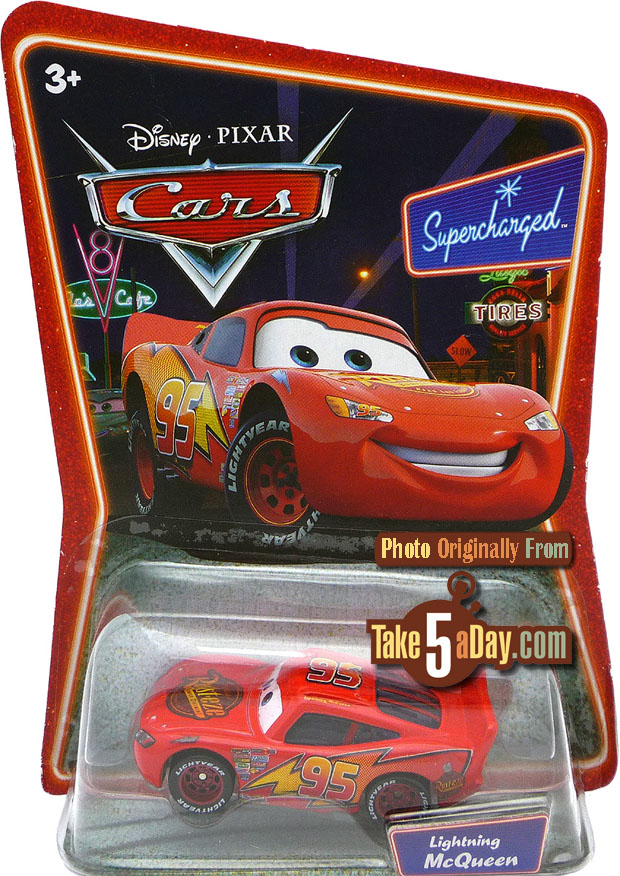 And the cardback design sort of showed CARS either out or coming but as people later discovered, it was not much help as sometimes the release was months away.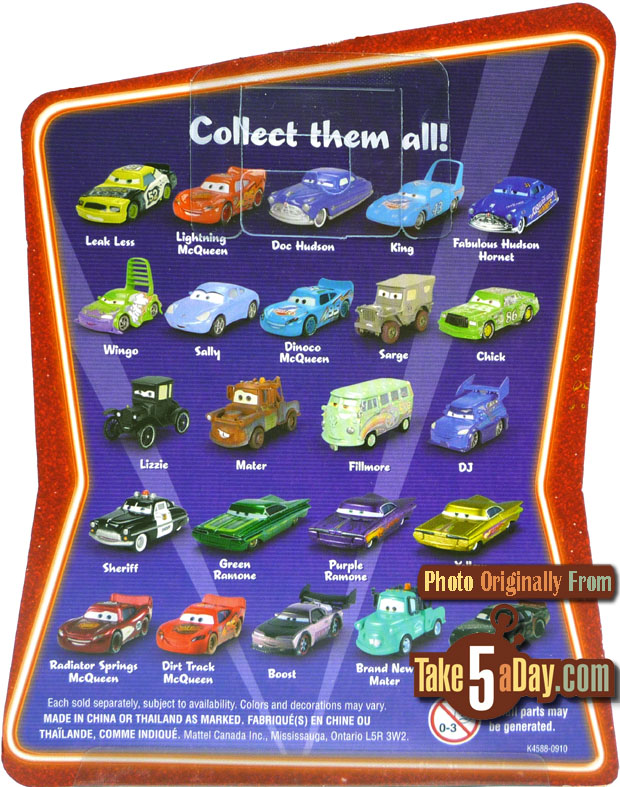 At the end of the day and at the end of the Supercharged motif in October 2007 and later on, SC was not a difficult series to collect – but in the midst of the year, it was CRAZY. It was not just crazy but RABID BAT CRAZY.
First, the market was way under supplied in September 2006, people were stripping the shelves bare except for the Lizzie pegwarmer. Then suddenly CARS re-appeared in October with the Supercharged design. No one at the time could figure out if these were variants or IF there were variants – the safest thing to do was to buy everything and sort it out later. People weren't sure if the SC versions had different eye positions? If they were not shown, were they retired? Brand New Mater – were they the only person in America who did not have him?
This first card also fueled the first CARS craziness … two CARS shipped in the last case (s) of 2006 as Supercharged contained a Cruisin' McQueen & a Hamm but they were NOT pictured on the cardback.
So, a frenzy ensued. People quickly convinced others that CM & Hamm were secret SUPER CHASE TREASURE DOUBLE SECRET PROBATION TRIPLE DOG DARE TREASURE HUNTS. Yes believe it or not way back in 2006 and early 2007, people paid as much as $125 for a Cruisin' McQueen and $60 for Hamm.
This was NOT the case as the post Christmas reset of 2007 literally drove the price of Cruisin' McQueen from $125 to $3 OVERNIGHT on eBay when stores got more Hamm & CM.
It should be noted that Cruisin' McQueen was readily available in a movie moment 2-pack for not much more than the list price and could usually be found by looking a little harder but hey, who needs money when you can get the single of Cruisin' McQueen for a only $124.99.
Now because the success of the line surprised Mattel, the post Christmas reset and WAVE 1 of Supercharged CARS did not feature a lot of brand new releases but were either repaints (hi Ramone!) or simply with different deco (Fabulous Hudson Hornet was based on Doc Hudson (I know, shock!) , Dirt Track McQueen was pulled from the playset and renamed from Willie Butte's McQueen), etc, etc …
The Toyfair of 2007 featured an amazing bevy & motherload of CARS to come – it was the high of Supercharged … and those CARS started to appear in late June & early July … but then DISASTER.
The Sarge recall.
Since Walmart & Target put everything under one SKU, they pulled EVERYTHING to be safe. No single or Movie Moments (as Sarge was in one Movie Moment). In some stores, after a few weeks, they started to put non Sarge's back out but Mattel shipped nothing for weeks on end to test and make sure everything was okay with CARS. The last thing you want is a second recall.
Finally CARS returned in the early Autumn with the infamous WM Cube of 8 exclusives.
As things normalized, CARS changed motifs again to the WORLD OF CARS in October 2007.
So, while it was a crazy year, and during that time, collecting CARS was not easy but with the passage of time and the essentially re-release of EVERY Supercharged CAR except for SARGE in the next series, WORLD OF CARS, I think super interest in a complete set of SUPERCHARGED has quieted.
Other than Sarge, there are three cards that are harder to find: Bob Cutlass, Dale Earnhardt Jr. & Mario Andretti explained in this post. But unlike the Desert Art series with promo codes, promo dates, spelling errors and cardback changes among 12-48 cards, there is only card design of these three so it's just a matter of buying or not buying them.
For some super collectors there are four Canadian (and US territory Puerto Rico) releases with the typical US English-only front nameplate … presumably they were done with production during the recall and with the design changeover, it was decided just to slip them into shipments to Canada/Puerto Rico. It seems like only one shipment as the ones in Canada were soon the tri-language ones.
(Yeti, the Abominable Snowplow was released in the US on Supercharged as only YETI. On subsequent releases,starting with WORLD OF CARS, he is listed as Yeti, the Abominable Snowplow).
But "Emeric de Q." reminds us of an additional Canada-only release that I had forgotten about.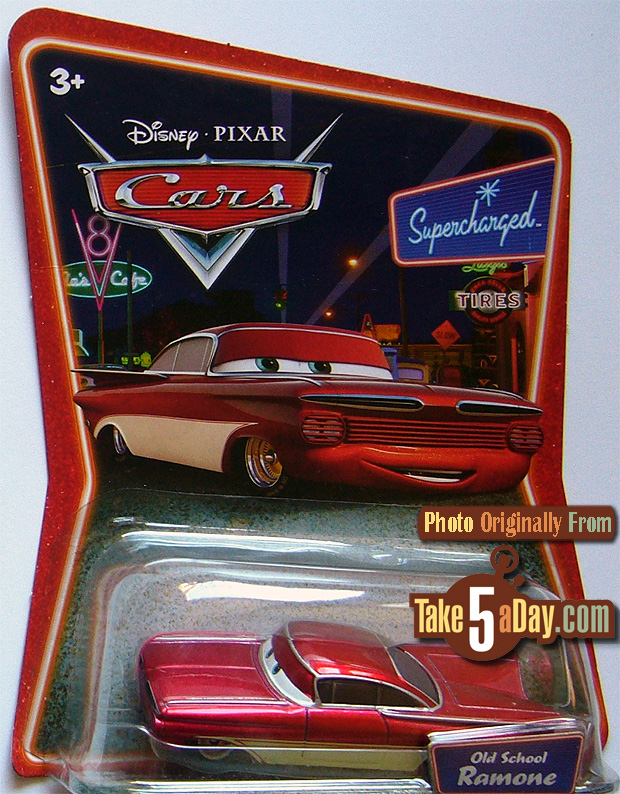 Yes, he was released in the US on Supercharged as "Cruisin' Ramone."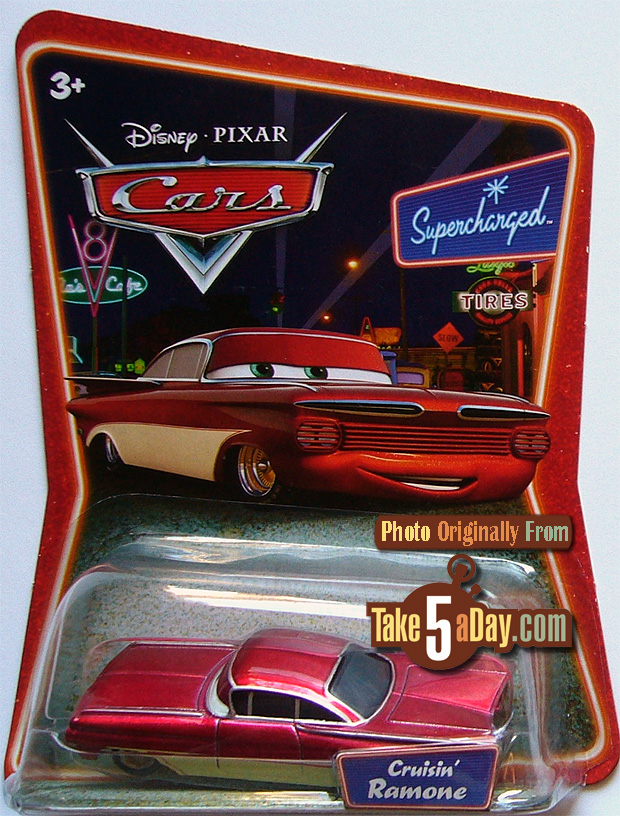 And in the WORLD OF CARS series, his name was changed to OLD SCHOOL RAMONE – presumably because he was 'dressed' like this in the flashback sequence and not the street cruisin' scene – Pixar must've told Mattel that's he's OLD SCHOOL RAMONE. So, when he was re-released in the US for WORLD OF CARS, he was renamed OLD SCHOOL RAMONE but clearly, there was some ready to go in the factory so they shipped him off to Canada and maybe the UK?
The cardback is typical international.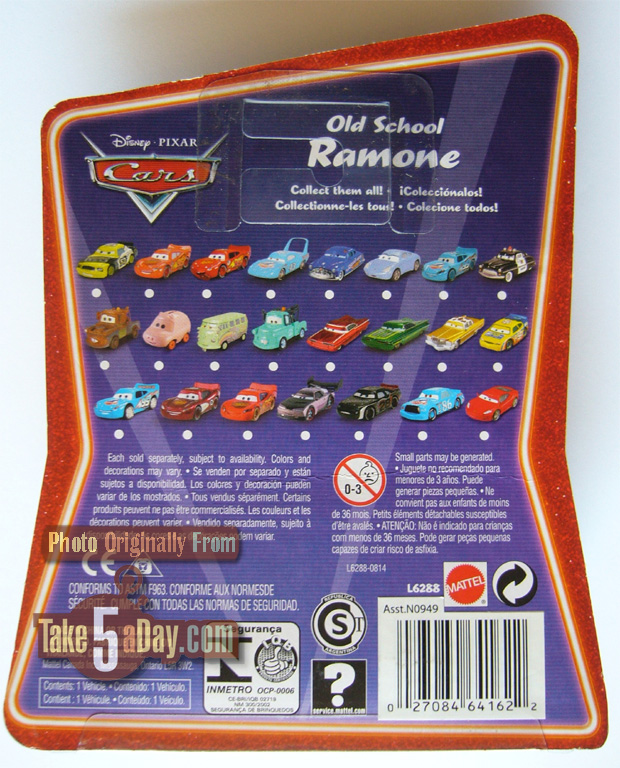 And as with int'l cards, no poster.*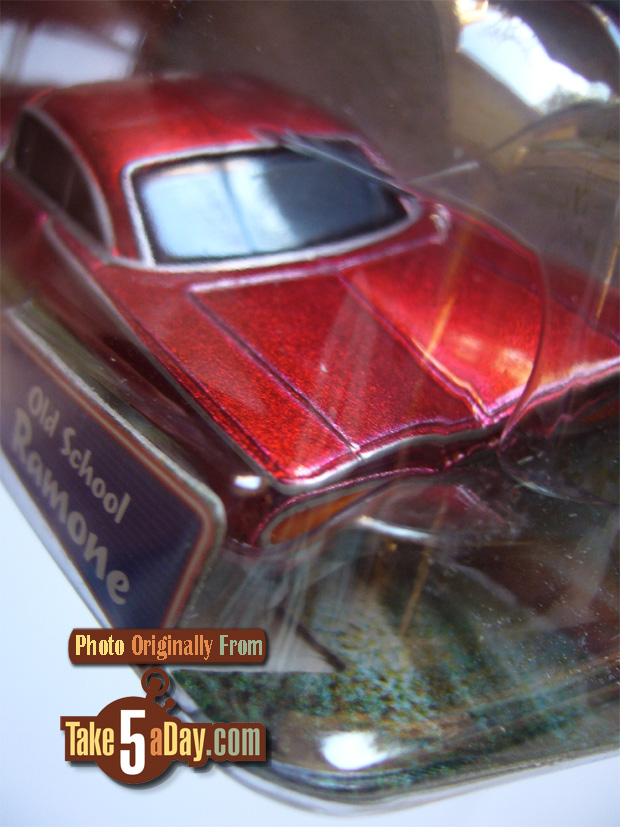 Thanks for the reminder, "Emeric de Q."
* Speaking of which, the Supercharged CARS released in early Spring to early Summer in 2007 contained a poster folded underneath which is visible in the name plate-base gap. It is believed that every CAR released at that time except for Doc Hudson (silver rims & Sarge) contained a poster. The poster was discontinued when Supercharged releases returned in the Fall.
You can read our original post on the CANADA CARDS + the CANADA ONLY two Movie Moments HERE.
While the WM8 (or WM20) is not technically Supercharged card CARS, you can read about them and the other holiday exclusives here.
And all you ever wanted to know about SC Movie Moments & More …
Or our Issue #2 of the Guide & Checklist is devoted entirely to the Supercharged year.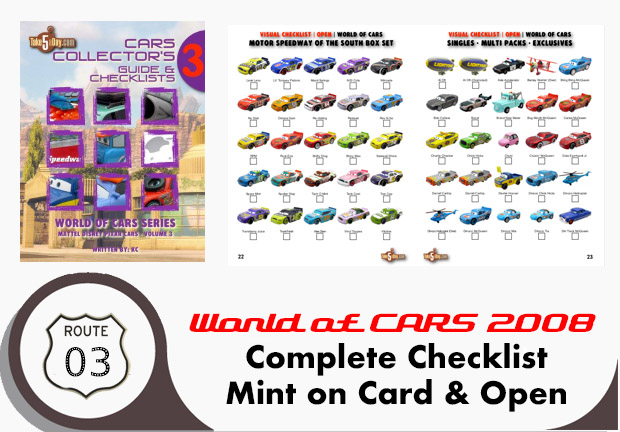 metroxing

17 January 2011

Mattel Disney Pixar CARS


27 Comments