Home
»
Mattel Disney Pixar CARS
,
Retail
Kmart: We Can Stay Awake As Long As You Can!
Kmart will be open for 60+ straight hours starting this morning until 10:00 PM December 24, 2010.
"This will give shoppers until 10 p.m. Dec. 24 to grab last minute gifts, said Don Germano, senior VP of Kmart Stores. The sale will take place in 1,000 of Kmart's 1,387 stores nationwide.
Germano said the sale is targeted at last minute shoppers and he cited a study by the National Retail Federation stating only 20 percent of men have started their Christmas shopping and that there were about 35 million shoppers who had not yet purchased a gift."
Are you one of the 10% of Americans who have not purchased a gift? Or are you just married to that person? 🙂
TOP 10 Reasons To Use in Case You Have Not Having Purchased a Gift
10) Santa will do it all. What, you're a non-believer?
09) I thought we converted last year?
08) I'm waiting for you to cut your hair before I …
07) To save Planet Earth, I'm only shopping in our attic … and when the Miller's go to work, I'll check out their garage.
06) It was in our driveaway until some low life thief drove off with your luxury sedan – giant bow and all … but we have our health which is the most important thing.
05) I got you Hi Lo Ramone, the Apple Racer Pit Crew and Shiny Wax Hauler, I'm sure it'll arrive in the next 2 days.
04) That invisibility cloak was so cool. I'm sure I left it right here but I can't see it anywhere!
03) It's our wedding DVD in a Blu Ray slipcase – I wrote 10th anniversary re-release on it … I know that's all you want – the memory of me next to you!
02) This year I drew dashed lines in a box around the words so you know the hug, kiss and McLovin' coupon is really real this year!
01) As soon as I find my gift card for Montgomery Wards, Filene's and Bamberger's, I am so on my way …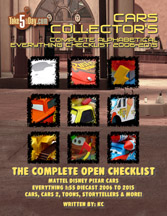 metroxing

23 December 2010

Mattel Disney Pixar CARS, Retail


7 Comments