Home
»
Mattel Disney Pixar CARS
,
Retail
Toy R Us – The Giraffe Never Sleeps … Open 88 Consecutive Hours!
Get rested today as TRU will try and outlast all shoppers starting tomorrow …
"Toys"R"Us® today announced that its stores nationwide will remain open for 88 consecutive hours beginning at 6am on Tuesday, December 21 and continuing through 10pm on Christmas Eve."*
".. offering the most last-minute shoppers every opportunity to find the right toy for the child on their holiday gift lists. This is the first time that all Toys"R"Us stores across the country will stay open 24-hours per day during the final countdown to Christmas."
There is also another sale starting Tuesday …
Tuesday, December 21 and Wednesday, December 22, while supplies last**:
* FREE $50 Toys"R"Us Gift Card with the purchase of Nintendo® Wii™ Game System and Wii Mario & Sonic at the Olympic Winter Games (in-store only)
* FREE Hot Wheels® 10-Car Pack with the purchase of Hot Wheels Criss Cross Crash Track Set – $9.99 Value
* BUY ONE, GET TWO FREE TRANSFORMERS 2 Fast Action Battlers
* BUY ONE, GET ONE 50% OFF ALL Video Game Accessories Priced up to $19.99 (in-store only)
* OVER 50% OFF Riptunes 2GB MP3 Player – Was $29.99; Now $14.47
* 50% OFF BABY ALIVE Real Surprises Baby Doll – Was $39.99; Now $19.99
* 50% OFF Imaginarium® Spiral Train Set – Was $49.99; Now $24.99
* 50% OFF ALL Liv™ Dolls, Sets and Accessories – prices vary
* SAVE $150 on Big Backyard Carlisle Wood Gym Set – Was $499.99; Now $349.99
* SAVE $81 on Coby® 19" LED High Definition TV – Was $229.99; Now $148.99
* SAVE $60 on Power Wheels® Kawasaki® Brute Force – Was $299.99; Now $239.99
* SALE on Mattel® Sing-a-ma-Jigs!™ – Was $12.99; Now $9.99 each
AND if you're in NEW YORK CITY – the city that never sleeps REALLY never sleeps … The Times Square TRU has already started the marathon of shopping … good thing retail clerks in NYC are never grumpy. 🙂
"To help New Yorkers and out-of-town visitors find time to complete their last-minute holiday shopping, Toys"R"Us Times Square will remain open from 6am on Friday, December 17 through 10pm on Christmas Eve, providing gift-givers with 184 continuous hours of shopping. In addition to offering the same deals and savings as Toys"R"Us stores nationwide, customers at Toys"R"Us Times Square can hear the roar of the life-sized T-Rex dinosaur or make themselves at home in the 4,000 square-foot Barbie® dollhouse, two of the store's many unique attractions.
Toys"R"Us Times Square also offers specialty services, such as Personal Shopping and Corporate Sales, where highly-trained staff can provide one-on-one attention and expert assistance in helping shoppers find the right gift quickly and easily. Personal Shoppers are available Monday through Saturday from 8am to 11pm and Sunday from 8am to 9pm. Gift-wrapping and shipping (to local, national, and international locations) are also available at Toys"R"Us Times Square to offer customers a convenient shopping experience."
So time to get out there at 4 AM to finally get the Guido and Ferrari Fan Guido you've been pining for …
* Some states prohibit 24 hour open-shopping – crazy commies! (Stores in Paramus, NJ, select stores in Maine, Massachusetts, Rhode Island and Connecticut, as well as the Toys"R"Us Express stores, will not be open 24 hours per day, largely due to local ordinances. Some Toys"R"Us store locations will close at 8 or 9pm on Christmas Eve).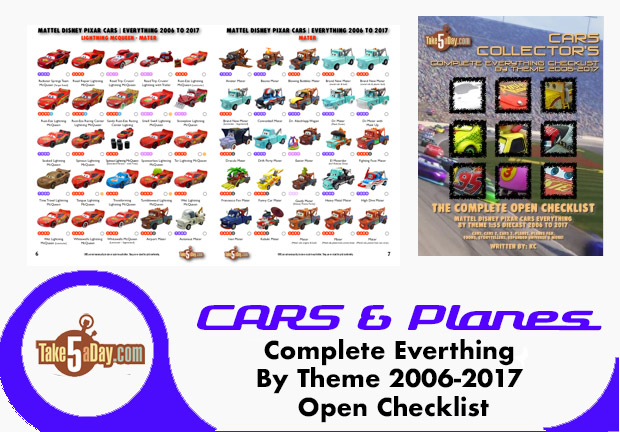 metroxing

20 December 2010

Mattel Disney Pixar CARS, Retail


19 Comments