Home
»
Food
,
Marketing
The Pressurized Coffee Machine Roundup & Review
Since it's bitter cold here in NorthCal now – 50 degrees though still sunny so it's time to drink some serious amounts of hot beverage … and since they have banned the 18-cups of caffeine+8 shots of alcohol energy drinks, it's back to coffee.
Now if you prefer just a regular cup of coffee, maybe some flavoring, then the Keurig is an easy choice to make – the "capsules" (called K-Cups) of coffee are available everywhere. You pop in a capsule and hot water shoots through it and you have a cup of coffee.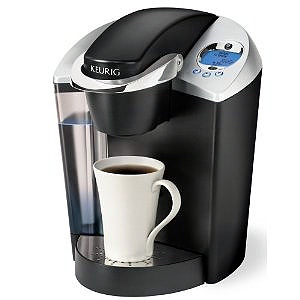 Personally, since I prefer lattes and cappuccinos, the "flavored" versions from the Keurig to me only vaguely resemble the real thing. To get the full effect, you need steamed or froth milk.
Of course, you can get a full on espresso machine with the frother but honestly, who has time – by the time you grind the beans, froth the milk, and clean up the stalk and the machine, you might as well just drive to Peet's or Starbucks.
Now, there are some nice alternatives without leaving the house and just as importantly, without spending too much.
The Bosch Tassimo machines are very nice. They have STEAM PRESSURE to inject the hot water into their "discs," called (t-discs). And unlike the Keurig which takes 3-4 minutes to heat the water, the Bosch machines are nearly instant on. Plus steam pressure water makes it that much better – and closer to a real coffee house machine.
The one on the left also comes in black. It's $169.99 with a $50 rebate at Amazon (just click on the link). It has about a 4-cup reservoir on the back though of course, it only makes one cup at a time since you have to swap out cartridges. This model comes with the water filter and the back water tank is removeable.
The middle one I believe does not come with the water filtration and the water tank is slightly smaller – it is cheaper at $129 with a $30 rebate taking it to $99.
The water filtration is not a huge deal as if you are using a PUR pitcher – that serves the same purpose when you pour from there to the back of the Bosch.
The one on the right is also $129 with a $30 rebate – also $99 – the main difference is if you want a more colorful look, the front cup holder and plate can be swapped out for a different color. You can check out your 4 choices here ($19.99).
They all work the same. You buy discs of coffee, milk, hot chocolate or tea.
You simply insert a cartridge by lifting that red round thing on the top front. There is a sensor that reads the barcode on each disc so it knows exactly how much water to shoot through the thing. You can make everything from coffee to espresso to lattes to cappuccinos to hot chocolate or teas. Right now, it is the only place to get Starbucks branded discs –  Starbuck coffee discs are exclusive to the Tassimo system.
To make a latte, you insert the milk cartridge – it shoots pressurized water through that. When the light turns green, you remove the milk cartridge (and toss) and insert the coffee disc. Press the big button and when the light turns solid green. You are ready to drink your latte or cappuchino.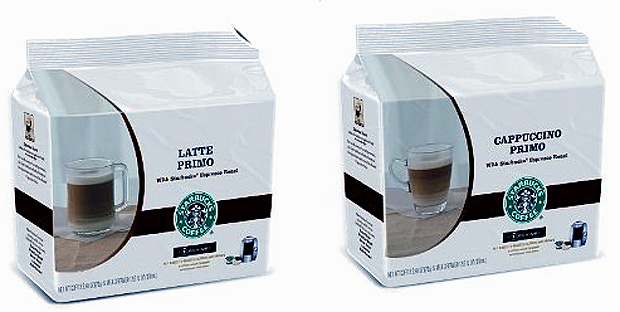 Each of these packs contains 8 servings.
Amazon sells them in 2-packs of 16 servings for $20.56 or @$1.29 for each latte or cappuccino. You can check out some of the other choices here.
Cleanup is a snap, you can just wipe and then every week, you can either use the cleaning disc which just shoots hot water through the system or you can easily remove the nozzle the coffee shoots through and run through the dishwasher.
Is it as great as a skilled barista pull – no, but for $1.29, it's a very nice substitute for wandering down to your kitchen … or if you can't that far without coffee, by your bedside.
Unfortunately, they do not seem to sell the Starbucks espresso discs separately anymore because if you prefer thick milk, you can froth it yourself with this Nespresso Aeroccino Plus which is simple to use, pour in milk, press button and wait 2 minutes.
And unlike trying to clean a stalk, this cup opens up and cleaning is easy.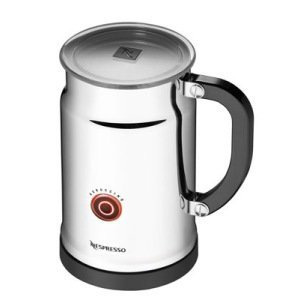 Which brings us to the Nespresso choices.
They are spendier and you only get Nespresso/Nescafe as your coffee choice but their machines are super cool looking …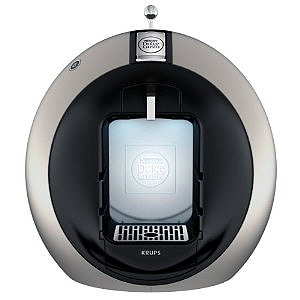 It also comes in red – $149 at Amazon.
You can check out some other very cool looking choices here – some come with the  Nespresso Aeroccino-like milk frother shown above as an attachment included. They work essentially the same with pods of coffee or milk. Place it in the machine. Press start.
The Nescafe coffee choices are only available from Nespresso and the prices are higher – while they appear comparable – their servings are smaller so you might actually need need to double or triple the capsules pricing but, that's still under $2 a "full" serving, it's still much cheaper than driving out to a coffee house. Especially with the milk frother, the coffee you get is pretty comparable to most coffee houses …
Of course, none of these are A+ lattes or cappuccinos but you can't have it all while not having to leave your house, without having to maintain an espresso machine and of course, with minimal cleanup. 🙂