Home
»
collecting
,
diecast
,
Toys
Greenlight Collectibles: Limited Edition 15-Car Route 66 Diecast Car Set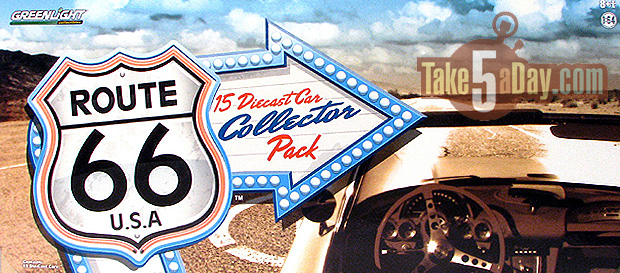 Greenlight Collectibles will be releasing in mid-November a 15-car "Route 66" tribute diecast set!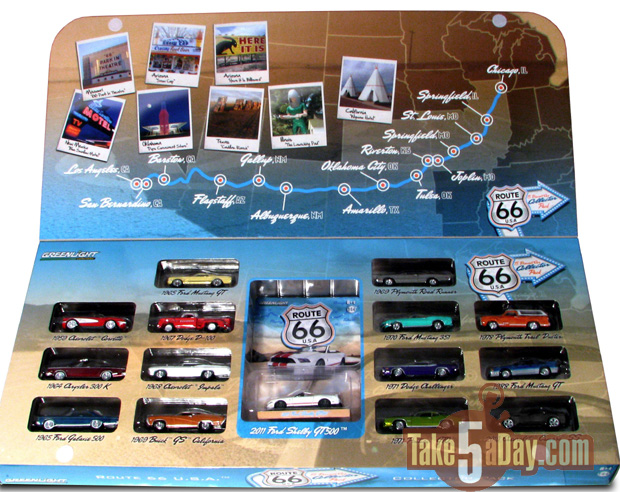 Seeing the image of the case above makes for a smart looking set imo!  The diecast cars will be packaged in a display Collector case (cardboard reinforced with two walls of plastic to help keep the cars in place) with a road map packaging that charts out the "Mother Road" through each of the eight states from Chicago to L.A.
This will be a limited edition set of just 4,260 units.  "All materials used are authentic with real rubber tires (cool!) and 100% die-cast metal body and chassis" – according to Greenlight.  These sets will be available for sale "mid-November 2010" for $64.99 MSRP (rounds out to about $4.33 per car) will be available exclusively at Toys 'R' Us, Toysrus.com and Toys 'R' Us Australia. Nice to see Greenlight share some collector love outside the U.S. – lucky Yanks and Aussies!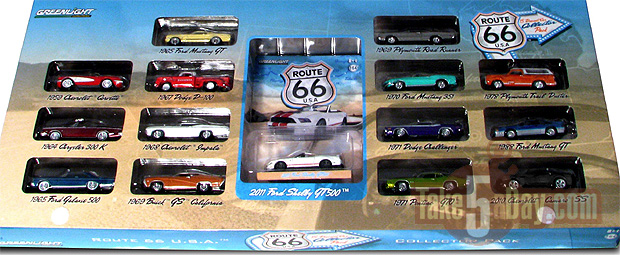 Many of the cars also are first time releases for Greenlight such as the 1964 Chrysler Convertible, 1978 Plymouth Trail Duster, 1988 Ford Mustang GT Stock and 2011 Ford Shelby GT 500 Convertible.
Here are the cars that are included in the limited edition:
1:64 Route 66's 15 Car Assortment:
1959 Chevy Corvette                                         1964 Chrysler 300K
1965 Ford Galaxie 500                                       1965 Ford Mustang GT
1967 Dodge D-100                                            1968 Chevy Impala SS
1969 Buick GS California                                   1969 Plymouth Road Runner 440
1970 Ford Mustang Conv.                                  1971 Dodge Challenger R/T
1971 Pontiac GTO                                             1978 Plymouth Duster
1988 Ford Mustang GT                                      2010 Chevy Camaro SS
2011 Shelby GT-500 Convertible
We will try to get links for you guys once we can determine when the sets go 'live' online and/or confirm in-store units showing up.  Happy collecting on your 1:64's!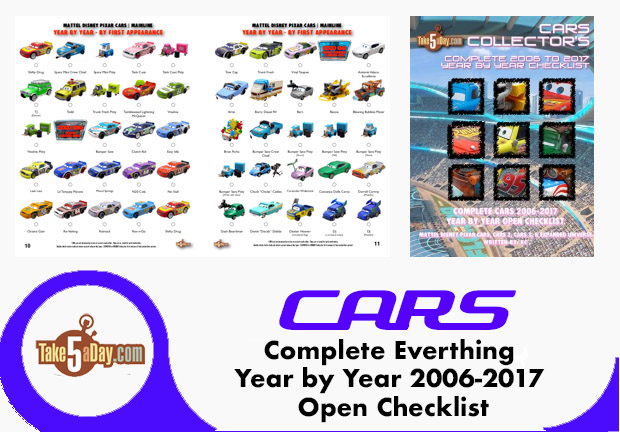 tizmanian

25 October 2010

collecting, diecast, Toys


14 Comments