Home
»
Mattel Disney Pixar CARS
,
Retail
,
Toys
Disney Pixar CARS: New Disney Store Toons 20-Pack SNEAK PEEK + CONTEST!
Before it hits the store shelves in a couple weeks, a sneak peek!

It's MASSIVE – about 3 feet across and every one of the 20-CARS are SOLID METAL DIECAST.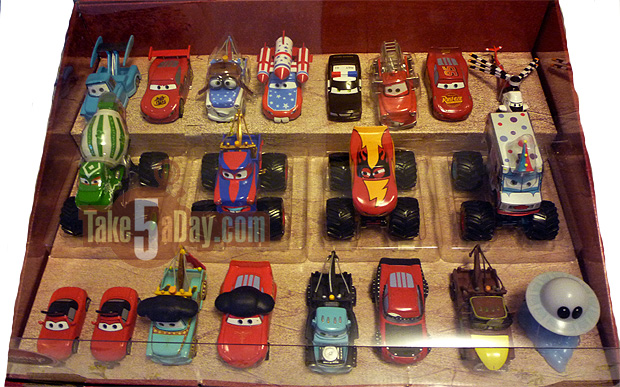 These are the large sized 1:43 scale CARS – some have been released earlier in 2 or 4 packs but there are some new ones, and some exclusives – all in one great box set … as long as your door is wide enough.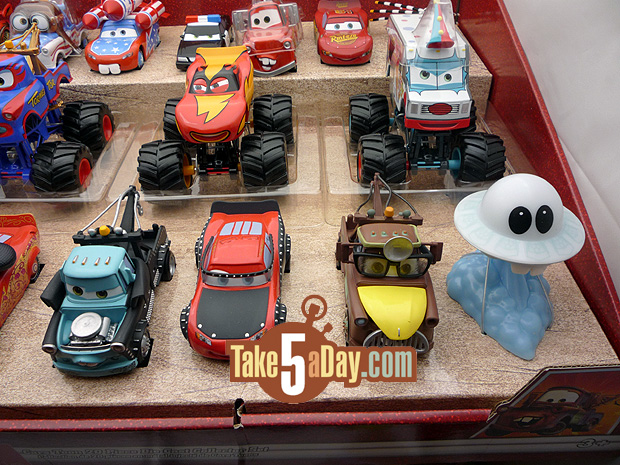 Heavy Metal Mater & Lightning are just out in a two pack and presumably Mator (UFO) and Dr. Mater in Disguise is coming soon.
Of course, the wrestling CARS are available separately.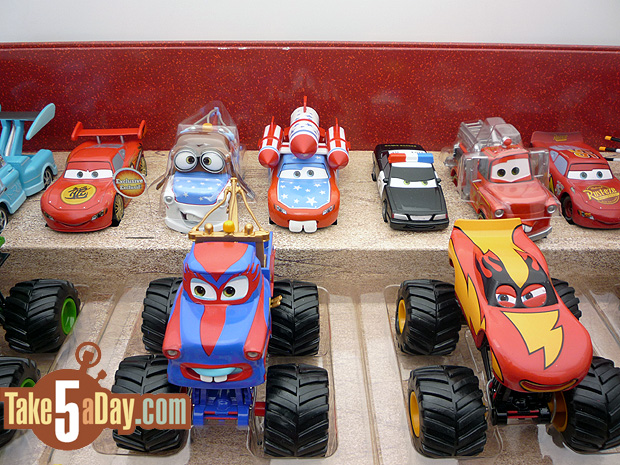 Did I mention this set is solid METAL and weighs a ton.* (ok, it's not legally 2,000 lbs, it just feels like it).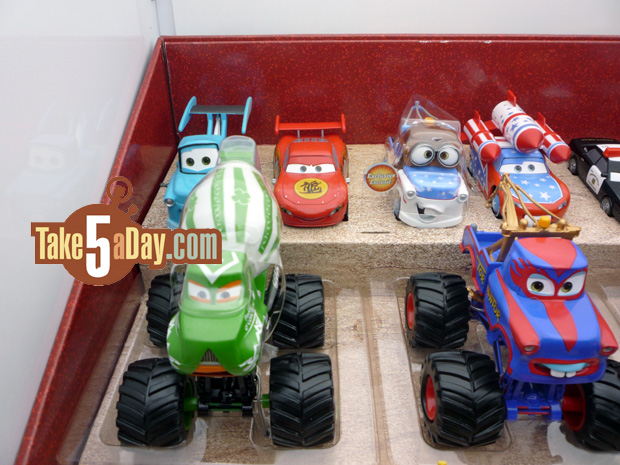 And the Mia & Tia exclusives …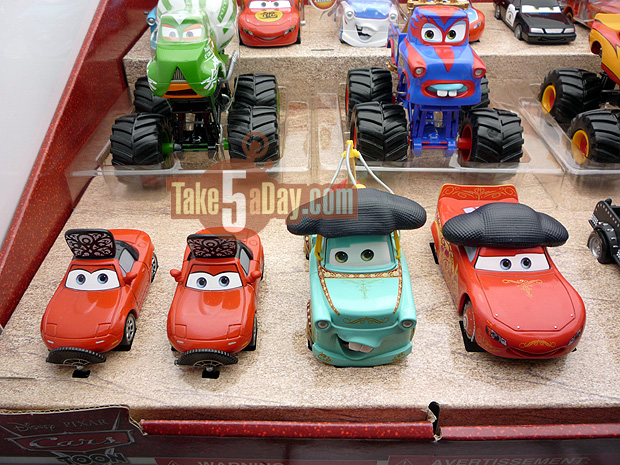 The detailing is great …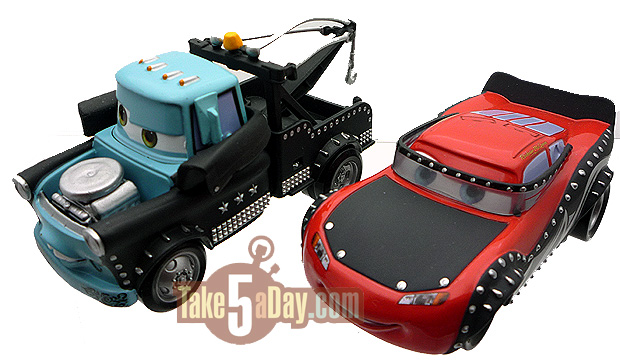 Yea, not just stickers or even dabs of paint but actual raised "spikes" and protrusions.
Rock on, dudes!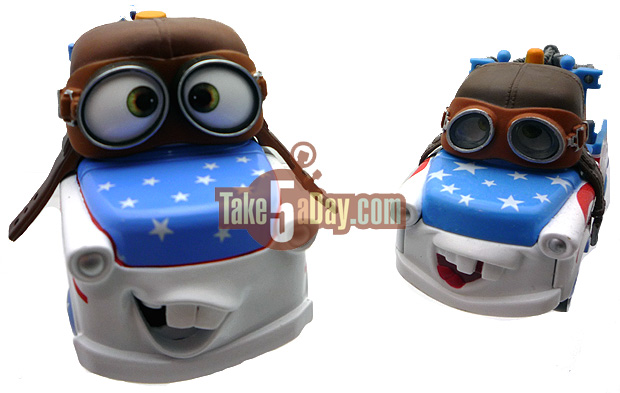 Also exclusive – Aviator Mater (with comparison to Mattel Aviator Mater) …
But wait, there's more!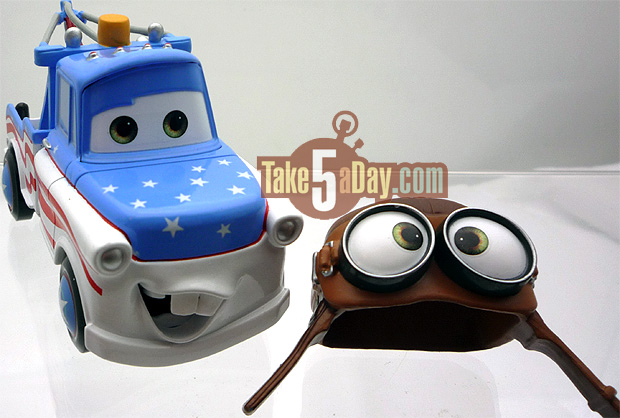 Yep, his goggles are removeable! TOO COOL …
And while Dr. Abshlepp Wagen & Mator (UFO) are not an exclusive …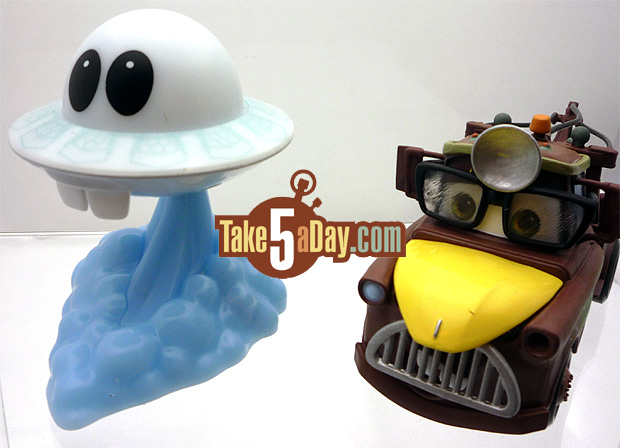 The detailing is also amazingly cool down to Mater's scratched lens PLUS … Mator is all plastic but don't worry, it was not a cost savings measure …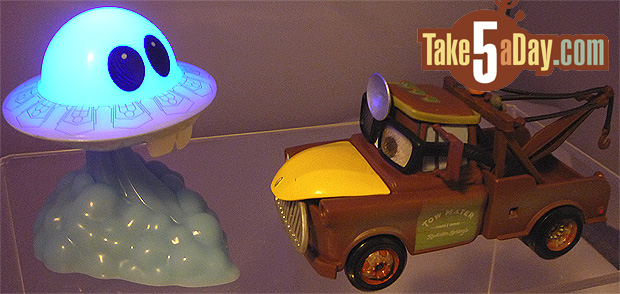 YEP, it so he can light up! Mator LIGHTS UP! (plus he has wheels under the exhaust cloud).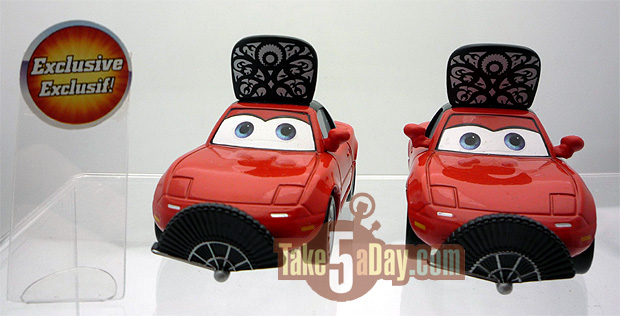 And the only place to get Mia & Tia Senorita …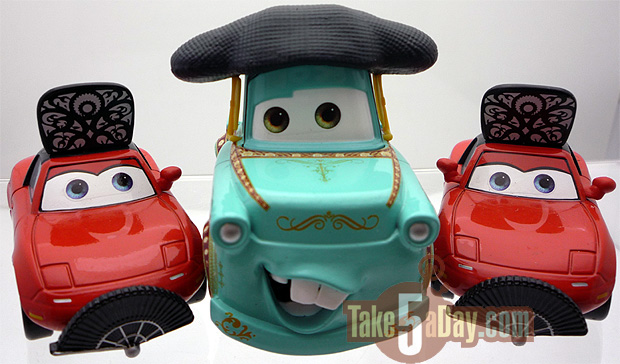 How are you gonna resist us?
AND as promised a CONTEST!
Not only is it great of Disney Consumer Products and the Disney Stores to give us a preview of a set not in stores for another few weeks – they sent along an extra one to give away here at TakeFive!
So, enter in the comments below with these phrases:
CONTEST ENTRY

My favorite Disney Store 1:43 scale CAR is ______________.
The contest starts NOW and runs until Saturday October 30, 11:59:59 PM PST. SUNDAY 10/31/2010 11:59:59 PM PST. You may enter once every 12-hours. A winner will be randomly select from all complete entries. If you don't write CONTEST ENTRY, it will be considered a regular comment.
International entries from "overseas" are welcome but we can ONLY ship this to a US address – the box is MASSIVE! So, everyone is free to enter but we can only ship to an US address – your friends or relatives will have to help forward it to you from there (and deal with customs issues)  but good luck!
Thanks Disney Consumer Products and Disney Stores for this great EARLY BIRD giveaway! NOT EVEN IN STORES YET!
Say hi to Disney Stores at their FaceBook page!
It's due to arrive in the first week of November so you might even get it before it hits the stores or just as it arrives. The winner gets an UNOPENED set (of course).
You can check out some of the other Disney Stores CARS products or other fun things from our Disney Store visit last week.

metroxing

25 October 2010

Mattel Disney Pixar CARS, Retail, Toys


820 Comments