Home
»
Mattel Disney Pixar CARS
,
Retail
,
Toys
Disney Pixar CARS: Disney Store 1:43 CARS Coming This Holiday
Collecting the Disney Store 1:43 CARS lineup is going to get more complicated but for now, here are the basics (visual checklist coming soon!) …
The main releases come on cards (that look like this now) …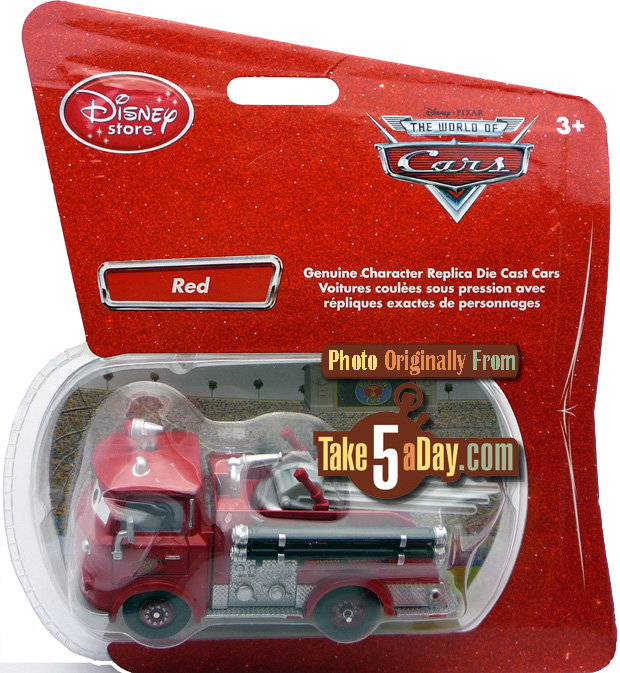 The nice thing is you can pretty much start collecting at any time as all the 1:43 singles are still in production – there are a total of less than 30 – a complete visual checklist will be ready soon.
A few are harder to find when the production cycle hasn't come back around but nothing has been retired.
However, in 2010, they have introduced the CHASE car – so far, there's only one …

The production run is about 15,000 and presumably, unlike all the other Disney Store CARS, this one won't be back once they are sold out.
For the Disney Store re-launches (see this post for the scheduled of opened and opening in 2010 HERE), they each get a special allotment of these CARS in a Display Case …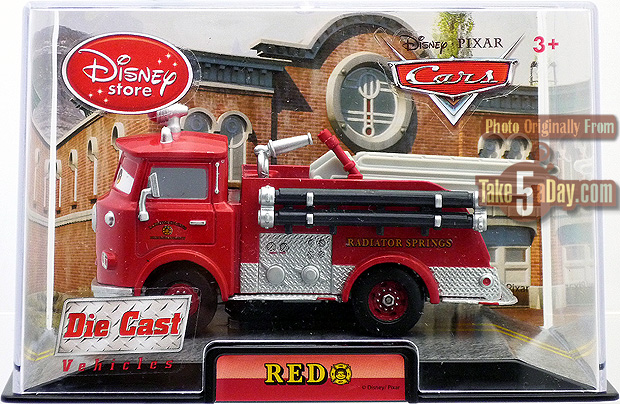 The post on the first wave of releases is HERE. The post on the second wave of releases is HERE. For completist and MIB collectors, this is an interesting and possibly difficult set to complete as some in this display box packaging have a run of 1,500 or fewer so to find and build a complete set is going to take some work. Now, I know these will be available at the re-launch stores but will it be the complete set of around 20 or will only the current wave be available? The Santa Monica store just opened and there are 4 more coming in September so take a look and report back on the stock of the ones in display boxes.
You can get a sense of the scale from this photo (Mattel 1:55 on right) …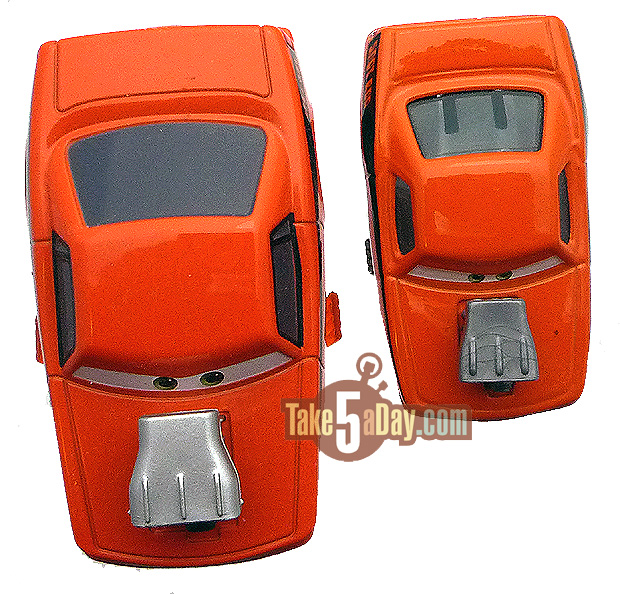 Or you can save time and collect (most all) them in one 20-CAR box set …

Of course, the only place to get the light up tuners …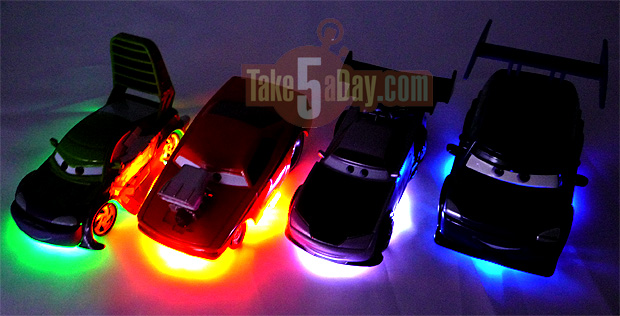 And the great ginormous Frank the Combine.
For the Mater Tall Tales, there are some great box sets that open up very nicely to display … the Rescue Squad Mater 4-pack, Tokyo Mater 2-pack, El Materdor 2-Pack, & Mater the Greater 2-Pack.
A complete checklist will be coming soon.
But it's going to a busy holiday season as the line really gets expanding …
We saw a preview of the new Mater Tall Tales 20-CAR Box set … (I believe Mia & Tia are exclusives along with 2 other cars).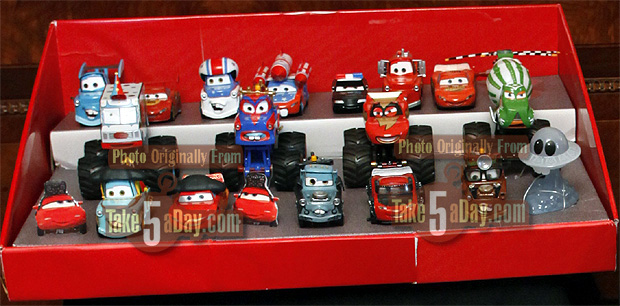 And the giant Rescue Squad Helicopter carrying case (with exclusive Ambulance)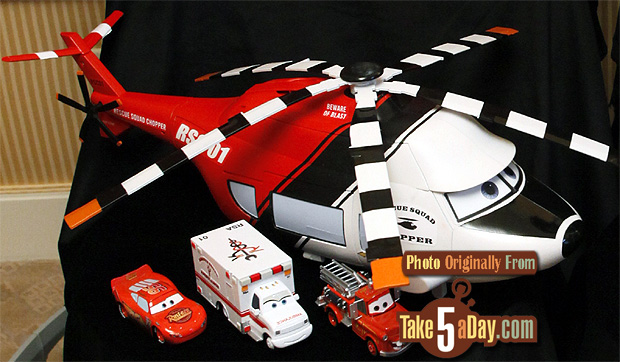 There is also another 10-CAR pack of Radiator Springs with an exclusive Ghostlight Ramone (Blue) and Heavy Metal McQueen (in Metallic Paint).
Also, the Piston Cup Racers 10-pack (The original Disney Store Piston Cup Racers HERE). Presumably it's the 5 Disney Store Piston Cup racers + King + Chick + Lightning plus two new racers – RPM & No Stall – both exclusives to this set.
Tex & TJ will be joining the singles lineup.
There will be 2 new 2-packs (one for UF Mater and one for Heavy Metal Mater).
And a new 4-pack with the 4 wrestling CARS you see in the 20-pack.

Photos to come so be on the lookout …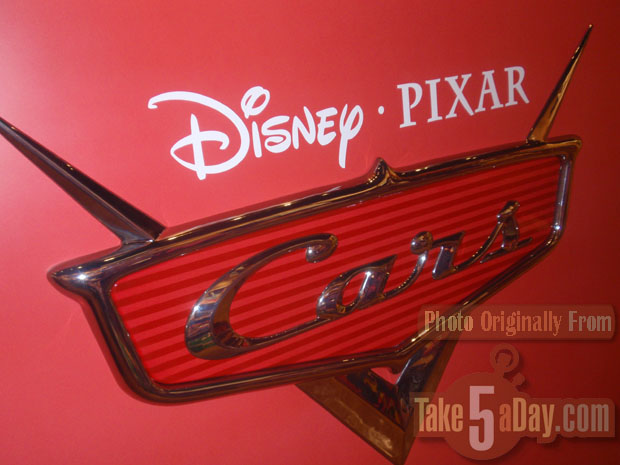 Shopping Links to The Disney Store:


Disney Store Shortcuts:
Disney Pixar CARS (All)
(Some Box Sets Are Not Always in Stock so No Specific Page But General to SEE ALL)


Disney Store (Large) Frank the Combine
Disneyland Mini Adventures Playmat (with exclusive Mickey McQueen & Minnie Sally)
Lightning McQueen Plush Toy – 14"
Disney Cars Tokyo Drift Mater RC Vehicle
Disney Cars Tokyo Drift Dragon Lightning McQueen RC Vehicle
Disney Store 1:43 Scale CARS (NOT from Mattel)
Neon Light-Up Disney Cars 2-Pack — Snot Rod and Boost
Neon Light-Up Disney Cars 2-Pack — Wingo and DJ
Disney Cars Drag Strip Launcher Track with Cars
Disney Cars Die Cast Launcher Race Set – Twin Pack
Disney Cars 20 Piece Die Cast Cars Box Set (ON SALE for $79.99)
Free Shipping & $50 purhcase with COUPON CODE – SHIPFIFTY.
Note, the Disney Store online does carry a few Mattel items so if it says Mattel, it's 1:55.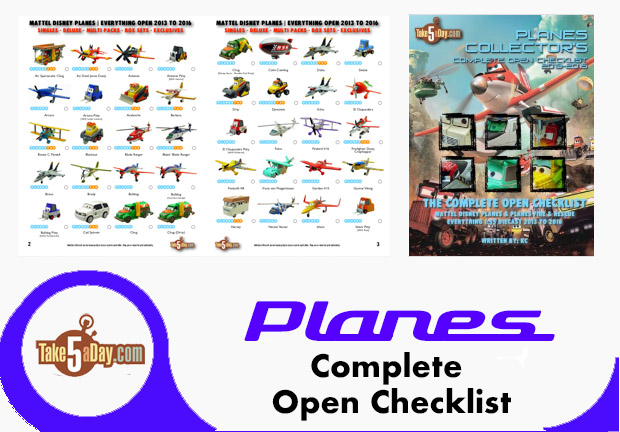 metroxing

31 August 2010

Mattel Disney Pixar CARS, Retail, Toys


21 Comments