Home
»
Mattel Disney Pixar CARS
Mattel Disney Pixar Diecast CARS: SDCC Tuner Mater Exclusive Sneak Peek
Here's a tip for budding photographers …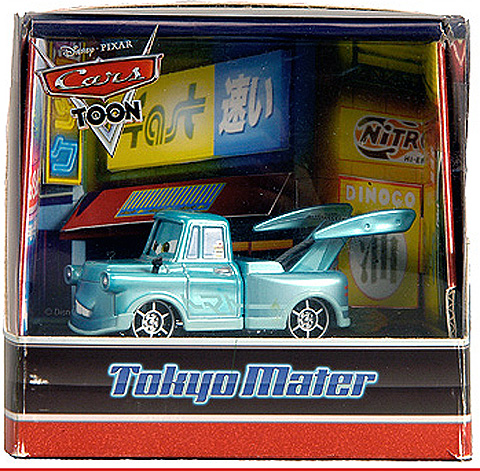 Maybe a low-res photo of your product in a beat-up box is not the best way to showcase something …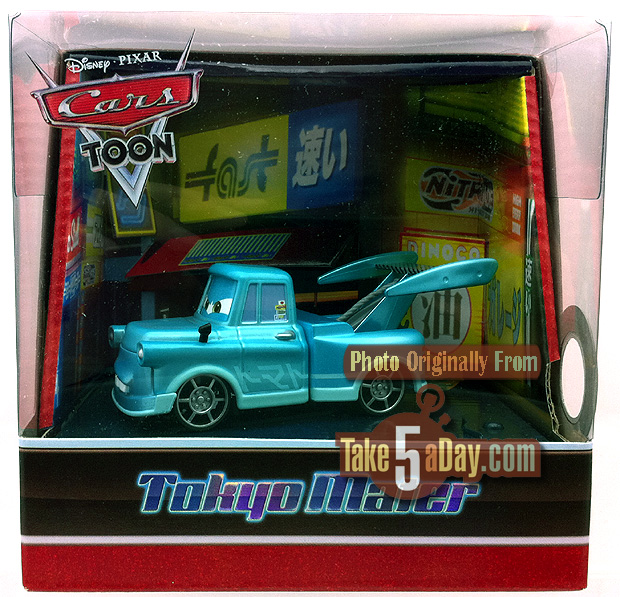 Because the box and CAR are actually quite nice and deserves some better photos …
(I didn't say I would take them … I grabbed these while passing by on my Vespa drinking a cappuccino).
You can't even see the TRY ME in the original photo – not to mention the lights are alluded to …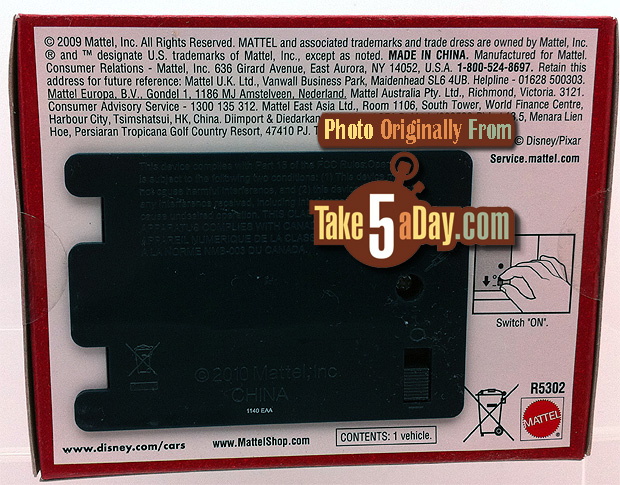 While the out wrap is cardboard, the black base is plastic and solid – you have to remove the battery cover to pull it off the display backing. Very classy – you get an ON-OFF switch and even three batteries … and instructions to never thrown away CARS items … the X over the garbage can … 🙂 … that is what that means, right?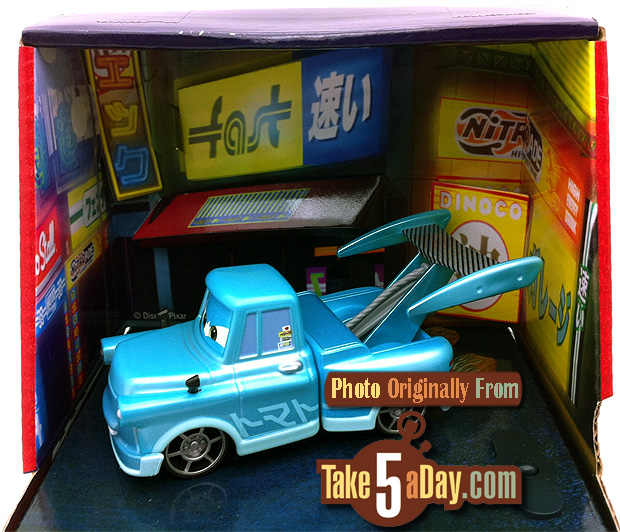 What you also can't tell from the photos is while the backing art is cardboard, it's actually got some nice "3D" elements like awnings and signs that jut out so it's actually a very nice display box.
As far as I can tell, they are not rubber tires* … I would have removed the CAR from the base but frankly, I could not figure out how. There are 5 screws at the bottom of the battery compartment, I'm presuming if you remove those, you can get to the two or three post screws holding Mater down but as I budgeted 15-minutes for a nap and not 15-minute Mater removal, sorry gotta stick to the schedule.
* I tapped on them with a screwdriver and they felt like plastic and not rubber plus no description mentions rubber tires.
So, here are some older pics…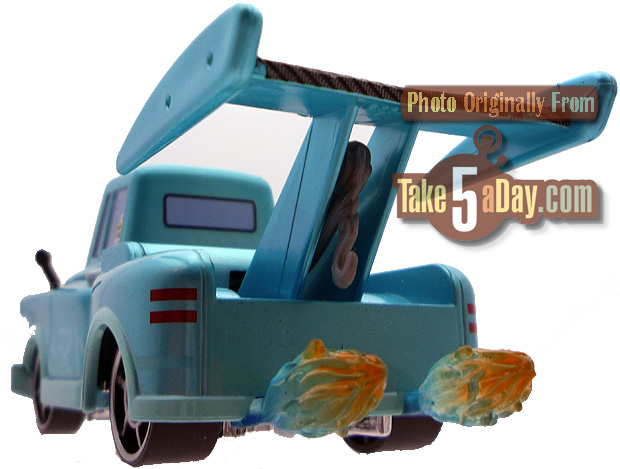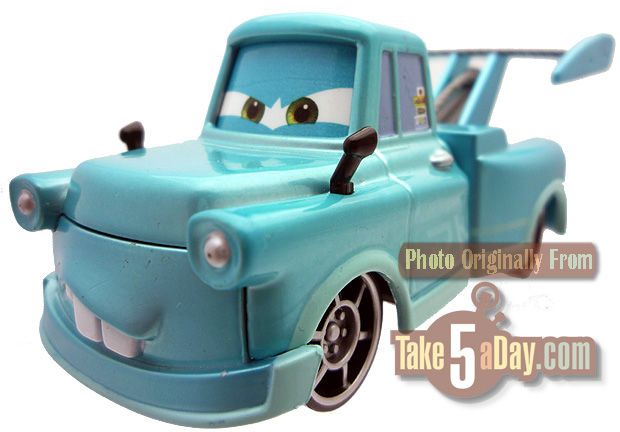 And yea, the light up effect is very nice … a little hard to tell from these photos as of course, if you turn off the main light to see the tuner lights, you lose some resolution but it's a nice display and much brighter lights than last year's LED's …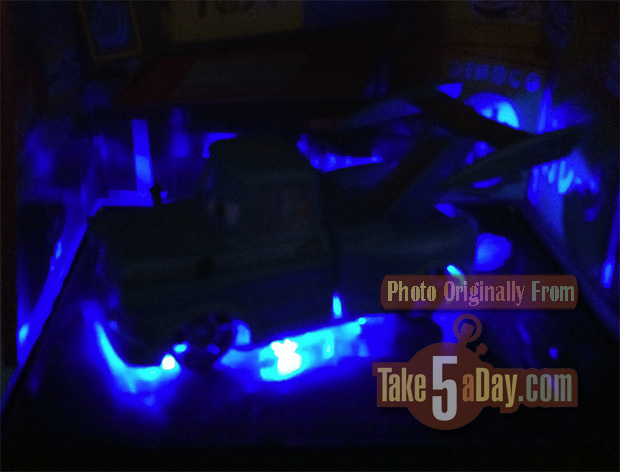 Glowly!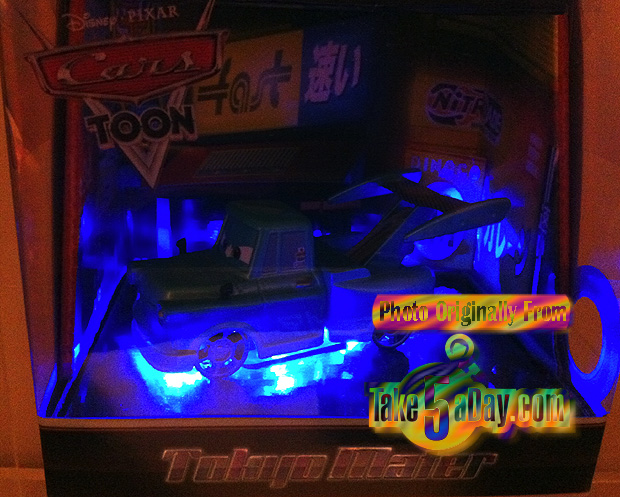 So, yea foiled again – if you thought the original photo was not a selling point, well, it only told about 30% of the picture. The CAR looks great and the lightup effect is actually quite nice and slick looking. So, while Tuner Mater is scheduled as an oversized, we don't know if the paint will be luminescent or if the "flames' are translucent so they will give the light up effect as they do here – plus with an on/off switch and regular batteries, this one is a nice display … in other words, after careful consideration**, I have to say this is the 311th buy recommendation … 🙂
** Nearly .8 seconds after pressing the TRY ME button.
Remember, SDCC ON-SITE pick pre-orders start tomorrow.
NON SDCC attendee ordering starts 8/2/2010.
Flame on Tokyo Mater!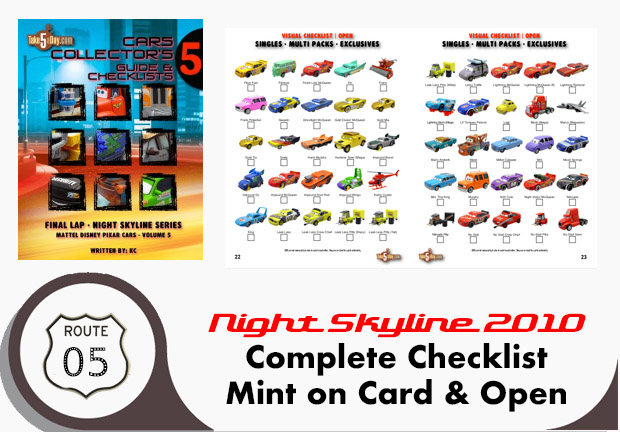 metroxing

12 July 2010

Mattel Disney Pixar CARS


30 Comments