Home
»
Mattel Disney Pixar CARS
The CARS CARES Family Salazar Charity Auction Starts Now …
Kevin T. of CARS CARES (the only official 501 registered charity solely devoted to helping out kids with Mattel Disney Pixar diecast CARS) has graciously offered to host a series of auctions for one final push in helping out the Salazar family.
(you can read the link to our first post above).
Eric's L. has generous donated ALL of the items listed below for the Salazar family!
Simply go to the CARS CARES auction page – register to bid. While this requires a little more work on your part, by hosting the auctions on CARS CARES, this avoids some eBay fees. You can read more information here.
You can choose among these lots to bid on.
Lot 1: Chase!
DJ w/Metallic Finish (NS)
Darrel Cartrip w/Metallic Finish (NS)
King w/Metallic Finish (NS) Lenticular
Hydraulic Ramone w/Metallic Finish (NS)
Fred w/Fallen Bumper (NS) Lenticular
Van w/Stickers (No Stickers) (NS) Lenticular
Bling Bling McQueen w/Piston Cup (NS) Lenticular
Ferrari F430 – Italian Chase Package – Autographed by Mattel Designer Martin Arriola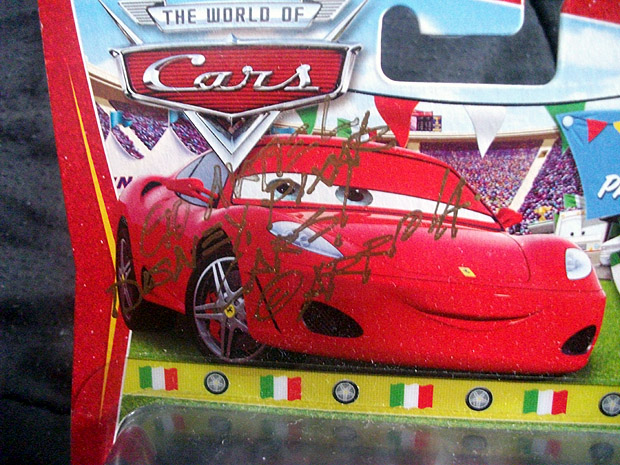 Lot 2: Old-er & New
Ito San (Cars Toons)
Kabuto (Cars Toons)
Buck the Tooth Vendor (Cars Toons Mega Size)
Sally w/Cone (WOC)
Lizzie (SC – Card Not Mint)
Fillmore & Sarge – Movie Moments (SC)
Milton Calypeer (ROR)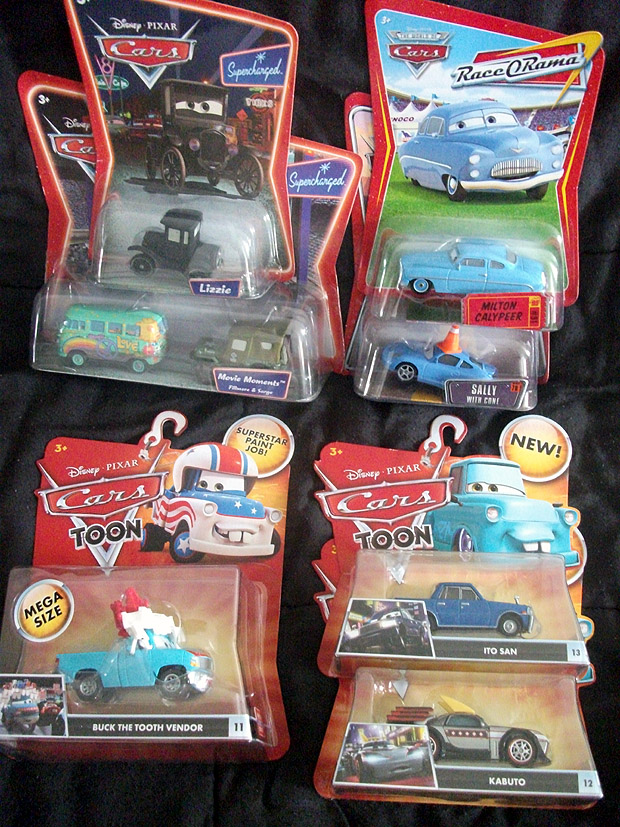 Lot 3: Racers!
Vinyl Toupee (K3)
Rev & Go (K3)
N2O Cola (K3)
Dale Jr. (K4)
Sputter Stop (K4)
Spare O Mint (K4)
Transberry Juice (K4)
Fiber Fuel (K4)
Tow Cap (K4)
RPM (K4)
Vitoline (K4)
Transberry Juice (K1)
Sputter Stop (K1)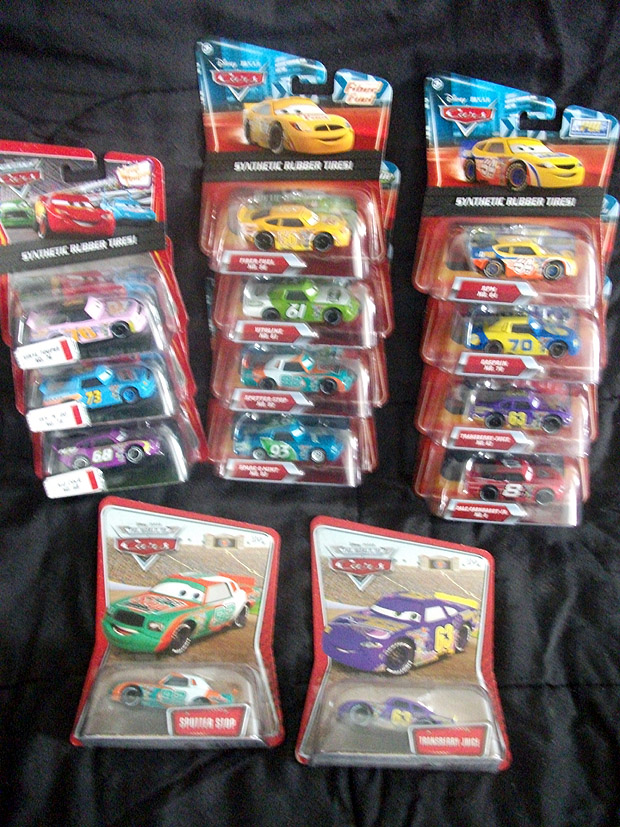 Lot 4: Metallic Toons!
Dragon Lightning McQueen w/Metallic Finish & 2010 Collectors Guide
2009 SDCC Set – Rescue Squad Mater, Dalmation Mia & Dalmation Tia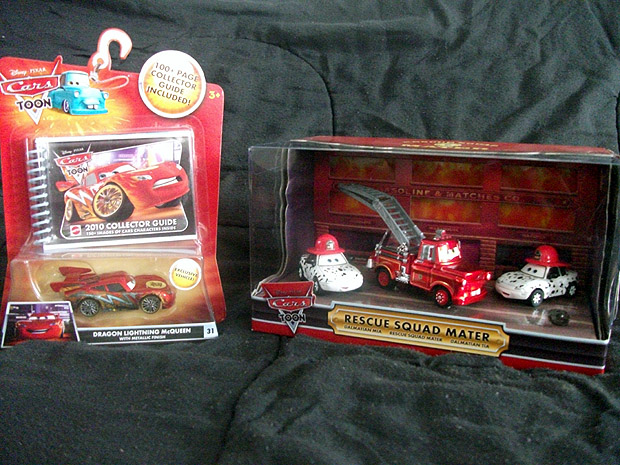 But Kevin and Eric are not alone in their generosity. The winner of our Kmart CARS Day 4 CASE decided to donate the ENTIRE CASE TO CARS CARES!
Thanks, Tom R (PenguinTom) – he even sent along a very nice note – generous and gracious.
I have been so excited waiting for the case to arrive from the contest that "Take Five" ran.  What a generous contest that you held.  As I already stated I'm a big fan of TFAD; timely info, humorous writing, excellent photos, concern for more than just "Cars," and an attitude of grace and humility makes it  the best for me.  Did I mention the squirrel?  Actually there is more but you'll have to wait for it; only so many compliments at one time.  I follow 24 blogs (of all interests and types) daily or almost and by far Take Five is the class of them all!
I feel so blessed by this event that I would like it to go even further in "the spirit" of Take Five.  I would like to give these super neat cars to a charity that could use them.
Again thank you for having an awesome grace about the site and about both of you as individuals.
Respectfully,  Tom R.  aka "penquintom"
Thanks Tom for the kind words. Your words will look great on the giant plaque at the foot of the 25′ glowing statue of me feeding a squirrel off Highway 64 …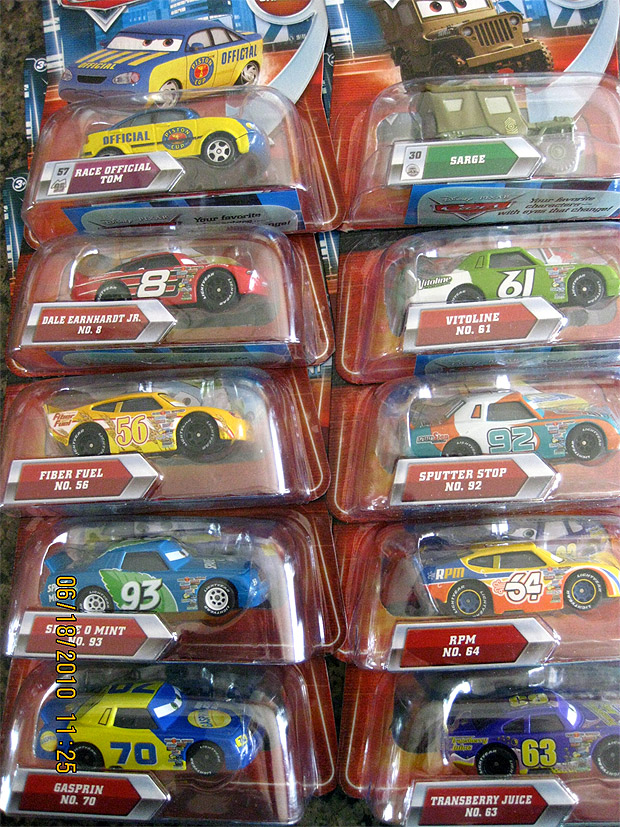 And of course, also thanks to Kevin Nascar Bronco for his generosity and time in launching the Challenge and his donation from his Texas Tea auction.
So, thanks to everyone who has already contributed or will contribute – thanks!
Rick & Family's last update & his thanks you to all so far is HERE.
Thanks again, Kevin T., Eric L., Tom R. & Kevin "NascarBronco."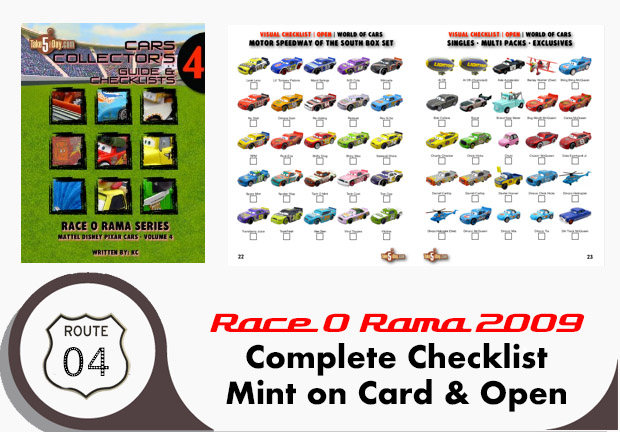 metroxing

26 June 2010

Mattel Disney Pixar CARS


11 Comments