Home
»
comics
,
Disney Pixar
,
Mattel Disney Pixar CARS
,
Retail
Disney Pixar CARS: The Books of CARS 2010 Edition
With the second volume of Mater Tall Tales, the book called Heavy Metal Mater & other Tall Tales due out in a few weeks – July 13, 2010 … it time to update the books of CARS – this Mater Tall collection will feature the novelizations (for kids) of the following shorts: Tokyo Mater, Unidentified Flying Mater & of course, the unseen in the US, Mater as a rock star in Heavy Metal Mater. You can buy it from iTunes UK if you don't mind a hurdle, skip, jump and handstand hurdles.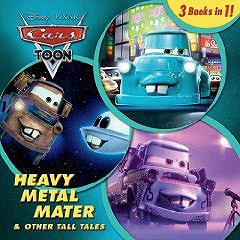 And for those who haven't been reading or collecting the CARS COMICS – separate series they have been complied into one 'graphic novel' for kids …
CARS: The Rookie comic book issues 1-4 has been compiled together into one book … the backstory of how Lightning McQueen got his Rust-Eze sponsorship … Also available in hardback cover HERE.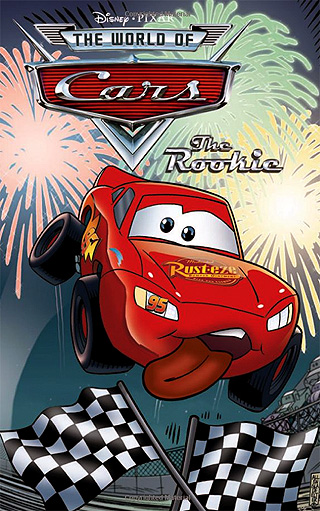 The second series of the comics called CARS: Radiator Springs (4-part mini series) is now also compiled into one 'graphic novel.' CARS: Radiator Springs tells the story of how some of the famous citizens of Radiator Springs arrived … Also in Hardback.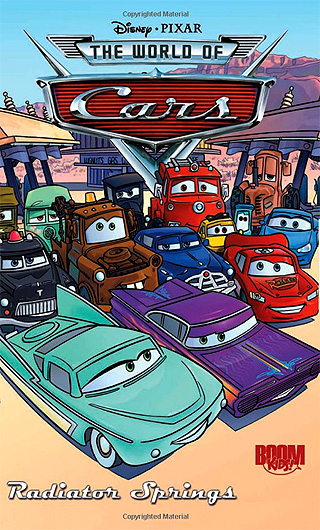 Because the first two mini-series were big hits, CARS is now an ON-GOING comic book series and the third 'graphic novel' compilation has been assembled from the first 4 issues of the new CARS comic book series – Cars: Rally Race. Also available for hardback Pre-Order HERE.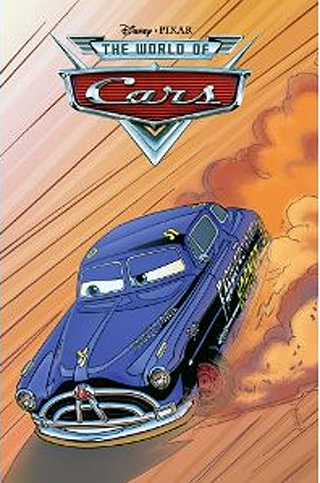 BTW, the first two graphic novels are part of Amazon's BUY THREE, GET ONE FREE promo so all you need to do is find one more book to buy and you get the 4th book FREE!
You can also find some of the Boom Studios 'other' Pixar Comics at the bottom of the CARS page (click on any of the Amazon links above).
We're working on a direct affiliate CARS link to THINGS FROM ANOTHER WORLD (TFAW) so for now, just click on the link to the front page and type in the search DISNEY CARS to order or pre-order.
You can also check out our earlier post with YOUTUBE VIDEO & cover art of our SDCC 2009 TakeFive panel with both Boom Studios CARS writer Alan Porter and artist Allen Gladfelter.
And a recap of the official CARS books. Here are the official, blessed, sanctioned or in effect, the short list of books approved by John Lasseter.
CARS (The 2006 movie)
Each Pixar film release guarantees us two things – a dazzling film going experience and an "Art of" book in a long series that is a great showcase to animation, animation film-making and just plain cool art to look at – The Art of CARS. You can find links to the rest of the Pixar ART OF BOOKS HERE plus a postcard series from many of the films.
The CARS Essential Guide is a great looking and colorful guide from 2006. It features mostly the townies and some the Piston Cup racer characters. It's a good 'starter' book with great and huge photographs but back in 2006, they figured we would only be interested in the 20-25 main characters … oops, so nice but not very comprehensive. It says they are updating it and adding 16 pages to add in the Mater Tall Tales characters but they seem to have missed the publication date of September 2009.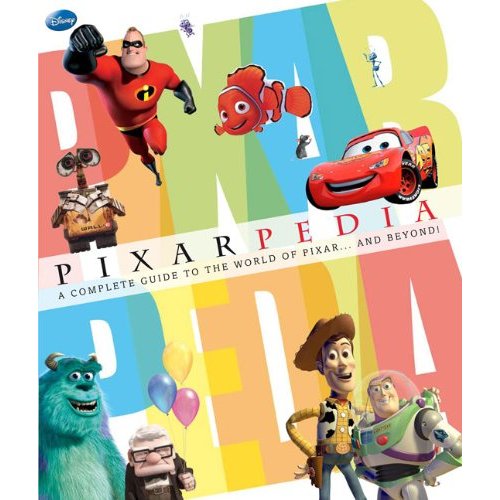 Of course, Pixarpedia is the full showcase and encyclopedia of every Pixar film (though UP including all the shorts), it is also the fullest and most complete listings of CARS characters – even more detailed than the Blu Ray finder and of course, in convenient book form … but unlike most other Pixar films with at most a hundred identifiable characters, CARS is at 300-400 and counting so it's still not 100% complete … if you just add up the Piston Cup racer teams, how many CARS is that? :-0  If you are even a casual fan of Pixar films, this book  will keep everyone from the age of 4 to 104 flipping through the book. It's a dazzling showcase with literally a thousand+ photos … Our review is HERE.

Meet the CARS is also really written for kids but it is geared for kids of all ages – as it's a mini encyclopedia of CARS characters. It's not really very complete (only about 20 of the Piston Cup racers) are featured but it was a nice colorful book form featuring a close look at many obscure characters. There was a TARGET-ONLY version which featured a mini booklet attached that featured additional characters – many from the World of CARS Storyteller series of diecasts.
CARS (Expanded Universe)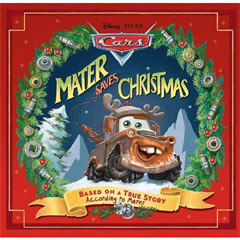 Mater Saves Christmas features the story of how Mater saves Christmas. Diecasts released this year at Target & at TRU including Reindeer mater, Snow Day Sally, etc …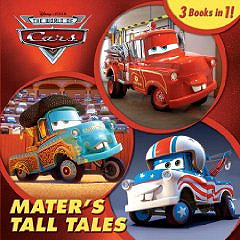 Okay, the first volume of Mater's Tall Tales is more of a kid's novelization of the shorts but still a nice and fun recap of the first three CARS TOONS shorts: Mater the Greater, El Materdor & Rescue Squad Mater. Diecasts releases are all under the CAR TOONS: Mater the Greater series.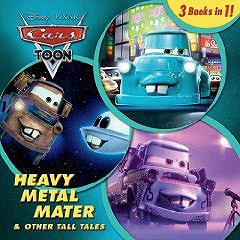 The second volume called Heavy Metal Mater & other Tall Tales is due out until July 13, 2010 … it will cover & feature the novelizations (for kids) the following shorts: Tokyo Mater, Unidentified Flying Mater & of course, the unseen in the US, Mater as a rock star in Heavy Metal Mater.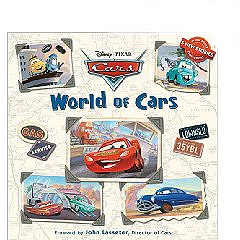 THE WORLD OF CARS book is the first official Expanded Universe stories. Stories are of the townies including backstories to their arrival in Radiator Springs. These as diecasts are released in the Target-only Storyteller series which include Flo's Showstopper friends, Mater's Cousin and nemesis, Bubba.
For some more of the KID's BOOK and links, Check our older post.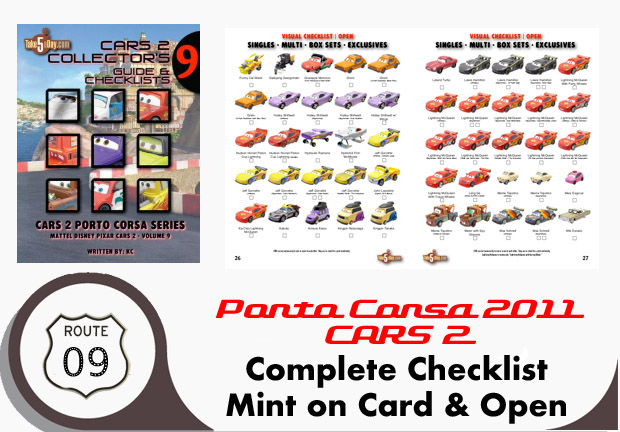 metroxing

25 June 2010

comics, Disney Pixar, Mattel Disney Pixar CARS, Retail


14 Comments