Home
»
CARS
,
collecting
,
Contests
,
diecast
,
Disney Pixar
,
Mattel Disney Pixar CARS
,
Toys
TakeFiveADay Announces Diecast Authority Sponsored Contest Winners + Custom 1/24 Scale Cover News!
The contest was officially closed yesterday and we have our two winners with the prizes graciously provided by Diecast Authority!
If you recall, an official entry had to have the phrase CONTEST ENTRY (and the Disney Pixar CAR you would like to get graded) with entries being at least 12 hours apart which some of you, *ahem*, bent.  However, with some discernment regarding official entries and the wonder of random.org's random number generator, we have selected our random winners.
The winner of the GRAND PRIZE can now mail in ONE Mattel Disney Pixar Diecast CAR to be GRADED and SEALED for free!  Remember, if you win the "Grand Prize", you are responsible for postage & insurance in sending in your diecast CARS car to Diecast-Action Figure Authority to be graded. Your return postage is included as part of "Grand Prize"package.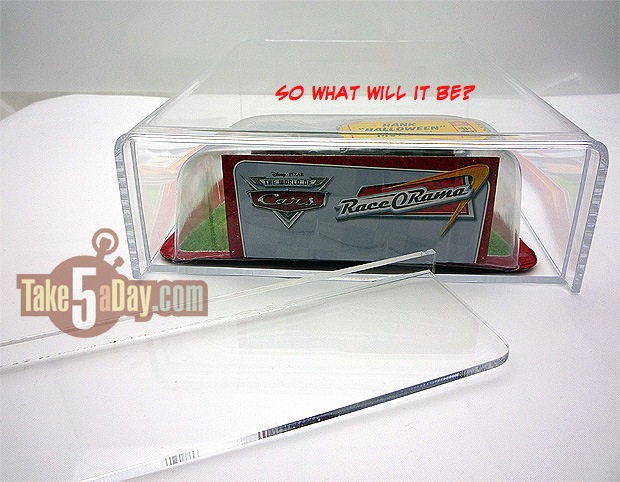 AND THE GRAND PRIZE WINNER IS:  Aaron & Jeanne Scriven with their submission "DB Sarge" (That is Desert Back for you new folks).  Congratulations!!!  You get to submit your CARS collectible to be graded and sealed for FREE so choose wisely, CarsHopper.  Please email sales(at)takefiveaday(dot)com and we will get all the details to you to help you submit your stuff!
And for our Second Place Prize Winner, you WIN the SEALED and GRADED Elvis RV as seen here: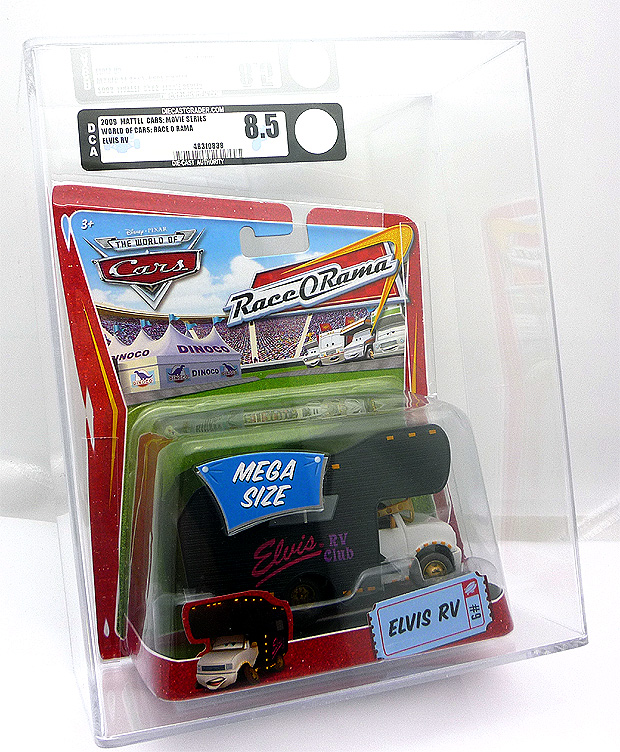 And the Runner Up Winner is:  Rcargenbright with their submission "Saluting Sarge".  Congratulations!!!  You win the Graded 'Elvis RV' seen right here.  Please send an email to sales(at)takefiveaday(dot)com and we will get the details for shipping this beauty off to you.
It was kind of spooky to see that two Sarge submissions ended up winning but that is part of the beauty of randomness.

And here is another cool special for TakeFiveADay readers!  A custom case top for your 1/24th line of CARS!
Diecast Authority is testing out the level of interest in this new offering and by emailing info(at)diecastgrader(dot)com, you can order one of these for $29.99 plus $12 domestic shipping.  This is a special price for TakeFiveADay so be sure to mention that in your email if you will be ordering.  The normal price is projected to be $34.99 + $12 domestic shipping.  While I have not had one of these very new case tops in my hot little hands, they look to be of the same great quality as their other offerings.
The good folks at Diecast Authority also responded to some questions we posed over the past few weeks after reviewing the commentary in prior posts and we thought you might enjoy seeing our questions and their responses about their offerings, collecting, and the concept of grading.  Here are the results of that interview:
T5: How long have you been in business?  What do you want to say to reassure these people about using your company's services?
DCA: We have been in business for 9 years (since 2000) and have become the worldwide standard for grading action figures and many other types of collectibles.  We have served thousands of clients over the years and have graded items with individual values in excess of $50,000.  We treat each and every item sent to us with great care the entire time they are in our possession, regardless of monetary value, because we realize that any item may have significant value to the owner, aside from the monetary aspects.  We always suggest that items are submitted to us via a trackable and fully insured shipping method, and we package all items very carefully in new, high quality boxes for return shipment back to our clients.
T5: Briefly, what are some of the areas you look at in grading?  There is a small % who think if they send you something, then have to pay money and find out it's grading at a 7.0 or something so maybe then it's not worth getting graded. What do say to those collectors who fear this might happen to them?
DCA: Most collectors are already very picky and detail oriented regarding the items they collect.  Most already know the condition of their items and have a good idea of how serious the flaws are.  We believe that most serious collectors  already know if their items are in good or bad condition.  Some collectors may want items graded for nostalgic reasons and don't care about the grade, but most closely examine the items they send.  The most common type of flaw which could lead to a much lower grade than expected is a blister or window crack, no matter how small.  Provided, clients look closely for these cracks and none are found to be present, the chances are very slim that a nice looking toy would come back graded a 7.0.
T5: One CARs specific area is whether the plastic j-hook's affect on grading. Early ones where one of the pieces was sometimes twisted? Or later ones where the j-hook was lifted by the same clerk – does it being lifted or not lifted affect the grades very much?
DCA: Every aspect of the packaging is taken into account when a grade is assigned.  However, this type of flaw should only have a major effect on the grade if the cardboard or plastic is torn.

T5: In terms of other items that are in the same age range (3 years) – are there pricing patterns and trends from a "typical" selling price and one graded and sealed by you?
DCA: There is no general answer to this question, but a graded item can often sell for many times the price of an ungraded item.  For example, an AFA 10.0 Clear Wraith from the 2008 GI Joe toy line sold on eBay several months back for just under $1000, while an ungraded example was selling for about $35.
T5: Can you talk more about custom cases such as doing individual cases for piston cup racers and at what price point it would make economic sense for you?
DCA: We can manufacture sliding bottom cases for any Cars item, whether sealed in a package or loose.  Each case is hand-made at our facility and represents the finest quality materials and craftsmanship available.  The prices vary greatly depending on the size of the item and the quantity of identical sized cases ordered.  We offer volume discounts and other price breaks, coupons and additional discounts through our store and via our newsletters.  You can sign up for our newsletter for free in order to receive monthly discounts and coupon codes by going to https://www.cgagrading.com/diecastgrader/Register.aspx or by contacting us at http://www.cgagrading.com/diecastgrader/contact.aspx
T5: What are your general thoughts about the Pixar CARS lineup and future value trends?
DCA: We are very excited about the Pixar Cars line and have seen an increase in the amount of Cars submitted for grading to DCA over the past year.  Between grading and building custom acrylic cases for these wonderful collectibles, we hope to contribute to the proper preservation of these items for the decades to come.  Furthermore, we believe that as with many other high quality toy lines, the Cars line, if collected in nice condition and preserved properly, is very likely to see a significant increase in value down the road.
So there is the straight deal from the folks over at Diecast Authority which also owns and manages Action Figure Authority, Collectible Doll Authority and Video Game Authority as well.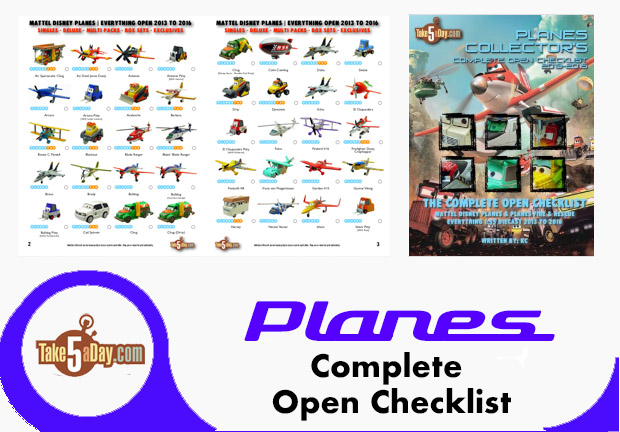 tizmanian

1 October 2009

CARS, collecting, Contests, diecast, Disney Pixar, Mattel Disney Pixar CARS, Toys


29 Comments