Home
»
Advertising
,
collecting
,
diecast
,
Film
,
Internet
,
Marketing
,
Mattel Disney Pixar CARS
,
Retail
,
Toys
,
TV
Mattel Disney Pixar Diecast CARS: Kmart CARS Day 2 Update
It's June 20, 2009.
There will be more details as we get closer but on the morning of Saturday, June 20, 2009 – thousands of Kmart's around the country will get this EXCLUSIVE case: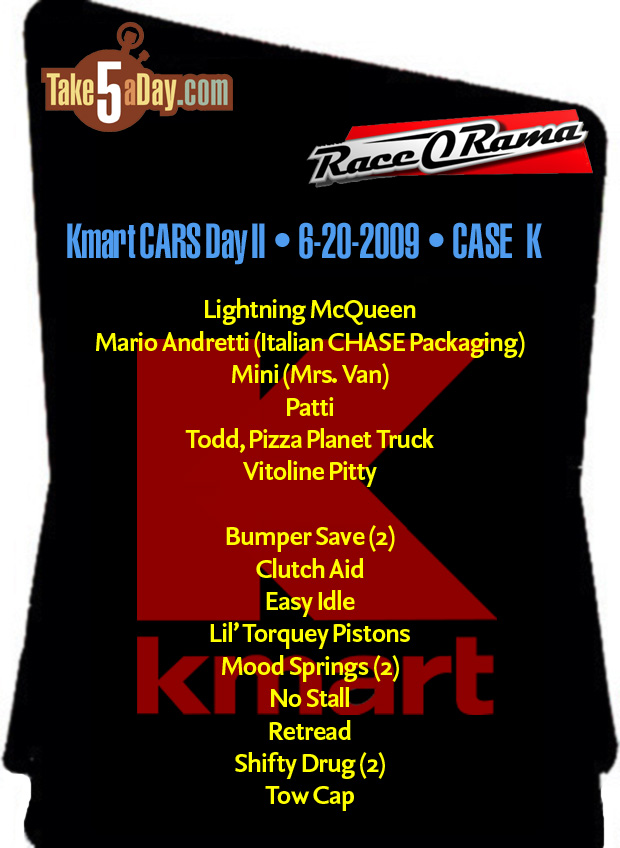 You will each get to draw a number and then you go in the order of the number you selected. You will be allowed to buy 5 CARS. Then it will be the next person's turn. After all the people who have drawn numbers have finished selecting their five CARS – any CARS remaining will be available for everyone/anyone.
Most stores allow kids who are old enough to pick a number to qualify as one so if you have more kids than OctoMom, this is your small reward before your kids owe $2.3 million in student loans after college.   🙂
In some/many Kmart's, the number of people were fewer than the number of cases available so it was an easy collector's day. I was at a store with 24 boxes and 30 people so it was a little more work for me personally – you simply have to choose an appropriate Kmart store and which one would that be? No obvious answers. Again, as we get closer, there will be a list of stores but it's best to call and check – BUT NOT YET. wait until at least June 10, 2009  🙂
(if you're still collecting CARS then, that is).  🙂
And yes, the Piston Cup racers listed above will ALL be available with synthetic 'real' rubber tires … they are soft and pliable like real vulcanized rubber but not real rubber in the technical scientific sense … I'm not sure why anyone would care about that distinction for an item that's 5 mm across but hey, we have rules against this but someone can open a meat plant without inspectors, go figure.
And yes, the 6 NON Piston Cup racers will still have the regular plastic tires. I'm presuming Lightning McQueen is plain ole ROR LM … though just be safe, if you're in line in front of me, buy the McQueen or better yet, buy 5.   🙂   Those not in line directly in front of me may look more closely.   🙂
"TH" was kind enough to send along some preview pics …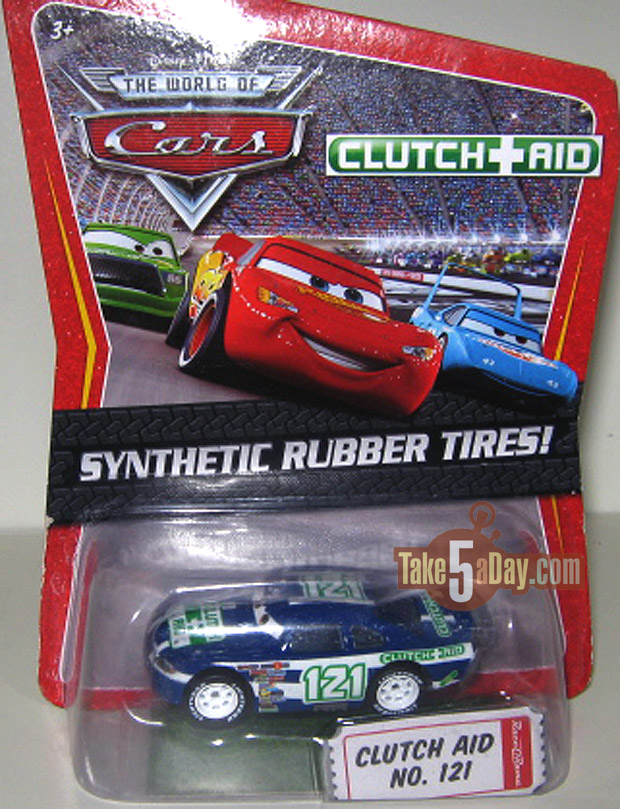 First appearance outside the MSOS set.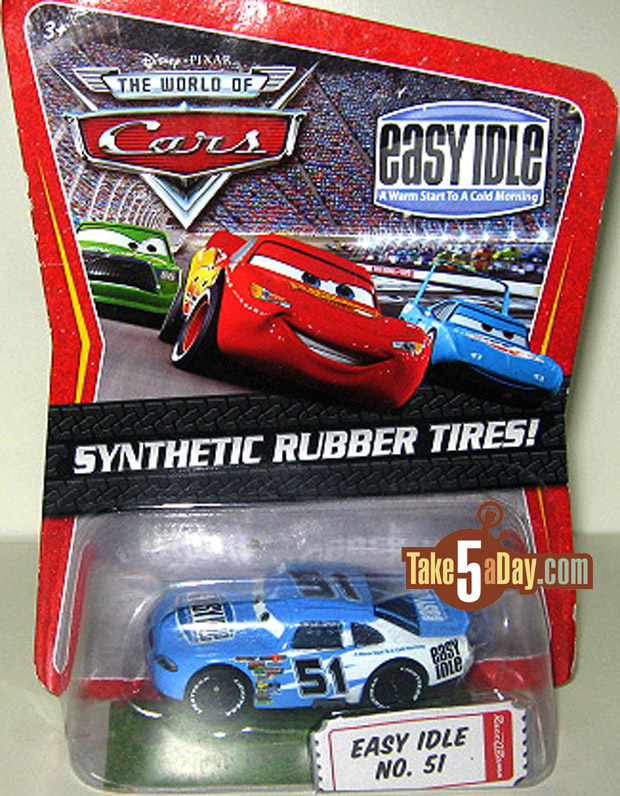 Ditto.
Look for Wrecked Mood Springs in 2010 🙂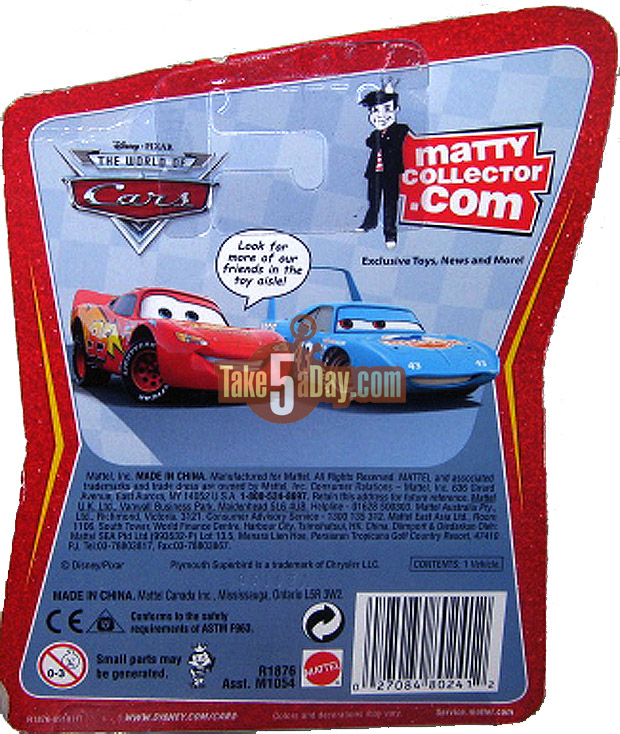 The cardback explains why early listings on eBay think it's a Matty exclusive. It's not. It's merely an ad for MattyCollector.com – and ALL it promises is "Exclusive Toys, News and More!"
And that's no lie.
It does NOT say anything about CARS at Matty.
So, if you plan on collecting CARS in 2009, be sure and do as the movie studios do and block out the Saturday in June. In your calendar app, make sure you schedule that block of time (morning – brunch time) – exact time coming. Go gather all your wayward kids. Make sure there are no weddings in your future – you can get married anything anywhere.  🙂
Well, that's all the info for now.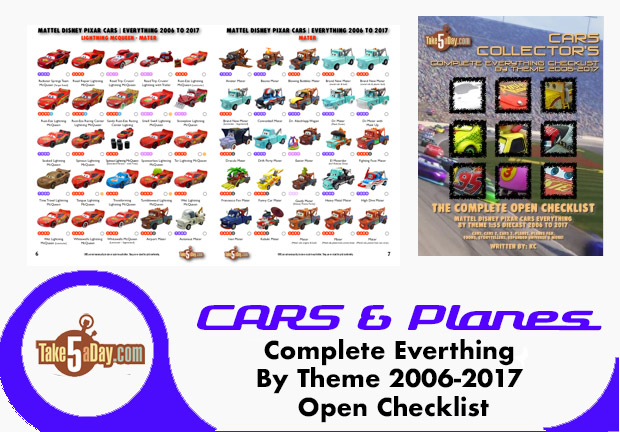 metroxing

30 April 2009

Advertising, collecting, diecast, Film, Internet, Marketing, Mattel Disney Pixar CARS, Retail, Toys, TV


80 Comments