Home
»
Advertising
,
collecting
,
diecast
,
Film
,
Internet
,
Marketing
,
Mattel Disney Pixar CARS
,
Retail
,
Toys
,
TV
Mattel Disney Pixar Diecast CARS: It's In the Bag
And now, the geekiest post of all … the bags of CARS …
Of course, most CARS come on cards or in boxes but the mail-aways have mostly come with bags so here's a review since there are a lot of questions about "authenticity." In this case, it is important because you want to be paying for what you are getting and if you consider the baggie essential in making it complete, mint or unimportant to you
The first mail away CAR was Blu Lightning McQueen (ne: Blu Ray Lightning McQueen)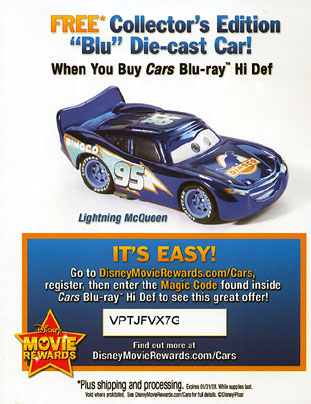 Here is an example of it SEALED: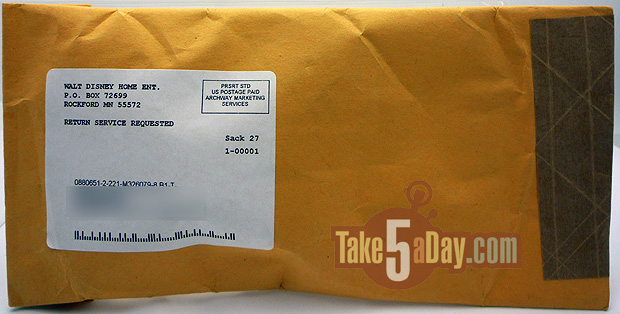 It will be addressed from Walt Disney Home Entertainment and sealed accordingly. Since the paper tape cannot really be opened and resealed, if someone is selling you one sealed, here is what it should look like.
John in MO measured his – @5″ tall & 9 7/8″ in width.
Here is what the back looks like.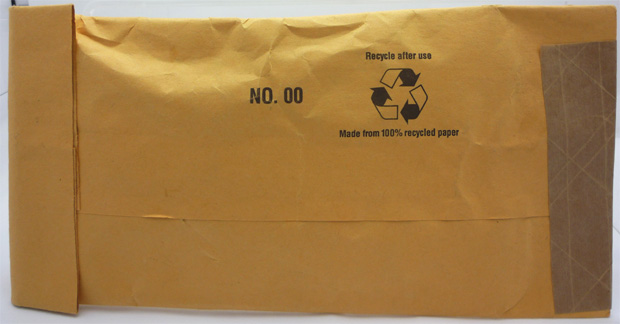 Inside, there is no additional paper from Disney or Mattel – the only included item is the CAR. It is in a plastic baggie that is NOT TAPED nor sealed, merely folded over and tucked under the CAR.

While there were unauthorized Blu Ray Blue Ransburg's McQueen's made – the baggie however is pretty hard to fake.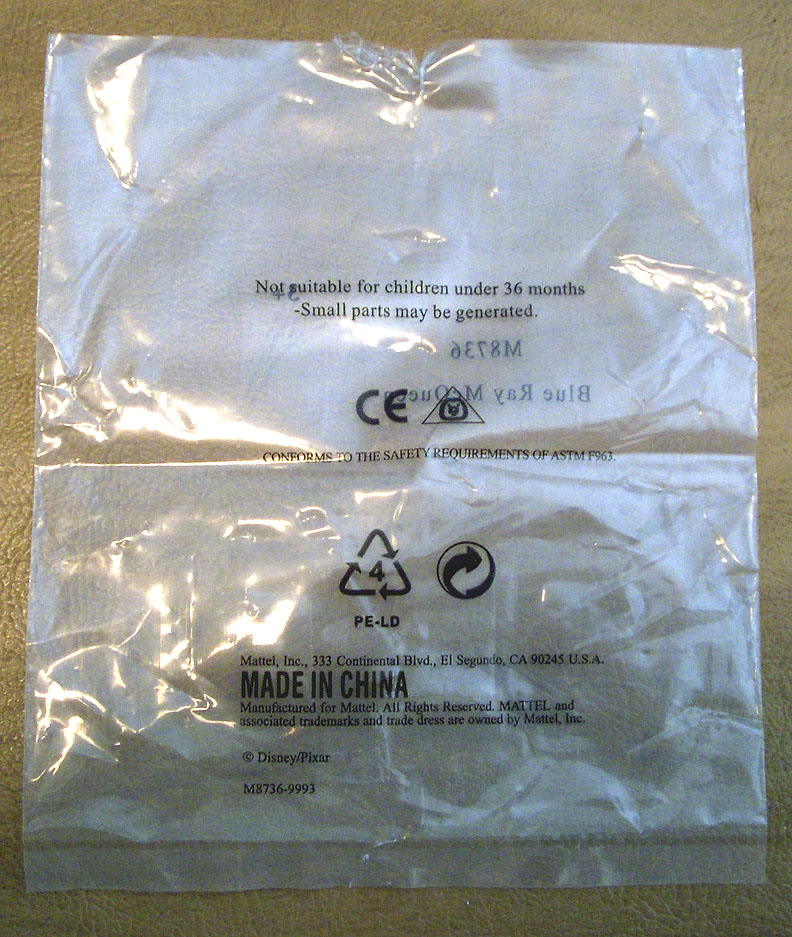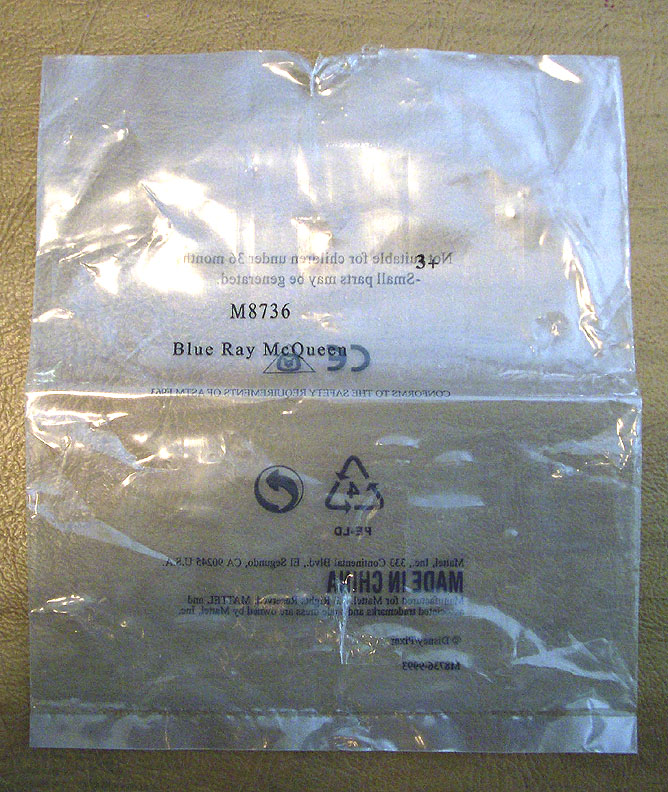 As you can see, there is © Disney/Pixar on the front and Mattel info on the back – product # M8736 "Blue" Ray McQueen.
The final clincher is the date code on the bottom of Blu Ray Lightning McQueen – there seems to be only one for the promo and the base is dark gray/black: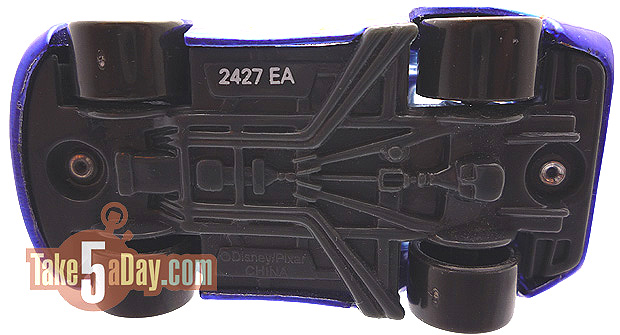 So, to buy this SEALED means you get an unopened manilla envelope from WD Entertainment.
To buy it NEW/MINT is to get it with the baggie and the correct date code.
To buy it LIKE NEW (if not damaged without the baggie) is to get it with the production date code of 2427 EA.
In the case of BR McQueen – because of factory unauthorized versions, the packaging will help assure in part of what you are getting.
Now, I understand if you don't want to pay the going price currently for an authentic factory authorized Blue Ray LM … but just so you know what you are getting and you can decide accordingly as to what you want to do.
Some people have reported receiving a Blu Ray McQueen in a bag such as this … clearly not a Disney fulfilled one …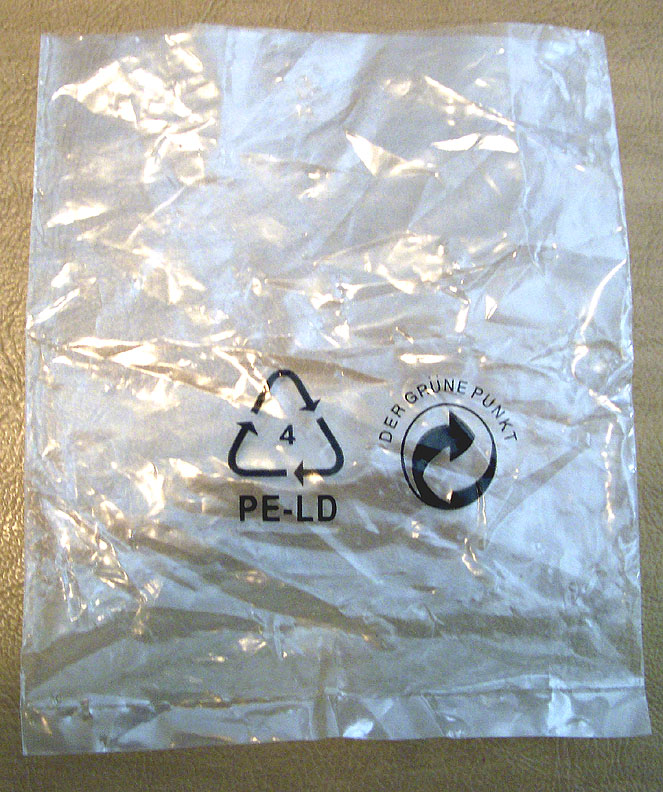 At one point, Blu Ray McQueen was offered to consumers  in the Italian market but no Blu Ray McQueen's were actually created to fulfill  this promotion – instead, everyone received a Faux Wheel Drive (and a mini 2-pack). Later, this promo was expanded to Germany & the UK (still ongoing in the UK).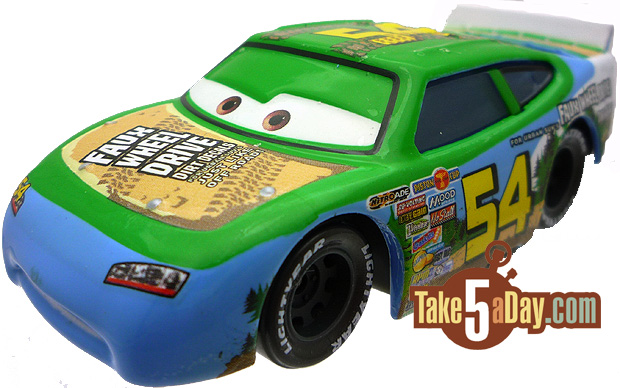 Faux Wheel Drive was shipped in another UNSEALED baggie – though there's really not much of an unauthorized Faux Wheel Drive issue unlike Blu Ray McQueen in 2007. But it is still nice to have the authentic baggie …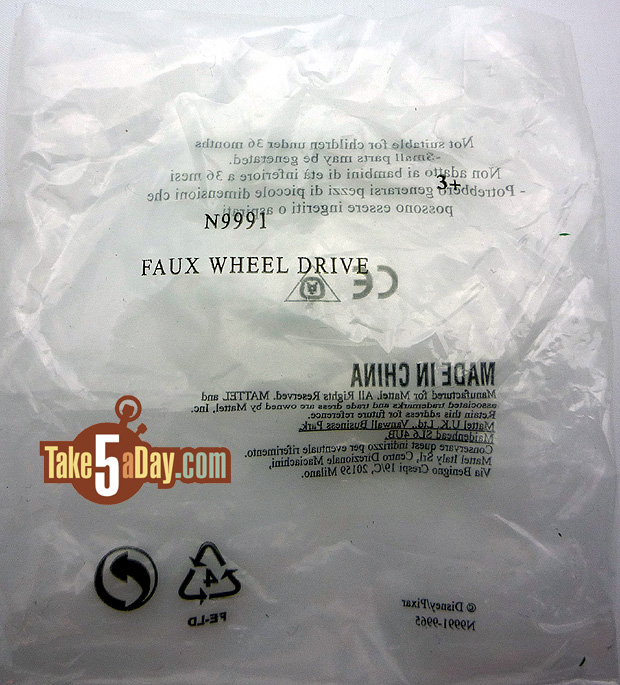 While not technically a mail away (unless you bought at MattyCollector.com), the SD Comic Con Lightning Storm McQueen packaging comes into slight play here.
Though the white box is NOT sealed, Lightning Storm McQueen is actually wrapped in a thin white tissue that is IMPOSSIBLE to remove and retape … ironically because the white tissue is so thin and the tape so thick, it's essentially IMPOSSIBLE to unwrap and tape back exactly as it came so a quick look can tell you straight away if it has been opened and either retaped or the person gave up and tossed the tissue.
While there are no authorized Lighting Storm McQueen's, the reason I bring this up is that because of the way it was constructed, some McQueen's were snapped off it's display base and spent a month banging around inside its display case as it traveled to America so some have paint scars and other damage but if the tissue is still taped up and pristine, the seller has no real way of seeing that so it could be sold as SEALED and presumably MINT when the actual condition is not so great but in this one instance, the seller is not to blame as they cannot see inside … however, if the tissue looks retaped or there is no tissue, that takes away "the excuse."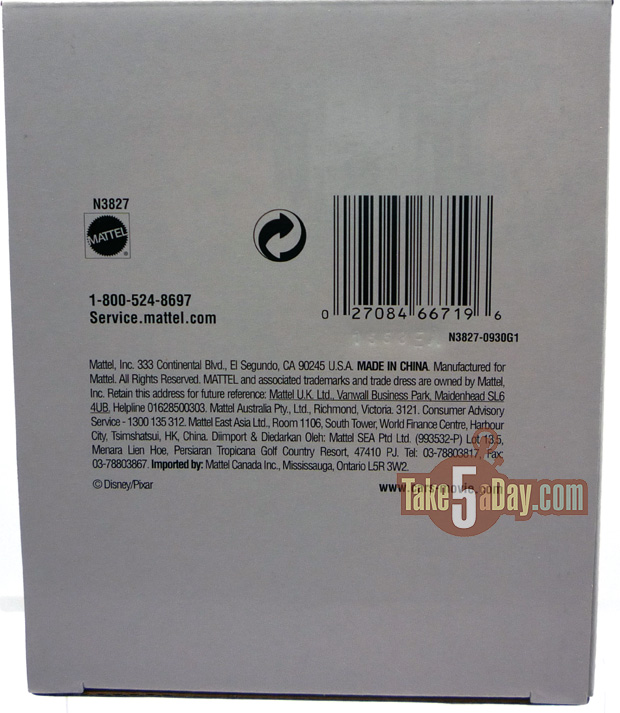 Bottom of the box. Sorry, no tissue example to show you.
The last two and most recent US mail aways are also straightforward and sans unauthorized ones especially since they are unique versions and have elaborate packaging but just in case, you want it want it COMPLETE MINT or MINT.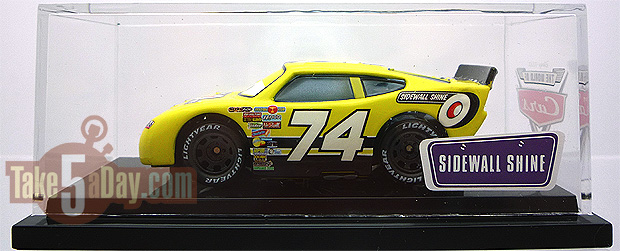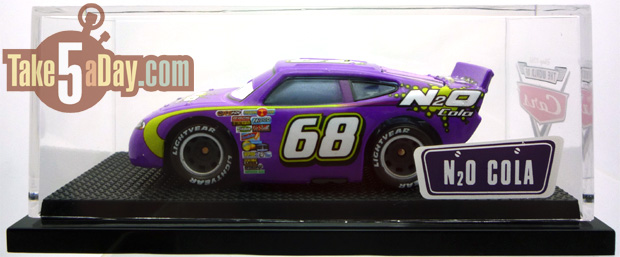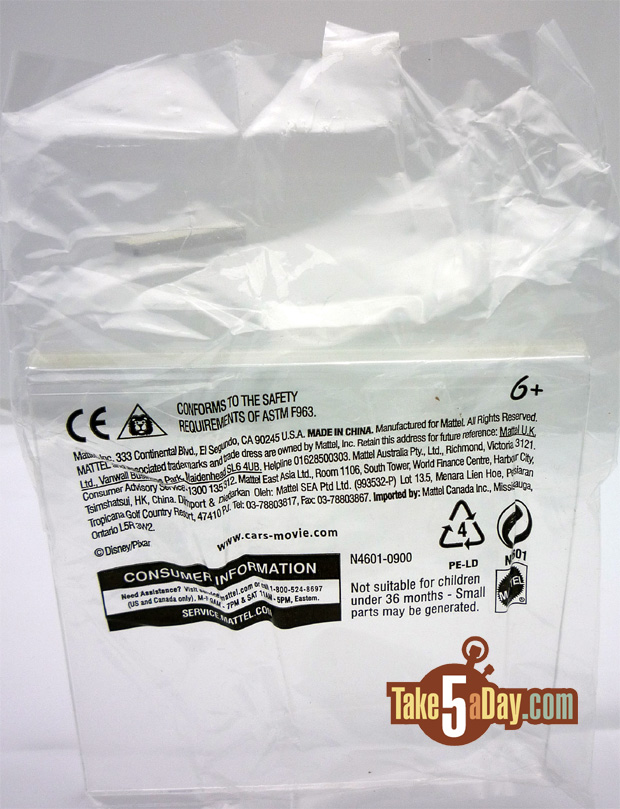 Both Sidewall Shine & N20 Cola mailaway versions came wrapped in a plastic bag and taped. This tape is also not so easy to remove without damaging the bag but not impossible. Of course, it would hard to substitute in any other CAR since both feature two additional screw slots in the base of the CAR and are attached by screws to the plastic base … and as long as the plastic cover is not scratched or damaged, the CAR is essentially MINT and SEALED so it's whether you believe the complete "MINT' package should contain this plastic bag or not – that's your call – but just so you know, the car and box are pretty hard to recreate so it's simply whether the plastic baggie should be included.
Hope this helps. Happy collecting!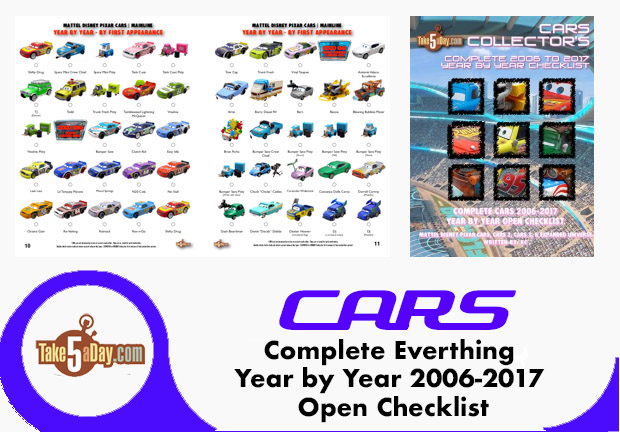 metroxing

14 April 2009

Advertising, collecting, diecast, Film, Internet, Marketing, Mattel Disney Pixar CARS, Retail, Toys, TV


34 Comments