Home
»
Advertising
,
collecting
,
diecast
,
Film
,
Internet
,
Marketing
,
Mattel Disney Pixar CARS
,
Retail
,
Toys
,
TV
Mattel Disney Pixar CARS: The Books of CARS (Updated)
If nothing else, CARS is a great gateway to a lifetime of reading … there are probably over 50 different CARS books for kids – I have not read or really studied most of them but I will cover the notable ones …
The STEP INTO READING series (maybe 100 titles now – not just CARS) are a great series as they are clearly labeled for those just starting out to read (step one), those who can read along (step two) and so on …
(click on text or photo – linked to Amazon.com)
This is another one in this series called FASTER THAN DIRT.
A "two-fer" series with stickers.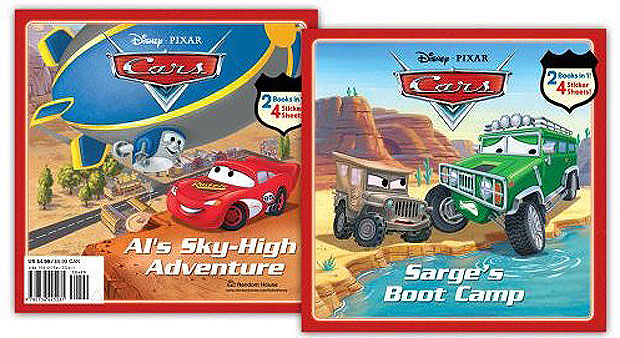 Al's Sky-High Adventure/Sarge's Boot Camp
(in case you missed buying it at WM in October 2007)
Complete your set with Blue Ramone/Ka-Choww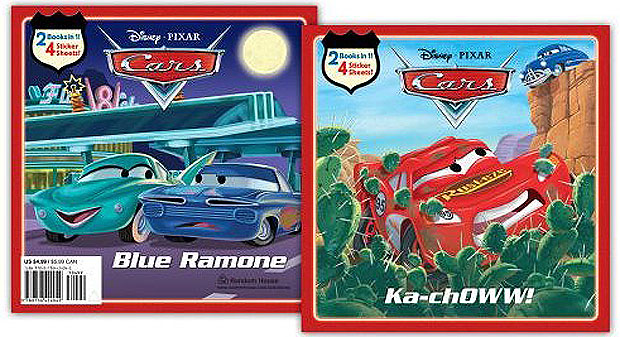 Keep in mind, it's only "one" book but with a different story on each side – so you can ask your local bookstore by either name above … or if you order it from Amazon, the Night Vision/Day at the Races book is part of their BUY 3, GET a FREE book promo and there are other CARS books as part of the promo …
There is a new two-sided CARS book from Disney Press …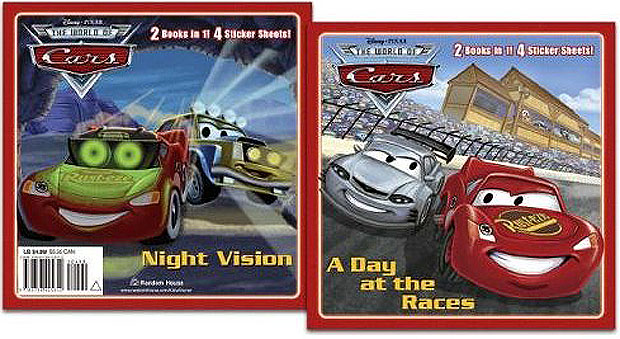 More details in our post HERE.
For not-yet-readers, the CARS version of "Where's Waldo" is fun …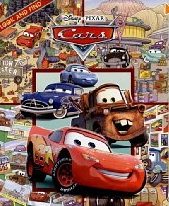 For kids or can start to read on their own, this is a great collection especially if they also love the other Pixar movies … (or if you don't mind reading LOTS of words with each story 🙂 ). It's also a great value as it's a thick book and it comes with stickers. Is there a kid who doesn't like stickers? 🙂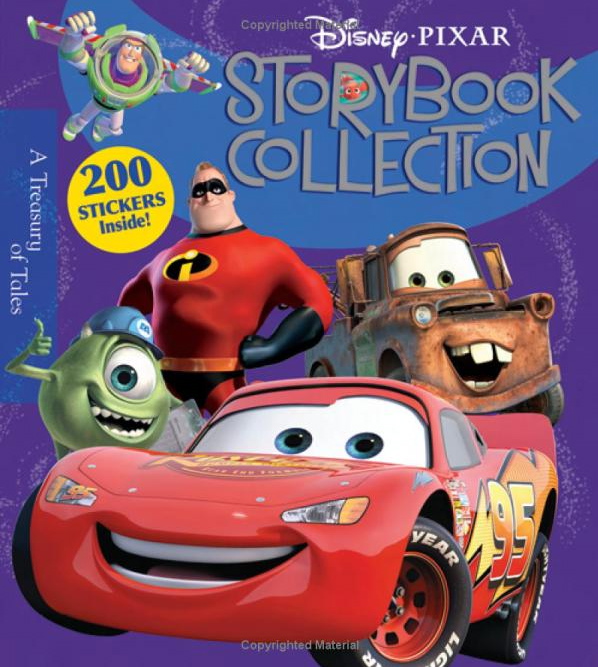 There are a huge slew of these and while I have read the other ones, they are all the Disney characters everyone loves – CARS is also featured in the ADVENTURE STORIES ONES.
Click Here to check out the other Disney Storybook Collections.
DK Publishing usually publishes great picture guidebooks that are chock full of photos and information on all sorts of topics and while CARS: The Essential Guide is a nice one for 8-9 year olds, it's not very comprehensive. It's still nice with bright pages and info on all the townies and the main 20 characters or so but it's definitely missing info on about 180 characters …It's only 48 pages – it's nice – just not great.
There are two new entries into the CARS book market, MEET THE CARS which is another solid attempt at creating an encyclopedia of the characters of CARS but also falls way short of the target. If you count the Pitty's and the Crew Chiefs plus other characters with screen time, there are probably close to 500 CARS and the problem is if you want to put down on paper all the Pitty's, you have to get them all sketched out which takes valuable time away from Pixar … or for instance, get Apple's approval and or pay them for featuring Mac iCar so they took the lazy way out and featured a few Pitty's and only about 25 of the 36 Piston Cup racers (so no one would notice if only Mac iCar was missing) … as a result, nice but also not comprehensive.
Also note, there are TWO versions of this book – the Target version includes an extra Mini booklet of the latest CARS featured in the Target-only Storyteller's diecast series (not available online).
The "regular" version is available in all bookstores.
And the latest, The new "World of CARS" book is a fun prequel to the movie & storyline in CARS. For those that are worried they polluted the timeline and canon stories, don't worry – no one in Radiator Springs meets Lightning McQueen.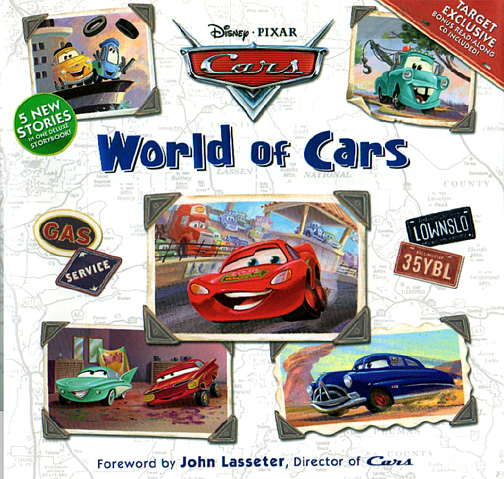 There are also TWO VERSIONS of the book – the regular version is $10.87 – available at most bookstores including Amazon in the US.
At Target, there is an EXCLUSIVE version with a read-along CD which costs abourt $5 more (cover shown is the Target cover).
Sorry I lost track who sent me this photo but maybe this are the stories collected from the overseas CARS comics?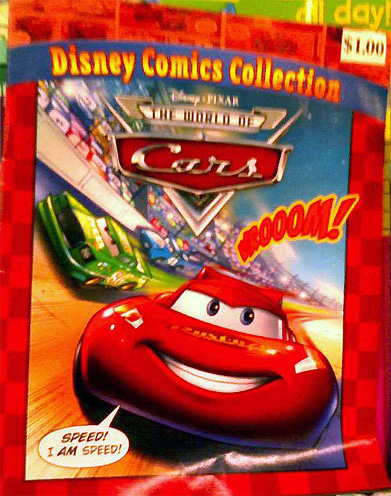 Other Disney Pixar CARS – Kids Books
For adults, there is the fun and interesting ART OF CARS book – there is an ART OF … book that goes along with each Pixar film release …
While not just about CARS, there are two very well written books on the history of Pixar …
The producer of the documentary on the new WALL-E DVD also worked on this official book, "To Infinity and Beyond!: The Story of Pixar Animation Studios."
The unofficial though equally interesting and well researched business book, "The Pixar Touch: The Making of a Company." This is less of a book about the creative process than To Infinity and more about the nuts and bolts of the business history of Pixar.
And of course, for those who want the nuts and bolts of collecting the diecast CARS (well, the first two complete years 🙂 …) be sure and click the link below to see a preview of the first pages of our book and some reviews.


metroxing

30 November 2008

Advertising, collecting, diecast, Film, Internet, Marketing, Mattel Disney Pixar CARS, Retail, Toys, TV


22 Comments