Home
»
Advertising
,
collecting
,
diecast
,
Film
,
Marketing
,
Mattel Disney Pixar CARS
,
Retail
,
Toys
,
TV
Mattel Disney Pixar Diecast CARS: Race O Rama Only Check List Checklist
For those who are just starting out collecting CARS, here is a listing of all the CARS announced or listed from the collectors booklet so for now for WOC: Race O Rama. Some are already out (CASE A & B) but of course, you can decide if you're collecting them again on the "repeats" or just the 'new ones.' Everything from #1 to #70ish was released on the last card design World of CARS – we are uncertain if all are coming back (Now that Al Oft & Dinoco are oversized, will the small ones continue to be released?) but everything is listed in the checkbox unless we hear otherwise. The CHASE Cars that are numbered are NOT coming back as Race O Rama versions. Mattel has said any CHASE CARS are never coming back in the mainline as singles. That is not to say that years from now, we won't get a collector's display with all the Impound CARS or whatever but they just won't ever be coming back as singles.
The RED Highway signs means CHASE.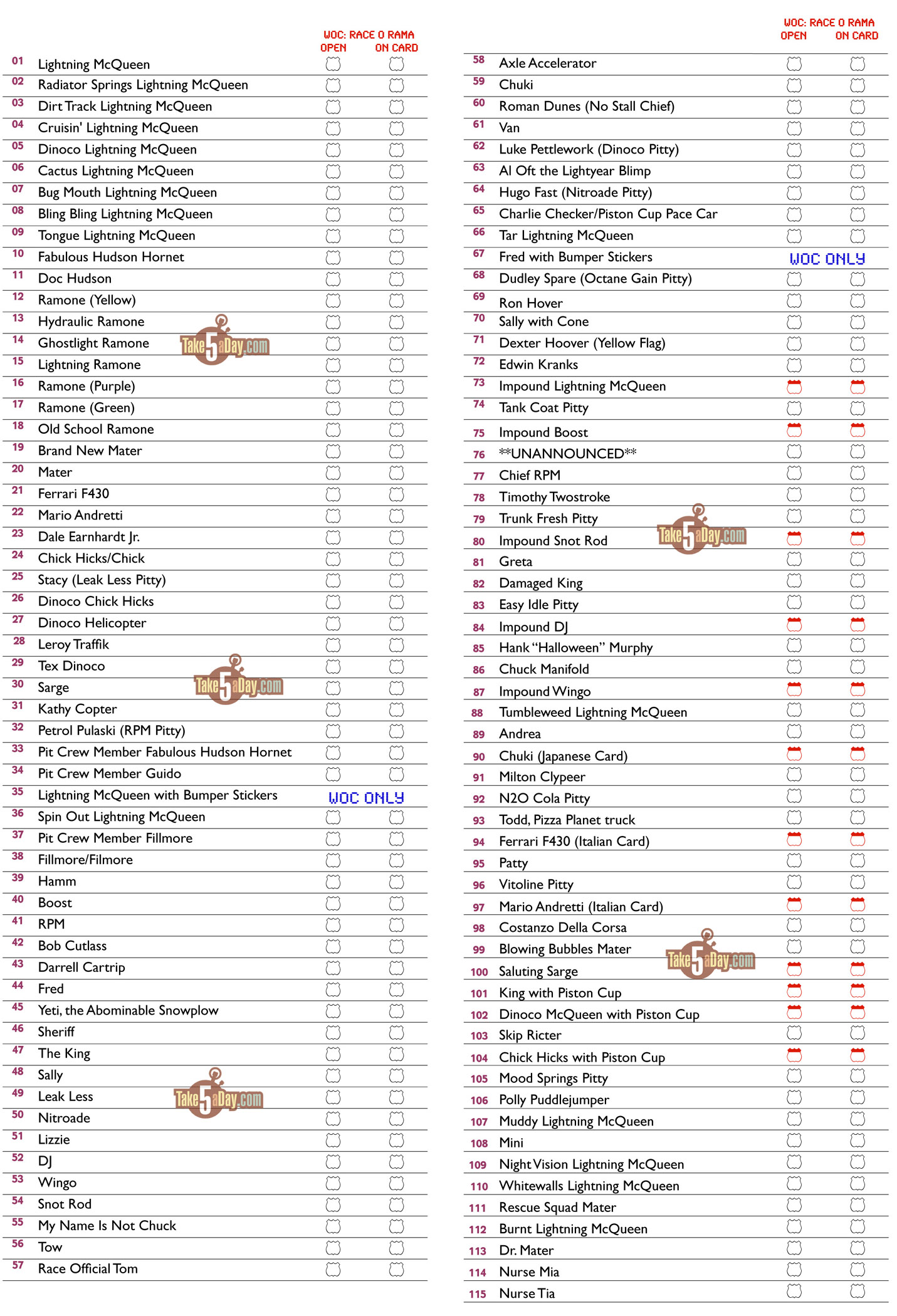 This of course is just the SINGLES list … with numbering … because while there are many other 1:55 series releases (Movie Moments, Launchers, 3-Packs, etc … they are NOT numbered).
Eventually I will do a list of the oversized and others but since many or most people don't have them all yet, the Black Friday shopping checklist will be more useful for the time being.
Enjoy and good luck!


metroxing

25 November 2008

Advertising, collecting, diecast, Film, Marketing, Mattel Disney Pixar CARS, Retail, Toys, TV


40 Comments