Home
»
Advertising
,
collecting
,
diecast
,
Film
,
Marketing
,
Mattel Disney Pixar CARS
,
Retail
,
Toys
,
TV
Mattel Disney Pixar Diecast CARS: The Mack RC Transporter
While this still is unavailable in my area, thanks to JD, Monica and especially Christine ("The flames licking my house are only a few feet tall now – hey, is that a TRU?) … so, um, thanks for snapping us great clear shots huddled under an LA County fire blanket … 🙂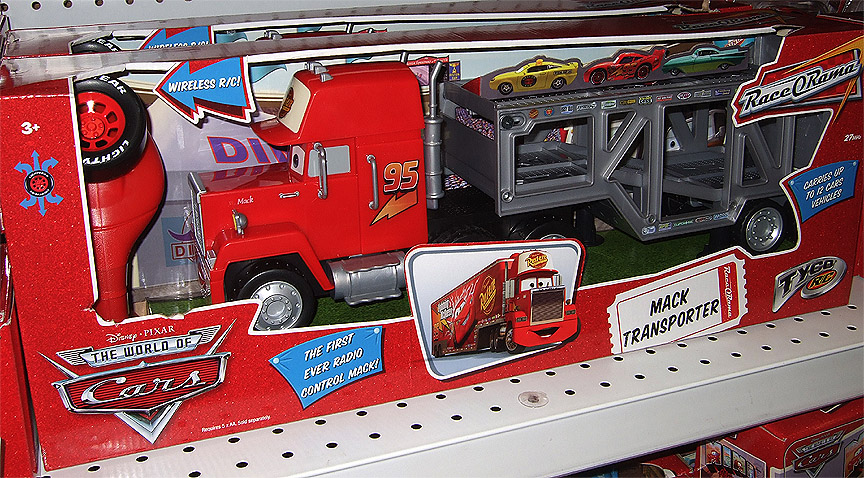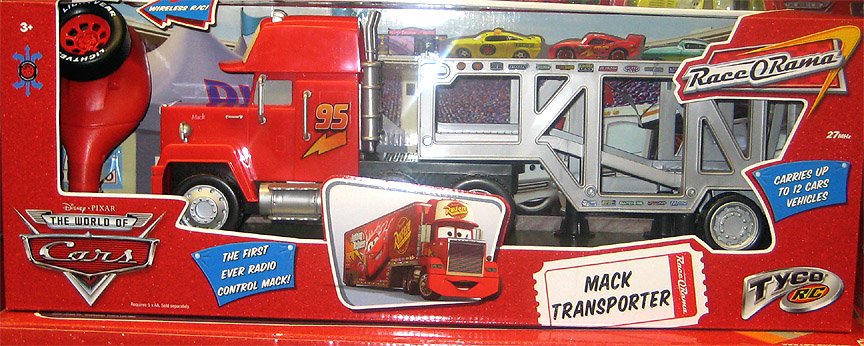 Now that everyone is safe and back in the house – we can convene and decide if this item is indeed canon and should be collected into our CARS Gospels or cast asunder.
I was thinking of convening others but since I ate most of the pizza, the cheesecake and drank most of the anointing oils, I decided to make an arbritary judgment and say it's not canon and won't be considered part of the 1:55 series.
Evidence:
1) Mack is HUGE and wildly out of scale.
2) The carrier portion holds TWO rows of CARS – while nice, clearly not very in-scale or realistic.
3) It says TYCO on it – yes, a division of Mattel but still a separate arm.
4) It appears nowhere in the film … yes, I know you can point up evidence of the Storytellers & Mater Tall Tales but both those have the blessing of the grand poohbah pope, John Lasseter … this bears no evidence of holy CARS divinity.
5) Did I mention it's YYUUUUGGGEEEE?
So, not canon. Not 1:55.
I am not saying you shouldn't buy it or that it's not fun nor not cool or anything like that. I'm just saying it's not part of the 1:55 line even if you can drive 1:55 CARS onto its ramps and the belly of the carrier.  So, amusing, interesting and even fun but not 1:55.
JD sends us photos of its original incarnation as a Matchbox dealie …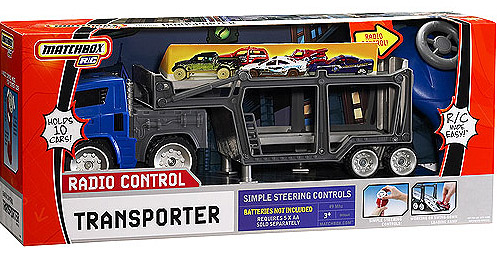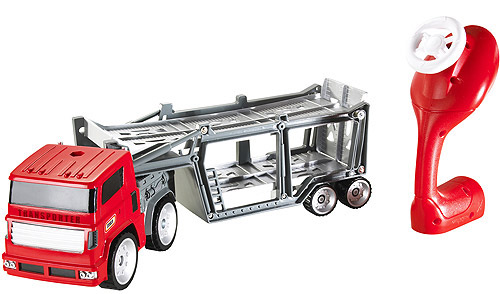 Though it does look like they spiffed up the controls and the Lightyear Tire controller portion is cool and nicely done.
So thanks everyone for the great personal peril to get us these pictures … though while I may not be buying this for my 1:55 CARS, I think a couple hot steaming mugs might just fit on the back and it would save me a trip to the kitchen* …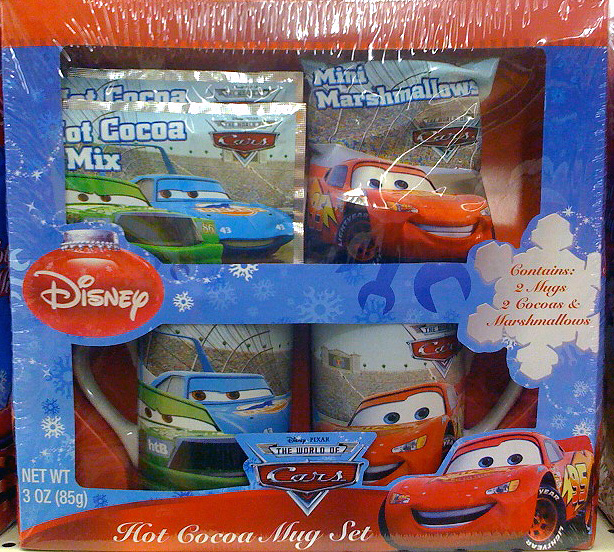 * Hot Mugs on the back of an RC truck should only be attempted by adults or only adults may add the alcohol, er, seasoning to it when it arrives at its destination … or at least film it for our YouTube pool.
** Also note, anointing oils do not taste very good if you drink it straight – lesson learned.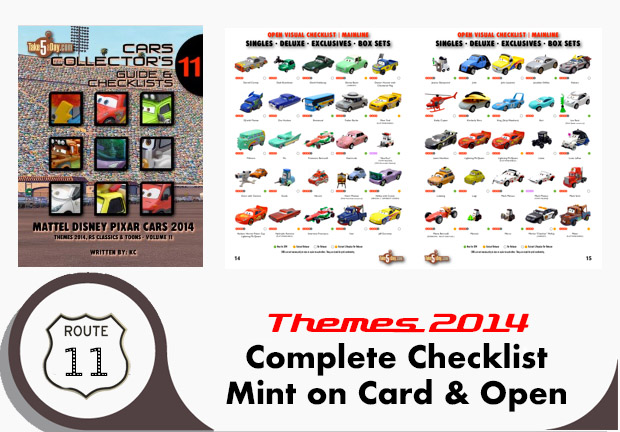 metroxing

21 November 2008

Advertising, collecting, diecast, Film, Marketing, Mattel Disney Pixar CARS, Retail, Toys, TV


26 Comments