Home
»
Advertising
,
Checklist
,
collecting
,
diecast
,
Film
,
Marketing
,
Mattel Disney Pixar CARS
,
Retail
,
Toys
,
TV
Mattel Pixar Diecast CARS: The Short Card "Lane Mates" Check List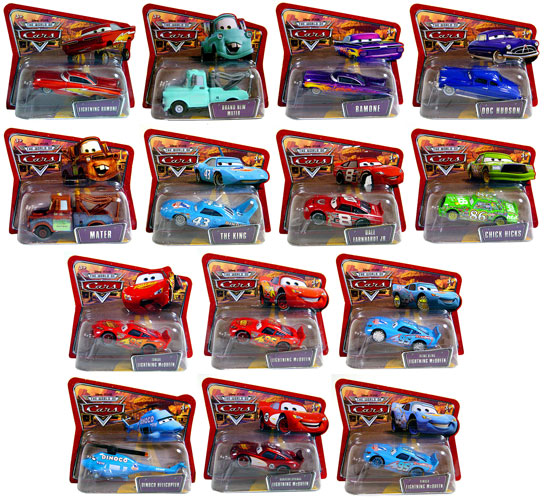 The short card "Lane Mates" are certainly an odd duck portion of the line.
In theory, by having shorter cards, stores can hang more pegs and hence, more sales per square pegboard and while Mattel doesn't save much on cardboard, you times $.001 cents by a couple million and it adds up … except that the only store really selling these seem to be Kmart (they have been found in Fred Meyer, I believe).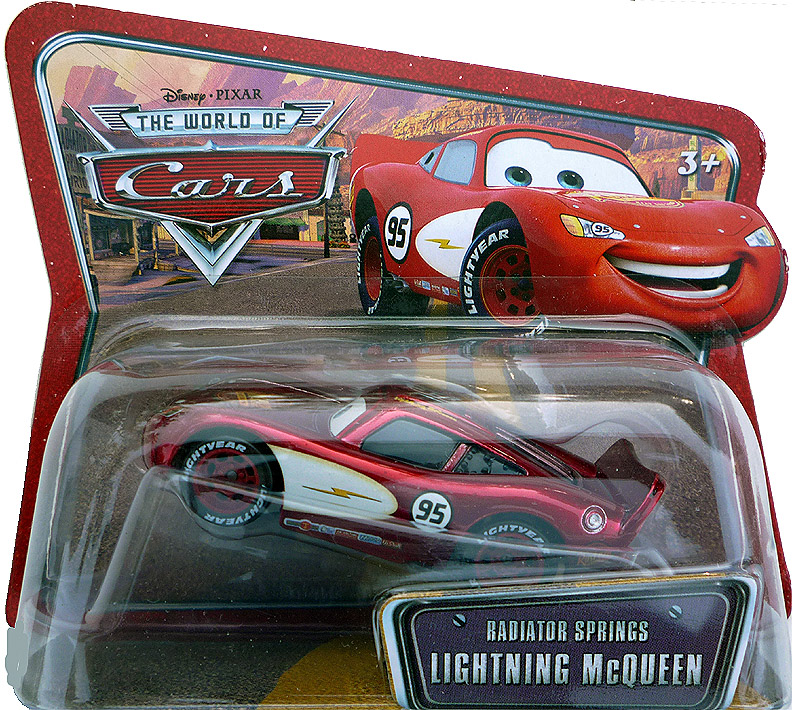 You would expect to find them in places like 7-11, Walgreen's, supermarkets etc where in theory, peg space is a premium but so far, pretty much only a select few Kmart's and maybe a couple of other stores are carrying them … in other words, they don't seem to serve much of a merchandising purpose.
But it gets more odd. It's NOT listed as an exclusive but re-sellers don't seem to be able to place orders for them.
And while Mattel might be saving an 1″ or 2″ on cardboard, BUT by designing them so some of the CARS "protrude" out of the artwork – thus requiring a custom diecut on the cardboard, that pretty much eats up any cost savings on cardboard so … odd.
Now, they actually look very nice on the short blister card but its execution and its purpose seems to fall short.
Odd …
So, what's really available on a short card Lane Mate?
More than you think … there are actually 44 CARS in the Lane mates program but not every one has shipped or is available ….
FULL LIST:
Al Oft Blimp
Bling Bling Lightning McQueen
Bob Cutlass
Boost
Brand New Mater
Bug Mouth Lightning McQueen
Cactus Lightning McQueen
Chick Hicks
Crusin' Lightning McQueen
Crusin' Ramone
Dale Earnhardt Jr.
Darrell Cartrip
Dinoco Chick Hicks
Dinoco Helicopter
Dinoco Lightning McQueen
Dirt Track Lightning McQueen
DJ
Doc Hudson
Fabulous Hudson Hornet
Ferrari F430
Fillmore
Hydraulic Ramone
King
Leak Less
Lightning McQueen
Lightning Ramone
Lizzie
Mater
Mario Andretti
Nitroade
Pit Crew Member Fabulous Hudson Hornet
Pit Crew Member Fillmore
Pit Crew Member Guido
Radiator Springs Lightning McQueen
Ramone (Green)
Ramone (Purple)
Ramone (Yellow)
RPM
Sally
Sheriff
Snot Rod
Tex Dinoco
Tongue Lightning McQueen
Wingo
There have been two cases of 18 CARS each available (same wholesale costs as regular CARS) but no one has any idea what's actually in CASE A & CASE B.
The first cardback was generic and used on all the CARS in the first release: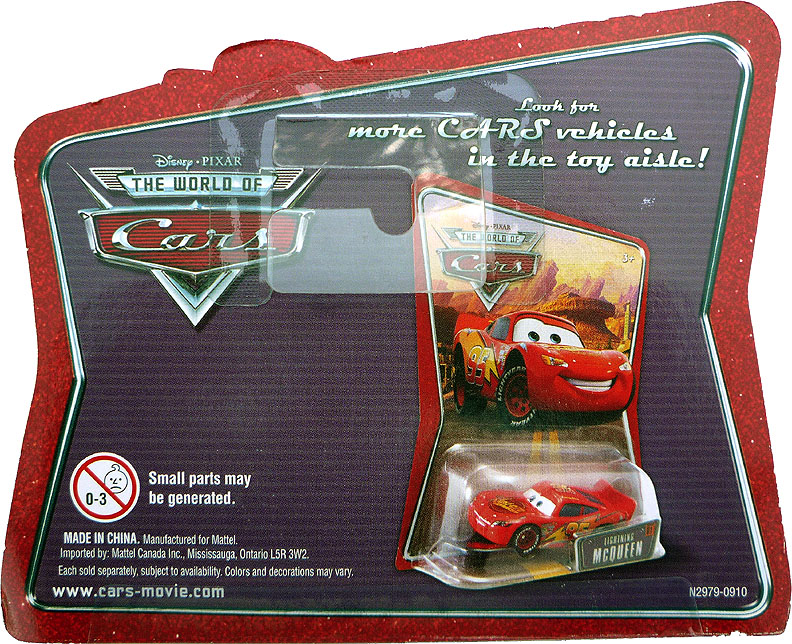 The CARS in CASE B offered a new cardback that featured CARS in the "regular" release (not Lane Mates):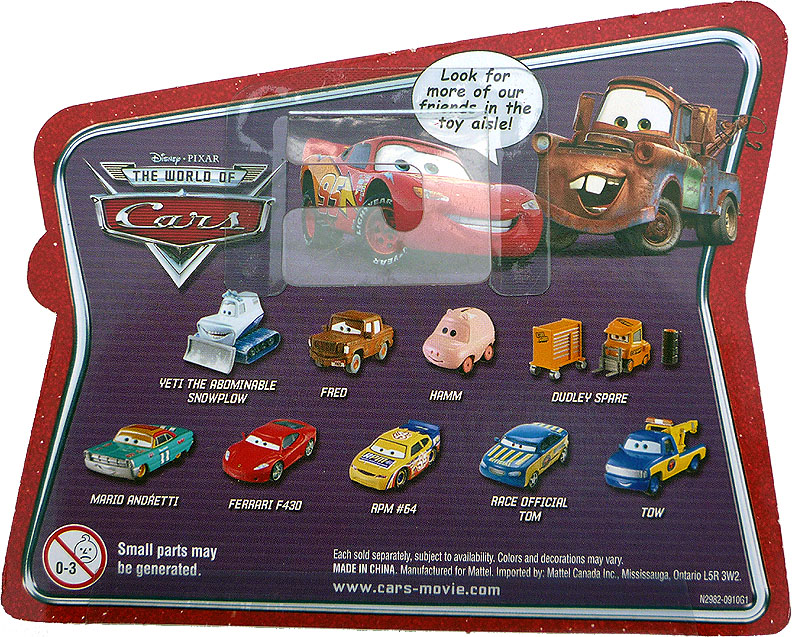 I have heard there is a third cardback but I don't have a picture of that one yet …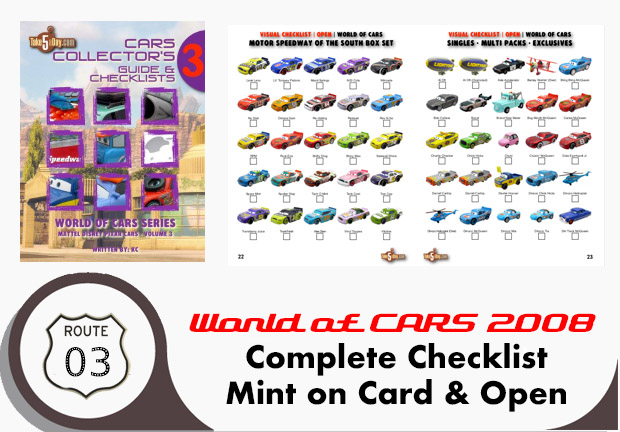 metroxing

26 September 2008

Advertising, Checklist, collecting, diecast, Film, Marketing, Mattel Disney Pixar CARS, Retail, Toys, TV


26 Comments