Home
»
Advertising
,
CARS
,
Checklist
,
collecting
,
Internet
,
Marketing
,
Retail
,
Toys
We're Just TakeFiveADay.com
This might seem redundant but it's probably worth saying just to be clear.
We're just TakeFiveADay.com.
We are not secretly selling CARS on eBay or elsewhere on the internet and we are not affiliated with anyone selling CARS.
While you will see more ads for other companies selling CARS, we are not directly involved in their business.
Or as PirateDad pointed out today, someone sent out a store email with info links to our site – while we appreciate the readers, they did not bother to point out that we have nothing to do with their business – I have asked them to point that out in future emails and this applies to any other email, eBay link or store – we're happy to have you point people to our site – just make clear that we are not involved in your business.
We're pretty straightforward in what we're selling – our book and some t-shirts – and if we sold anything else, we would tell you.
So, like the political ads you see on TV, if no Brazilian model coos at the end of the ad, "This ad is approved by TakeFiveADay.com." then it's not us … 🙂
That's not to say in don't want in on the CARS market but we're trying to go big!
THE SPEEDWAY OF THE SOUTH GUEST ROOM RETROFIT KIT:
It's a raceway, it's a storage for 5,000 CARS and it's a bed!
CARS DISPLAY CASE & WATER SLIDE
Many times the fun of a normal display case and twice as fun as a regular water slide!
GIANT 'FRED' SHELL
Afraid of people scratching up your expensive sports car? Once you park, just drop fiberglass shell Fred over your car!
GIANT CARD & BLISTER – OVER 35′ TALL!
Place blister around your real car, snap the giant blister card in place and you have a giant car MINT ON CARD!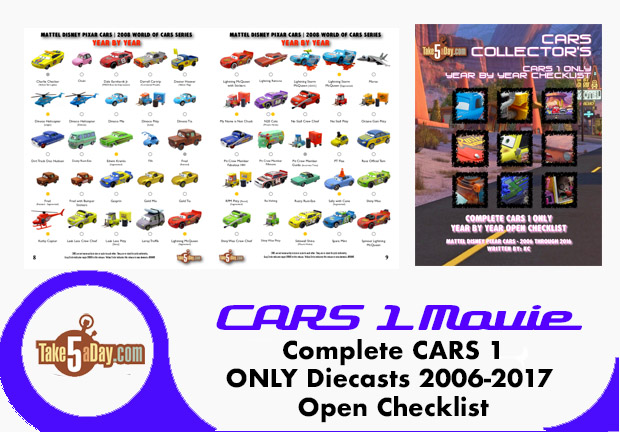 metroxing

6 September 2008

Advertising, CARS, Checklist, collecting, Internet, Marketing, Retail, Toys


22 Comments