Home
»
CARS
,
Checklist
,
collecting
,
Film
,
Marketing
,
Mattel Disney Pixar CARS
,
Toys
,
TV
Mattel Disney Pixar CARS: Motor Speedway Production DB Project
Maybe this is easier. If you are so inclined or have the time, please take a look at the Motor Speedway set production dates (UNDER EACH CAR) if you received your set DIRECTLY from Mattel (or unopened/sealed from a third party). We are trying to figure out if there are "set" dates of production from the official production run of the Motor Speedway of the South set.
The code at the botom will read something like 2777 EA – 277 means the 277th date and the last 7 indicates 2007.
The theory is that since there are only a few body types (outside of King & Lightning McQueen), the production days for such a small set (@1,000) should all fall on a few days and this will help us prove that correct or totally wrong.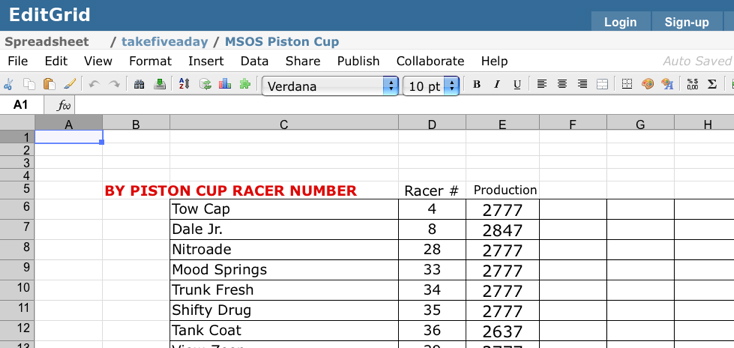 I have uploaded it to EDITGRID – no password or logins required – just pick a column and enter in your data – just label the top of the column with your "internet name of your choice."
The first column is mine and after we collect 10-15 set numbers, we should be able to see if there are deviations. Thanks.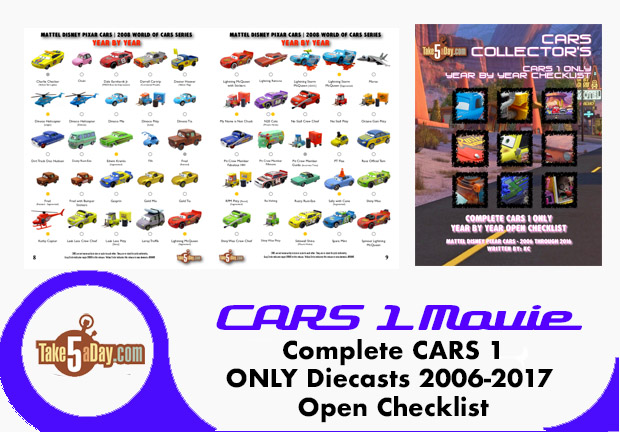 metroxing

10 August 2008

CARS, Checklist, collecting, Film, Marketing, Mattel Disney Pixar CARS, Toys, TV


25 Comments