Home
»
Advertising
,
Checklist
,
collecting
,
Film
,
Marketing
,
Mattel Disney Pixar CARS
,
Media
,
Retail
,
Toys
,
Uncategorized
Mattel Disney Pixars CARS: Darth Mater-CAAF Dream Auction 2008
Every Halloween, Mattel pulls together their creative talents to create special one-of-a-kind items to benefit the Children With AIDS Foundation (CAAF). Last year, they created this amazing display (along with 70 CARS) signed by John Lassetter which was won in an auction for $13,000 by the President of ToysRUs.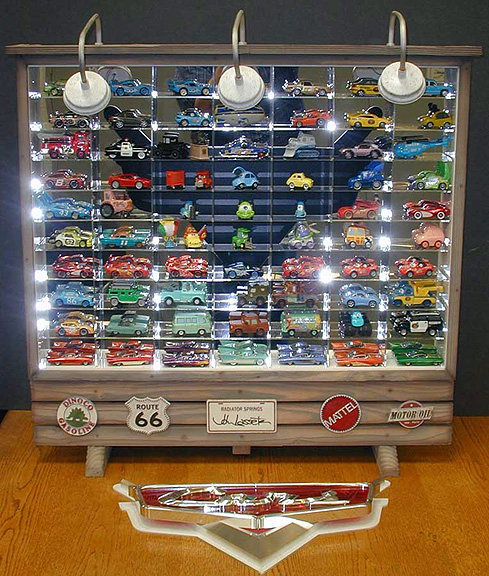 Last year's was hard to top but this year's is even more dazzling – two of the most beloved characters of all time combined together? The beloved Mater the Tow Truck from CARS and Darth Vader from Star Wars.
Darth Mater.
That by itself would be something everyone would want … but make it huge, make it detailed, make it move, shake, talk AND wave a lightsaber around?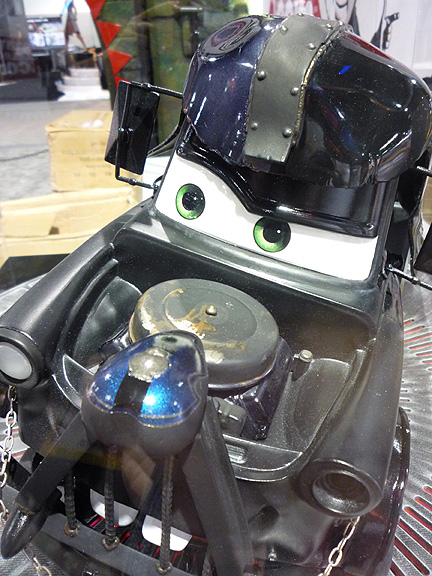 It's a stunning piece of art, fun and must-have all rolled into one. It's huge, I forgot to ask but I'm guessing it's about 1:12 scale?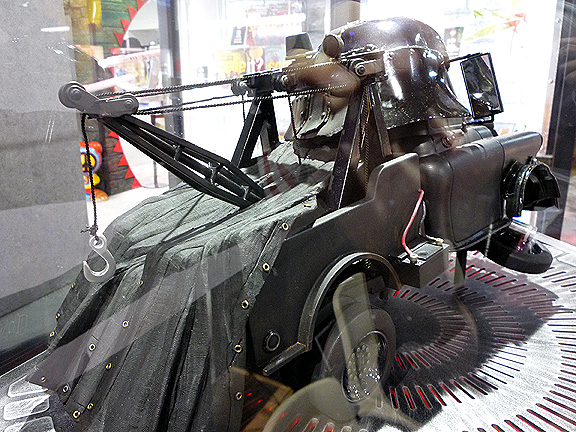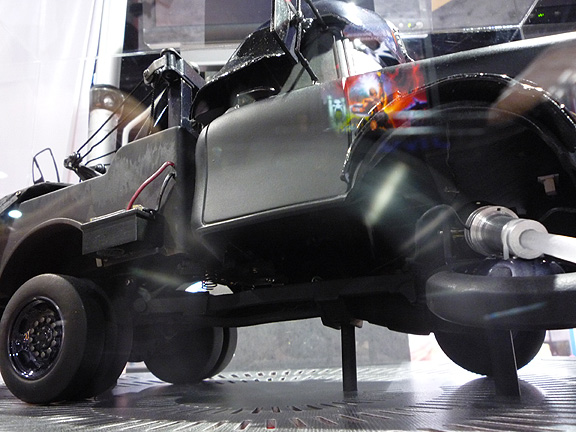 (the multi-colored spot is just glare from the plexiglass over Darth Mater).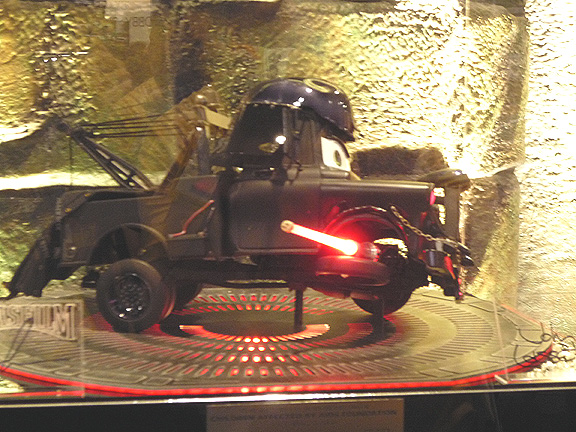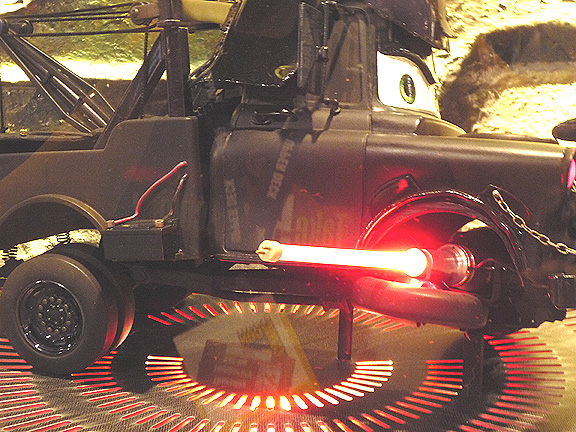 The base also lights up.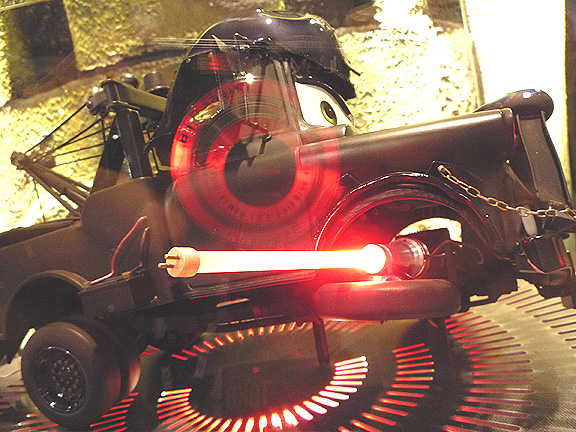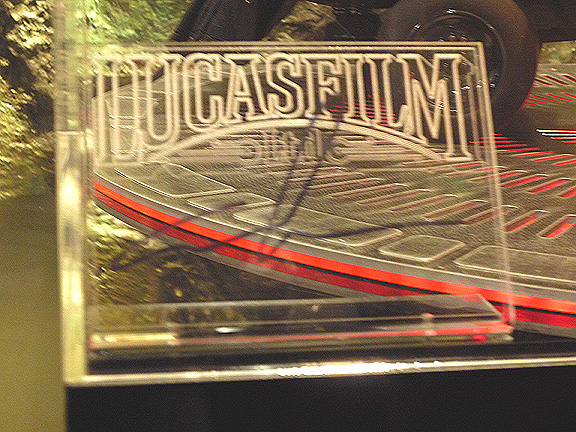 Oh yeah, signed by two guys – George Lucas …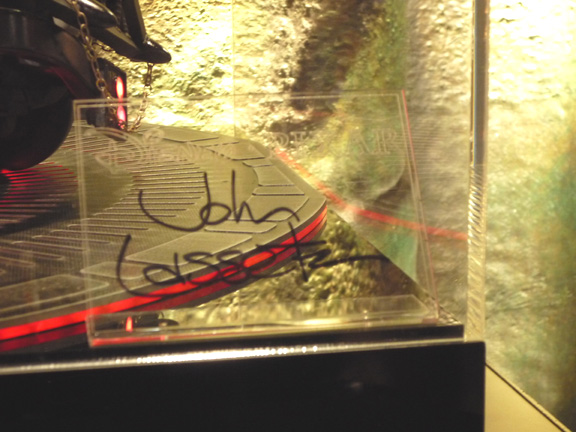 And John Lassetter.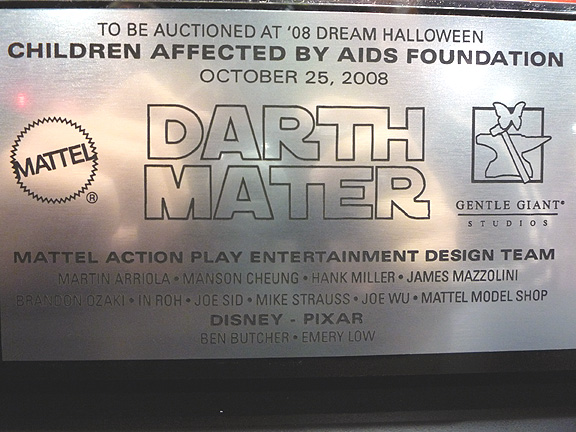 The plaque on the front – Martin Arriola's Design Team crafted this work of art.
So, you might have a little competition in winning this year's Mattel's CARS team's effort – Darth & Mater – signed by George Lucas & John Lassetter? You are definitely going need more than a few Benjamin's … more like a few Salmon P. Chase's* …

The CAAF Dream Halloween event is October 25, 2008 – same as last year – at Barker's Hanger in Santa Monica. We will update with more ticket info as it comes in and how to get in the bidding for a great cause and how to own a ONE OF A KIND fun-amazing-art-sculpture-toy of all toys.
It will again be hosted by Jamie Lee Curtis (this is her 2006 costume for the event).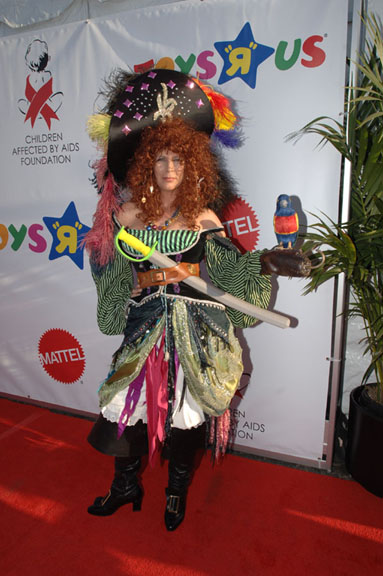 And when I asked if it was coming as a 1:55 diecast? They just smiled.
Here is a grab of the Darth Mater video from the Mattel Comic Con booth.
Our post about last year's event & auction is here.
* Yes, it's legit though not in circulation.

metroxing

28 July 2008

Advertising, Checklist, collecting, Film, Marketing, Mattel Disney Pixar CARS, Media, Retail, Toys, Uncategorized


24 Comments