Home
»
Advertising
,
Checklist
,
collecting
,
Film
,
Financial
,
Marketing
,
Mattel
,
Mattel Disney Pixar CARS
,
Toys
,
TV
Mattel Disney Pixar CARS: The Motor Speedway Number Letter
After Comic Con, May 2008 feels like a year ago … the Hot Wheels Red Line Club has finally scrapped together an envelope and some hologram stickers to complete the Motor Speedway set.
As some of you might recall, they pointed out the set would be number 1 of 1,000 and then forgot to sticker them and finally broke down to send us stickers to place on the box set.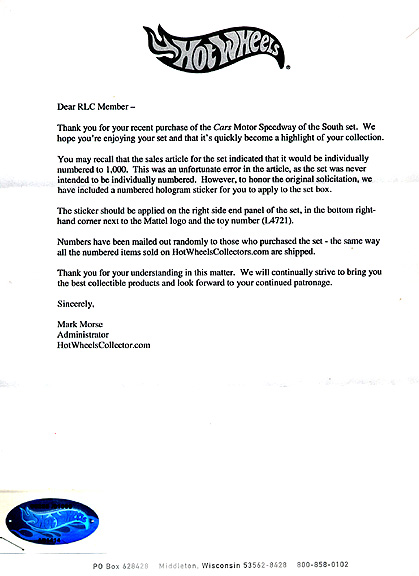 It's just a sheer coincidence my name is really "RLC Member" though it makes signing-on a bear and confuses the hell out of the RLC club database so we do the 'Who's on First' routine everytime.  🙂
I'm #255. I guess that's probably a little high from my actual order time but close enough – I finished at about 9:04 AM.
Of course, even if the sets were numbered – they would've been mailed out randomly anyway …
So, I guess now we have to wait for the first person whose number got lost in the mail.
Personally, I'm sure the very lowest numbers are spoken for (I don't think John Lassetter is going to get #965 🙂  )
As for the sets sold on eBay? I think the early sellers are miffed they didn't get $1,400 and will probably try to milk a little more by selling the number letter … unless they got #965, then they won't care.
Some eBay sellers have politely said they will pass along the number … for those who sold the sets broken up by individual CARS, again, it probably depends on the number – anything below #100 is probably going to see some eBay action … certain numbers linked to NASCAR might see more action … 8, 20, 24, 43? McQueen's #95 is certainly more enticing and of course, you also have fans of the Chick #86 … numbers below #200 and #300 might also see some action … I'm not selling my number if anyone is curious … in fact, I'm not even planning on stickering the display … I'll just keep it stapled to the letter … if at any point in some distant future when I can trade the set for a working hovercar, I'll include the letter with sticker – but that's just me.
Anyone get a number below 100?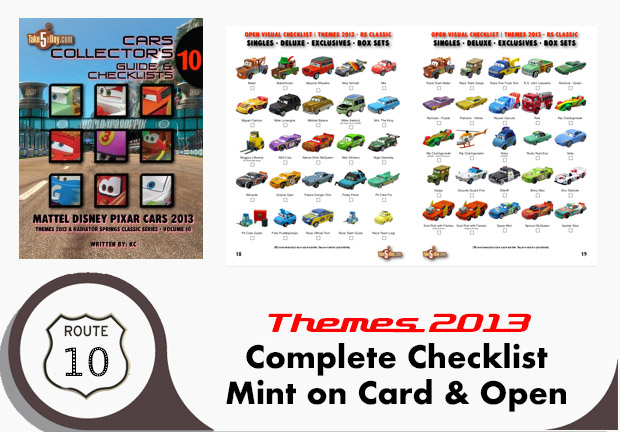 metroxing

27 July 2008

Advertising, Checklist, collecting, Film, Financial, Marketing, Mattel, Mattel Disney Pixar CARS, Toys, TV


39 Comments