Home
»
Advertising
,
collecting
,
comics
,
Design
,
Film
,
Financial
,
Marketing
,
Mattel Disney Pixar CARS
,
Media
,
Retail
,
Toys
Back From Comic Con … The Mattel Story.
Before going much further, let me again thank NascarBroncoFan, & Monica for essentially mounting a hostage rescue situation … except they didn't have any weapons other than what they could muster with their bare hands (push carts and rolling carts were banned).
For anyone not at Comic Con 2008 … I will try to capture the sense of strolling through a madhouse while on fire (not that anyone would have noticed or cared though it is a fairly polite crowd, they would have moved out of your way … but only slightly).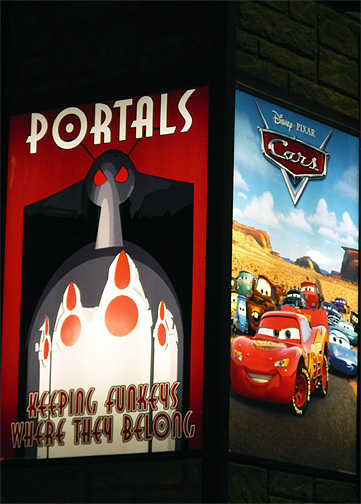 There's the Mattel booth & banner.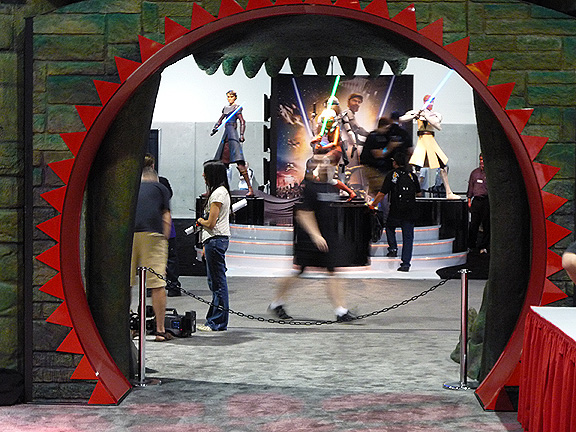 The main entrance to the Mattel booth (facing some movie called CLONE WARS – looks vaguely familiar).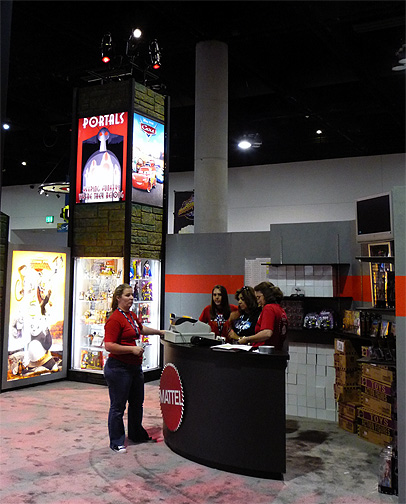 The booth ready for selling – single Lightning Storm McQueen's (white boxes) next to the 'master cartons.'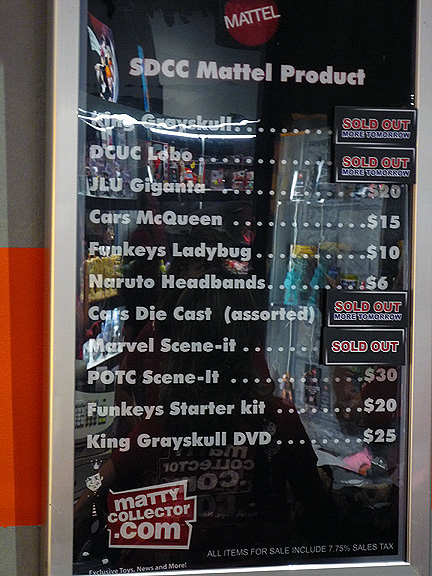 BTW, Case P & R never arrived … so no other CARS being sold other than LS McQueen.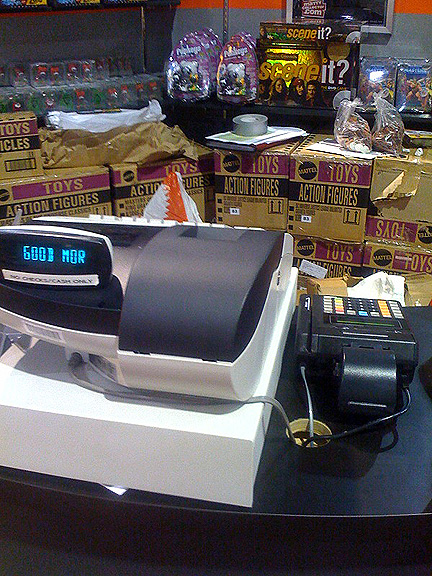 Ho humm, just another event setup – little details to get right … duct tape will fix anything.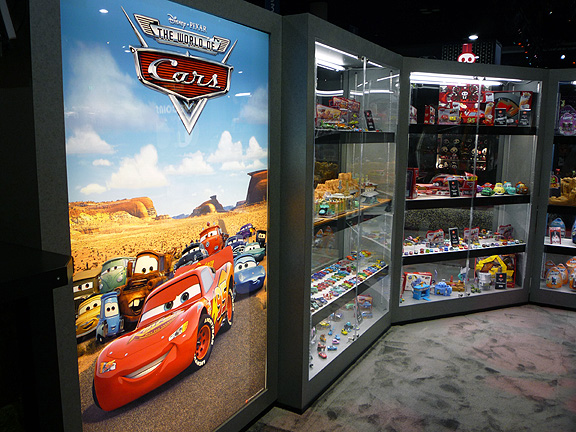 Some line called CARS …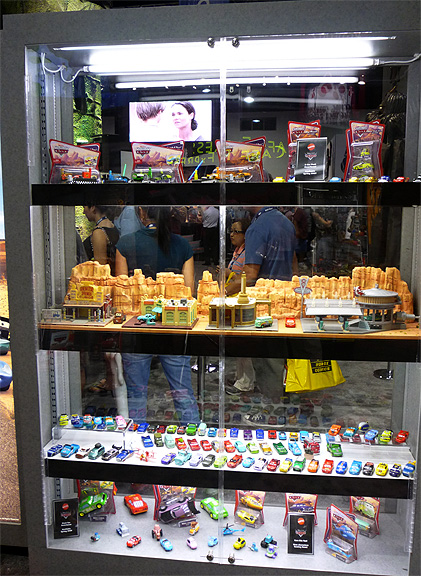 The Case – Day 1 – Oops, forgot to bring the new ones. Guess when the memo said bring 100 – they didn't think that meant the 'new' 100 coming …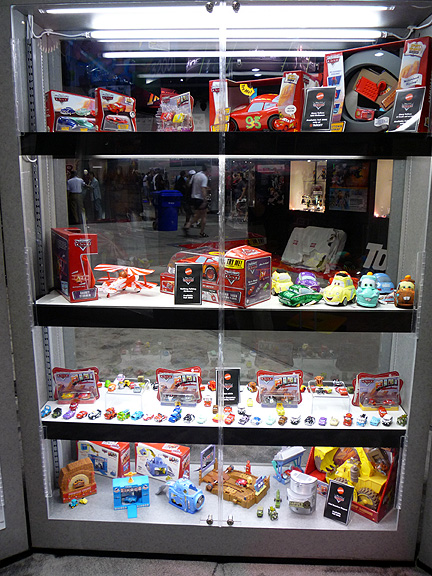 Still Day One – nice to have 'shabby' placeholders like these until the better ones arrive …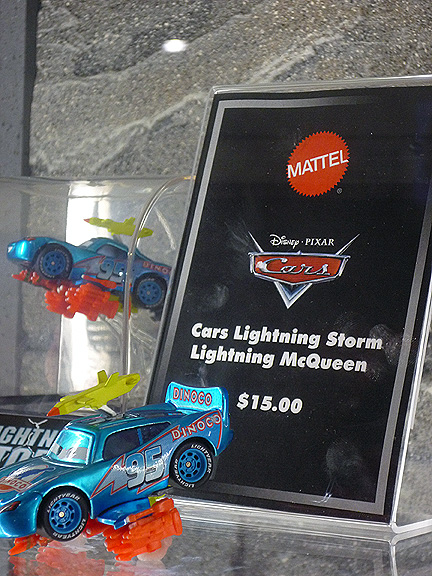 Normally, on PREVIEW NIGHT, it's a Preview Night for colleagues to catch up, to meet with vendors and the press and to casually ease into the event … nowadays at Comic Con, um, not so much … unless you have 54,000 close friends …

This is about 2 HOURS before the official start of COMIC CON 2008 … the convention center is maybe 1.5 miles long and this is the tail end of the hall … nope, not the world's largest conga line but a line that runs the FULL LENGTH of the convention center AND the Disneyland-like line management that has to snake around the south end lawn and pathway … so if you arrive at around an hour BEFORE the show starts … you have maybe a nice 90 minute wait TO GET INSIDE.
Comic Con did a great job with badge dispensing so that was relatively painless but 45,000 people with badges will now attempt to enter 10 sets of doors? (attendance was 54,000 but the exhibitors were already inside).
So, basically you had to line with thousands to get a badge (20-minutes)
You had to line up to get in (90 minutes minimum until about 7:30 PM).
Then you had to rush pell-mell to the Mattel (and depending on when you got in, how many people beat you to the Mattel line? Dozens, hundreds? Thousands?)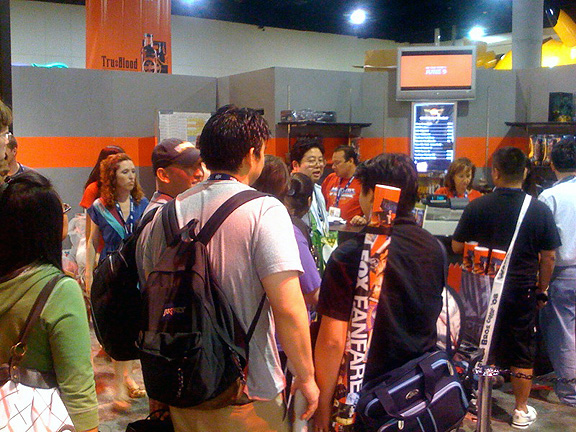 This is/was the register area from opening to closing.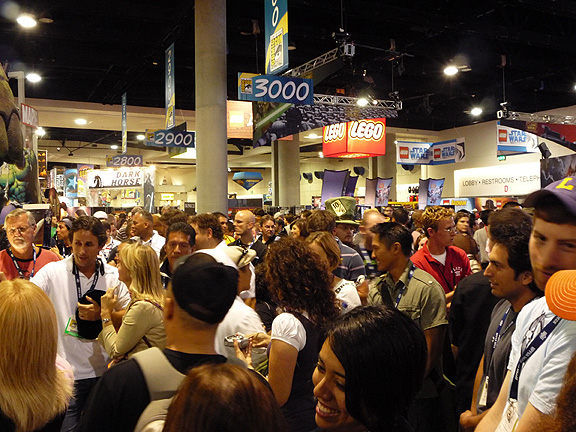 Here's what 54,000 people look like milling, walking, buying, & looking all within about 3mm from you but only from the opening of the doors to the close – other than that, there were hardly any people.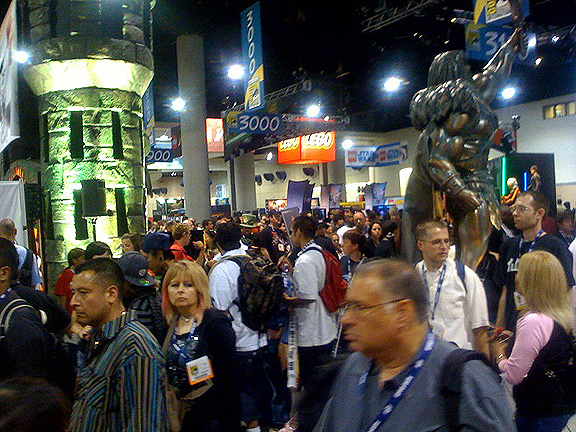 You're not agoraphobic are you? This is during lunchtime when the crowd drops slightly as they are in the back or hallways …
So, after actually getting the cases, now, you can carry the boxes through the hall, through 54,000 people and a solid 1/2 to a mile for the nearest parking lots or to the trolley (um, more waiting). Of course, that's nothing for "Monica" so she brought two kids with her 🙂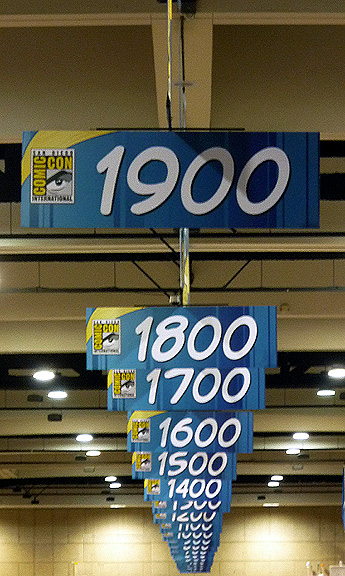 And yes, I'm physically back but but I'm not sure the brain is fully back just yet but here are a couple teasers of shots available nowhere else …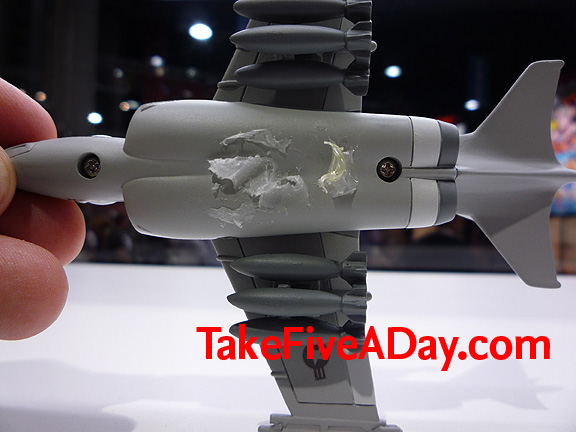 Bottom of Marco, no, you won't get glue gunk included with yours … WILL BE DIECAST!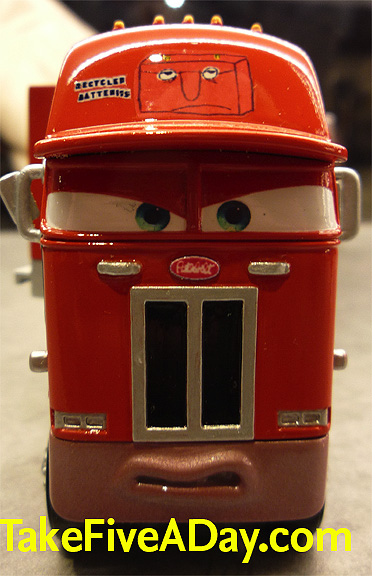 Recycled Batteries logo designed by John Lassetter's son (very cute!) … cab mostly diecast, cap & expression area not.
And people thought my display case lock picking hobby would amount to nothing 🙂
So, again, thanks NascarBroncoFan, & Monica for your hostage rescue of Lightning Storm McQueen in a carpeted minefield. I hope that everyone who was there got everything though you probably hate your fellow man just right now … 😉
Just a few more posts to come … does 50 count as 'a few?' 🙂


metroxing

27 July 2008

Advertising, collecting, comics, Design, Film, Financial, Marketing, Mattel Disney Pixar CARS, Media, Retail, Toys


72 Comments