Home
»
Advertising
,
collecting
,
Design
,
Film
,
Marketing
,
Mattel Disney Pixar CARS
,
Retail
,
Toys
,
TV
Mattel Disney Pixar CARS: Motor Speedway Set Unboxing Photos + Yep, Dale Jr. is a Variant
Thanks to reader, "Steve" who seems to have one of the first official ones. Don't ask me or him how he got it … just look at the pictures and be ready to get in/on the cyber-line on Tuesday.
The Box:
The Coke can is for height comparison, of course but as we proceed further, it's evident you will need a cold one to finish and display this thing … by my eye, it's like 8 Coke cans tall so clear off you Emmy and Best Camper Awards for this thing.
And now, we open:
The cardboard boxes inside only serve to support the box – nothing inside.
From Steve's own words (with some UK English to American English),
"Anyway, it comes in a big cardboard box with Mattel logo an the usual purple banding, weighing in at 8.4 kg, which is about 18.5 lbs. (REVISED – CORRECTED).

The ends are sealed with standard packing tape. Inside the box are 2 boxes, some packaging and tissue paper.

The first box is the Speedway of the South box itself, as shown in the pictures above. It is sealed with circular tabs, but contains no cars, only 3 cardboard fillers to support it, and display plinth area."
(Plinth is a cool word, no idea what it means so I left in there 🙂 )
The CARS come in a separate cardboard piece:
Again – Steve says, "The second box is a long, flattish cardboard box, sealed with packing tape, in which there are the cars themselves. They sit in 2 moulded plastic trays and are individually bagged. These bags are not sealed. There is also a packet of ties which can be used to secure the cars to the proper box.
In other words, it's a kind of self assembly job."
So, you can't display it without cracking it open – so on your marks – OPEN!
Back of the box:
Steve also seems the mention the front clear plastic is heavier gauge clear plastic – not like the flimsy plastic covering the typical box sets which tend to sag after a while.
But that's not all, Steve was thoughtful enough to give us a view of the DIFFERENT & VARIANT Dale Jr.
Yep, it's all true.
For reference, here is the current Dale Jr.
All smiles and a happy go lucky guy.
New Dale Jr.? The I'm passing and I'm gonna spin you out Dale Jr. (ie: I'm sick and tired of hearing about LM, King & Chick!)
What is different? As far as I can tell:
It's the No Stall/Nitroade body
He's not smiling
Eyes different
The stylized JR logo on the back "trunk" is thicker and taller – almost touching the windshield.
There are 7-8 rivets on the "front" of the spoiler – the back of the spoiler looks the same.
Back "tail-lights" are now triangular in shape versus the rectangles before.
The red color might not be a Budweiser red (to avoid trademark issues) but another red now but that's hard to say until I hold them side by side but that would be logical.
Anything else?
Well, here's your one "exclusive" car – whether this becomes the new Dale Jr., we shall have to see.
BUYING THIS SET?
Normally, Mattel starts a countdown 12-4 days beforehand and we are already at 4 days so it seems unlikely we will get a countdown … Reader Matt brings up an interesting point about why we haven't seen a countdown yet.
" …it seems really odd that there has not been a price release or countdown timer for this set despite the fact that they have confirmation that 5/20/08 is the day. Wondering if Mattel is trying to drum up more sales through their regular RL Club members who are anti-Cars. Have looked through some of the message boards on Hotwheels.com, and have seen estimates by their members that they think the price point is at $100.00, and most saying that they won't even sniff if it is over that amount. I think they will be in for a big surprise…"
One reason for no-countdown is that it might annoy the regular HW/RL Club members who already cried about offering the Factory Set last year so Mattel might not want to wave a red flag in front of them – knowing full well that 99.8% of the buyers for this set have pretty much been ready the to buy the first rumors leaked out last fall.
So, apparently on Tuesday, the 20th, the flag will drop at 9 AM Pacific US time and the only countdown is when they sell out. And since the set is $250-$300, they don't want you to think too hard by analyzing it logically over days or weeks – instead they just want you to go all Vegas and click away on Tuesday. The current info is 1,000 sets so good luck and may you be blessed with 50 MBps broadband.
So thanks Steve, enjoy and hope that everyone else who wants one will have a great Motor Speedway of the South Day May 20th.
Any other questions – presumably, they've been answered in the sneak peek post or our recent & older posts so good luck everyone!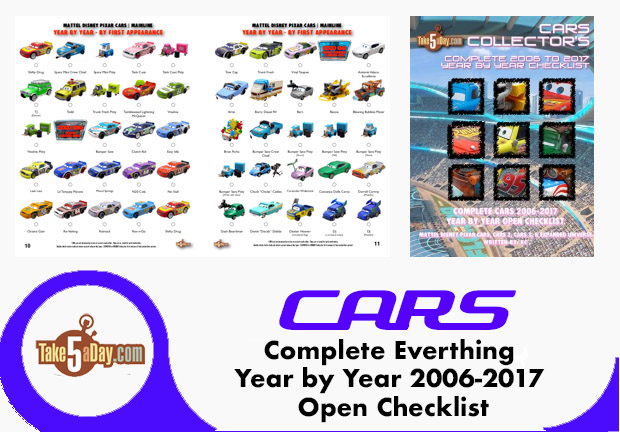 metroxing

15 May 2008

Advertising, collecting, Design, Film, Marketing, Mattel Disney Pixar CARS, Retail, Toys, TV


38 Comments