Home
»
CARS
,
Disney Pixar
,
Film
,
Marketing
,
Mattel Disney Pixar CARS
,
Media
,
Retail
,
Toys
,
TV
Mattel Disney Pixar CARS: Little Bit of Europe in the US (But Not in a Good Way)
We know it's tough to collect CARS outside the US – being that it's not particularly easy to collect CARS while we're here in the US … If Mattel can ignore us here, imagine the ignoring they do to everyone outside the US …
And of course, not only do international fans have to work hard to find CARS, they also pay a much higher price but finally, we have a little bit of Europe here in the U.S. but sadly not in a good way.
No, we don't get diesel hot rods, no unpasteurized cheese or topless beaches … we get CARS at $6.49 – yep, more expensive than inside Disneyland … at RITE AID. America's Crappiest Pharmacy™ … okay, I might be wrong about their official tagline but really, $6.49? I know we have runaway inflation this year but a price even eBay gougers might balk at? So, if you ever thought, man – I have it too easy buying CARS at $2.97 – all the CARS I want … I should shop like our European friends – only three on a peg at a huge markup.
So, anyone visiting the U.S. and miss European CARS pricing, step on into a RITE AID.
Of course, they are also selling … um, when did "YELLOW" become a food flavor and when did YELLOW become such an outstanding food flavor you want to use it as a selling point?
Or are they completely stumped as to why we would eat yellow corn flavored sugar puffs that they're testing to see if even care anymore?
So next time you dig into a heaping bowl of yellow colored food, be sure and take a mouthful and say, "Man, that's good yellow taste!" … of course, I also hope this is some DVD tie-in and not some movie tie-in, how long as this been on the shelf?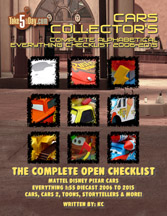 metroxing

10 April 2008

CARS, Disney Pixar, Film, Marketing, Mattel Disney Pixar CARS, Media, Retail, Toys, TV


7 Comments