Home
»
Advertising
,
Film
,
Financial
,
Internet
,
Marketing
,
Mattel Disney Pixar CARS
,
Retail
,
Toys
,
TV
Mattel Pixar Disney Cars: Motor Speedway of the South Non-News Update (Now With Date Prediction :-) )
Since we still get questions about the forthcoming Motor Speedway of the South set, here's a recap of where we stand. Let me know if there any other questions.
What is the "Motor Speedway of the South" Set?
This seems to be the current official name of the 36 Piston Cup Race Set. It will be a giant box that includes all of the Piston Cup racers seen in the movie, CARS. Yes, this will include the Piston Cup Racers already out including:
Lightning McQueen
Chick Hicks
Dale Jr.
Gasprin
The King
Leak Less
Nitrorade
No Stall
RPM
Octane Gain
Tow Cap
Vinyl Toupee
So, the set will include 24 "new" Piston Cup racers and 12 "old" ones.
(Official Sneak Photos here).
When is the set coming?
There is no official word by Mattel but that would be like Apple announcing when the next iPod will come out or which Ivy League university Jessica Simpson will be attending so as official as it gets, one of the moderators on the OFFICIAL Mattel Hot Wheel Forum had this to say:
"It is temporary planned for release here on the site sometime at the end of Spring/beginning of Summer. When we get the rest of the information, I will let you know…
Thanks,
HWC Chris"
Additional post by Mattel Admin on Hot Wheels Board:
So that could mean as early as end of April or by early June.
Is it absolutely positively going to come out during those three months (April, May or June 2008?)
Likely, yes – absolute guarantee? No. Why?
Until it's on the shore and ship shape, why take chances?
Where Can I Buy One?
ONLY at: HotWheelsCollectors Club
And more specifically, RED LINE Club members are given 24-hours priority online to buy one.
But when will it go on sale?
Again, in the next three months most likely AND Mattel will give us fair warning – either 7 or 10 days notice. So, it's not a sneaky surprise.
Is this RED LINE CLUB an exclusive club?
Anyone who lives in the U.S., and has a credit card with a credit line of $29 – you can sign up. And of course, you'll need internet access.
Do you have to live in the U.S.?
Technically no but you MUST have a U.S. mailing address (military FPO should be fine).
International out of luck?
Directly yes. If you can find someone with a U.S. mailing address and a U.S. credit card, you're obviously okay. Using an international credit card is iffy as Mattel might insist that the billing and shipping addresses match. You can also try and buy a U.S. prepaid credit card (or you can send a friend/relative money to buy a prepaid credit card).
What's the Mattel Red Line Club, how is it different than the Hot Wheels Collector's Club?
Bigger shrimp at the parties … okay, just kidding … The Hot Wheels Collector's Club is FREE. Sign up to get emails and you can join in some of the forums.
The RED LINE Club is $25 a year + ($4 shipping).
The two big differences are:
You get a "free" Hot Wheel special limited edition diecast car AND
You get a 24-hour priority window to buy things at the Mattel store.
The car this year is quite nice and even if you want zero Hot Wheels in your house, you can pretty much sell it on Ebay for $15-$30 dollars, essentially making your membership free … (each color was limited and in order of signups – they are on the last batch – purple).
What is this priority window thing you speak of?
Every so often, they announce an "exclusive car" such as this one coming up on April 8th:
As you can see, when I took the screensnap, there was a little over 10 days left – it usually goes on sale at 9 AM Pacific Time of whatever day. So at some point in the next three months, the counter will go up for "Motor Speedway of the South" and you'll have 7-12 days before it gets to zero and goes on sale.
RED LINE CLUB (RLC) members get 24-hours where only they get to decide if they want to buy something. AFTER 24 hours, if there is any inventory left, it will go on sale to ANYONE who is the regular Hot Wheels Collector's Club member (aka: general public).
Are there on occasion Hot Wheel cars left over after 24 hours that others can buy? Yes.
Do I think the Motor Speedway of the South set will last more than 24-hours?
UM, NO.
It's NOT going to be a cheap set but I doubt it will last much longer then 4-6 hours.
How much will it cost?
Mattel priced the 27-CAR 2006 Factory Set (also a RLC exclusive set) at @$5.51 per car and really, every CAR was available elsewhere at $149 (there was some packaging differences) or about $200 after shipping + tax + RLC membership … since this is 36 CARS, if you presume based on the same cost scheme, it will be @198 + shipping + tax or @$250 … (+ the RLC membership) though now with the recent price bump by Mattel for retailers, I think we might be looking at $249 + tax + shipping (+ the RLC membership) putting the final cost probably closer or over $300+ … but that's just a guess. That might be too scary for Mattel to try and sell so they might fiddle with the numbers until it's closer to $260-$275 "out the door," (not counting RLC membership costs) so perhaps $229 or $239 + shipping + tax.
I'm getting my economic stimulus relief check so I'll be loaded, can I buy four?
Each RLC member is generally entitled to buy only ONE of whatever during the priority window so if you want more than one, you will need a second PAID membership and another email address – your shipping address is okay, you are allowed 5 memberships at the same mailing address.
To recap:
If you want to buy a second membership, that's another $29 + a DIFFERENT email address (same shipping as membership #1 is fine).
If you want a third membership, that's another $29 + a DIFFERENT email address (same shipping as membership #1 is fine).
After FIVE memberships, you will need a new credit card and a new shipping address but if you're willing to spend $1,400 buying 5 sets, you can hire someone who can help you buy more sets.
So, of course, on ordering day, you'll have to buy, log off and then log back on.
Can I just wait until eBay?
If you're the gambling type, good luck! This will be an interesting freaknomics test – how much premium can a $300+ dollar item fetch hours or days afters it goes on sale at Mattel? Consider that you'll be paying for "his/her" shipping + shipping to you so why not just buy it yourself as a RLC member.
Should I sign up now on the RLC?
In theory, membership to the RLC is limited to 22,000 members, that's how many of the Hot Wheels car Mattel has readied for 2008.
DIRECT FROM MATTEL:
First 4,000 to join or renew: Boss Hoss in chrome with red stripes!
Next 5,000 to join or renew: Boss Hoss in Spectraflame® red with white stripes.
Next 6,000 to join or renew: Boss Hoss in Spectraflame® ice blue with black stripes.
Next 7,000 to join or renew: Boss Hoss in Spectraflame® purple with white stripes.
They are on purple so we know there are already 15,000+ memberships sold – leaving less than 7,000 memberships left. Will Mattel turn away the 7,001st person? I can't imagine they would on some oddball principle (aka: Mattel turning down money?) but do you want to test out the theory if you're 100% sure you're willing to pay $275 to $300 for the Motor Speedway of the South set?
As I noted, the car is really nice this year and people are willing to buy it on eBay for 50-100% of the cost of a RLC club membership so why not?
How many will be available?
The rumored number is 2,000 … even if the RLC is maxed at 22,000 members, clearly most are Hot Wheels fanboys* so they might not care … of course, I'm sure there are hundreds of eBay powersellers with a dozen memberships … so if you're going to buy this, take the day off or book a conference room with a fiber optic broadband when this goes on sale to get in the queue.
*If you're a noob to the HWC Club or the RLC forums, note, there are a majority of Hot Wheels citizens there who think of CARS as johnny-come-lately and that we're horning in on their club … there was an undercurrent of resentment when the Factory set was offered last year but some are coming around …
Also
As part of your RLC membership, you also get the "badge" and a poster which I forgotten all about until I just got this the other day.
As you can see next to it, it came in not just a tube but a giant box with foam peanuts via UPS so a $2 box, a $1 tube, $.50 worth of peanuts and $5 UPS shipping to mail me a slightly wrinkled poster of er, questionable value – no wonder RLC membership costs $30 … I guess I do appreciate Mattel going back to press to mail me this poster but honestly, I'd much prefer a coupon.
See ya'll in the cyber line …
Final Predication
I'm going to say it's going to go on sale May 20, 2008. Why? First, it's a $300 item and you want to do it after tax season and this year, a bunch of people will also get the economic stimulus check by then. Second, if you want to sell an item for $300, you want to do it after payday – people feel flush and rich. If you have a "higher" priced item, you never want to ask people to buy it a few days BEFORE the paycheck arrives and a lot of people pay rent/mortgage on the 1st so middle of the month is generally better. It's a Tuesday and everything from the RLC goes on sale Tuesday. So, my guess is previews will go up before the 8th and the countdown will begin 10-12 days beforehand. Again, good luck!
The original post and individual photos.
Singles?
Will they be (re)-released as singles? Here are some things to weigh and consider. Of course, $250-$300 for a bunch of CARS you will presumably only get to look at and not even get to play with is a lot of money – I totally understand if you are unable or unwilling to make a financial commitment this large (or you live overseas), that's a choice you've made – it's just a bunch of CARS, no biggie but you're thinking, maybe I do want them but I'm just not willing to spend $250-$300 or about $6-8 a CAR all at once … keep in mind 12 of the CARS are already out and while Gaspirin & Tow Cap are a little more work, presumably you have the other 12 already. Now, all you need is the other 24.
My feeling is that Mattel is not going to walk away from you – we have already seen Gift Packs with Piston Cup racers not out yet (from Toyfair) so if the set is $300, that's about $8 a CAR, conveniently about the same price as a "launcher." And while there are only 5-6 molds for all the Piston Cup racers, there is no way Mattel is going to only paint 2,000 Mood Springs, Mattel is clearly going to re-release most if not all as launchers or in Gift Packs.
BUT and note that it's in caps, that does NOT mean you might see them all in 2008 or even in 2009 … and while the line is assured in 2008 and probably most of 2009, ONE NEVER KNOWS. NOT EVEN MATTEL …
No one knows what will be out in 2009 … maybe the line is so slow they are back to the 14 townies … or as Mattel has hinted, that there will be exclusives in the set available no where else BUT AGAIN …
What Mattel considers "NEW" and "EXCLUSIVE" are not necessarily the dictionary definition – now, it might actually be but it might be like seeing Ghostlight Ramone on a WOC card with the snipe NEW. Technically, it is new and Marketing-wise, it is NEW but in the strictest dictionary sense, no. Or the WAL MART Exclusives … appearing in Sam's Club (same company, different division) a few months later – again, technically at Sam's Club, you had to buy an entire box to get some of the WM CARS but to the average person, exclusive means 'exclusive' as in the actual definition of UNIQUE and UNAVAILABLE elsewhere BUT Mattel has their own dictionary.
So, they say the Motor Speedway set will contain exclusives – but how exclusive?
I believe it will be exclusive as in packaging or maybe it will not appear until 2009 in a box set or some other configuration … however, the caveat to keep in mind is that Mattel INTENDS to release them in another configuration but will it actually be guaranteed on the store shelves? Impossible to predict – so while Mac iCar might be out on a single blister card, maybe it's 2010 before it appears … so how does this affect whether you buy the Motor Speedway set in 2008? Will you open the set?
So, while the odds are pretty good ALL the Piston Cup racers will eventually appear in Gift Packs, Launchers, Box Sets or even as singles – when and IF is another question.
Mattel gets your money either way:
You either buy the Motor Speedway set and never open it to maintain its maximum value and buy the various re-releases in order to open & play with them …
OR
You buy them individually at $8+ (as Gift Packs, Launchers, Box Sets, etc …) eventually.
Mattel does not lose money either, it's just whether you pay them $300 upfront and continue to buy them to open or whether you buy them in smaller gulps.
APRIL 18, 2008 UPDATE HERE.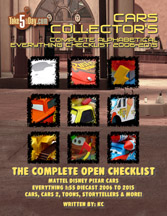 metroxing

29 March 2008

Advertising, Film, Financial, Internet, Marketing, Mattel Disney Pixar CARS, Retail, Toys, TV


16 Comments