Home
»
Advertising
,
Design
,
Film
,
Financial
,
Marketing
,
Mattel Disney Pixar CARS
,
Media
Disney Pixar CARS 2: Sequel Coming in 2011 (Update Confirmed – 2012!)
(OFFICIAL CARS2 LOGO – see new post)
According to DarkHorizons.com, they are reporting that CARS 2 is coming 2011.
"… the studio is filling up its schedule again with big sequels and franchise entries. Most exciting is that the studio plans to release a sequel to 80's sci-fi classic "Tron" in Digital Disney 3D in the Spring of 2011. Previous reports had Joseph Kosinski in talks to direct.
The studio also has "Cars 2", "National Treasure 3" and "Pirates of the Caribbean 4″ scheduled for that year as well."

Guess that's why they're hiring animators.
Not that the date is a big surprise … room on Pixar's calendar AND conveniently the year Disney is opening CARLAND … our original post on sequel news & thoughts.
If Mattel has any say, here's the plot to maximize CARS on screen, CARS on sale and SEALED cases of CARS in our garage …
"After winning back to back Piston Cup's (seen in glorious flashbacks of course), McQueen retires with Sally and the little subcompacts back in Radiator Springs where he teaches up and comng Piston Cupers … his kid-CARS don't believe dad could once be a great racer so McQueen joins the great race around the world for one last thrill."
That should be good enough for about 600 CARS? (in addition to the 400 we'll have by 2010).
Clear out the guest room, kick out the mother-in-law, emancipate the kids to live on their own – we all need more room!
BTW, the story on DarkHorizons alludes to they think CARS was not a hit … of course, since Pixar sets a benchmark perception-wise, anything short of a $100 million dollar opening has the feel it didn't hit on all cylinders, but I think DarkHorizons might want to take a look at the top 5 domestic grossing films of 2006 … humm, who's that at #3?
Top Five Films of 2006
"Pirates of the Caribbean: Dead Man's Chest"
$423.3 million
"Night at the Museum"
$250.8 million
"Cars"
$244.0 million
"X-Men: The Last Stand"
$234.3 million
"The Da Vinci Code"
$217.5 million
CARS was also the 2nd best selling DVD of 2006 – just a shade behind Pirates of the Caribbean: Dead Man's Chest at around 12 million copies sold – 5 million sold in its first week.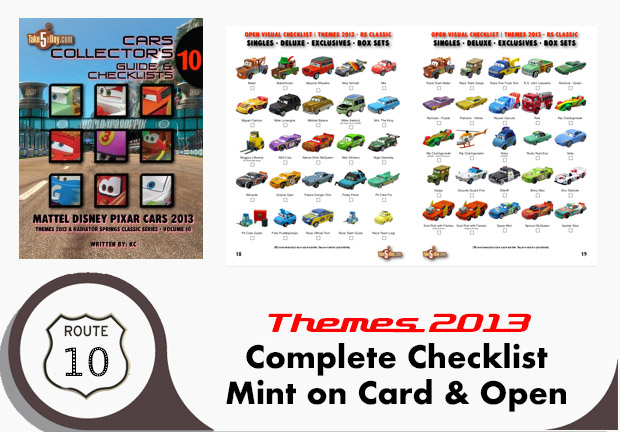 metroxing

3 March 2008

Advertising, Design, Film, Financial, Marketing, Mattel Disney Pixar CARS, Media


9 Comments