Home
»
Advertising
,
Film
,
Marketing
,
Mattel Disney Pixar CARS
,
Toys
Mattel Pixar Disney Cars Checklist: The Alpha List 2008
Reader Jake sent along this alphabetized list of the 66 CARS announced so far & scheduled for release in 2008 (that is not already out). This includes all the Piston Cup race CARS that presumably will be the set coming in (rumor has it) June 2008.
The only thing we know for certain for that we can be sure the final list at the end of 2008 will be longer than 66 … which is either good news or bad news … depending on grumpy you are and how much you like your second kidney.
Toyfair is in NYC – starts February 17th, we'll hear more around that time.
Unfortunately, wordpress doesn't allow for much formatting or grids so you can paste this list somewhere and add your own …
Of course, we have a checklist/spreadsheet with grids online here at EDITGRID. If you preuse the tabs at the bottom, you can choose the spreadsheet that fits your collection. The newest addition is a checklist by sealed case so you know what's coming … which is also available as a download here.
The main list by case is in this post.
Thanks, Jake.
Anime Chuki
Apple (#84) – Mac iCar
Axle Accelerator (Security Car)
Brian Antenna Ball
Bumper Save (#90) – Ponchy Wipeout
Charlie Checker/Pace Car (Yellow Tail-Light)
Chick Hicks Pit Crew
Chief No Stall
Chief Trunk Fresh
Clutch Aid (#121) – Kevin Shiftright
Cora Cooper
Creme Filled Gask-its (#80) – Sage Vanderspin
Dexter Hover
Dinoco Crew Chief
Dinoco Mia & Tia
Dudley Spare (Octane Gain Pitty)
Dustin Mellows
Easy Idle (#51) – Ruby "Easy" Oakes
Elvis RV
Faux Wheel Drive (#54) – Johnny Blamer
Fiber Fuel (#56) – Brush Curber
Flea
Flik
Gasprin (#70) – Floyn Mulvihill
Gold Mia
Gold Tia
Greta
Jay Limo
Lightning Ramone
Lightning Storm McQueen
Lil' Torque Pistons (#117) – Ralph Carlow
Luke – Dinoco Pitty
Marco Super FAV18 (Jet)
Mini
Mood Springs (#33) – Chuck Armstrong
N20 (#68) – Manny Flywheel
Octane Gain Crew Chief
Patti (Andretti Assistant)
Petrol Pulaski (RPM Pitty)
Pit Crew Member Sarge
Race Damage King
Retread (#79) – Paul Inngas
Rev-N-Go (#73) – Misti Motorkrass
Re-Volting (#84) – Davey Apex
Richard Clayton Kensington (Security Van)
Ron Hover
Shifty Drug (#35) – Kevin Racingtire
Shiny Wax (#82) – Darren Leadfoot
Sidewall Shine (#74) – Slider Petrolski
Spare Mint (#93) – Earnie Gearson
Sputter Stop (#92) – Murray Clutchburn
Sven Hummer
Tach-O-Mint (#101) – Greg Candyman
Tank Coat (#36) – Eugene Carbureski
Tar Lightning McQueen
Timothy "Tomezone" Truecoat
Tires Lightning McQueen
Tow Cap (#4) – Rusty Cornfuel
Transberry Juice (#63) – Lee Reukins
Trunk Fresh (#34) – Dirk D'Argostino
Tumble Weed Lightning McQueen
Van
View-Zeen (#39) – Ryan Shields
Vitoline (#61) – James Cleanair
Whitewall Lightning McQueen
Yellow Pitty Leak Less
All our other posts are linked here.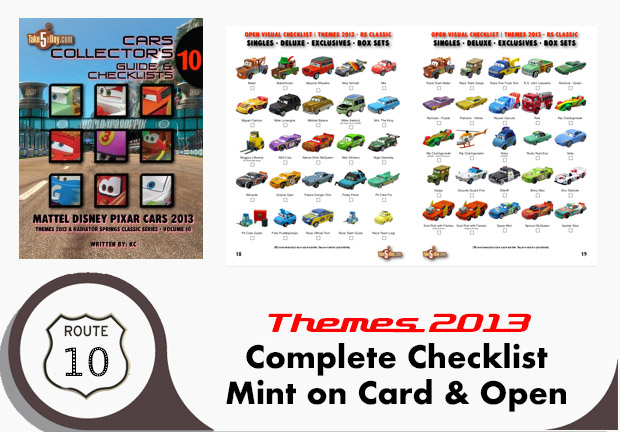 metroxing

24 January 2008

Advertising, Film, Marketing, Mattel Disney Pixar CARS, Toys


5 Comments