Home
»
Disney
,
Disney Pixar
,
Disney Pixar CARS 3
,
Mattel Disney Pixar Diecast CARS 3
Mattel Disney Pixar CARS Diecast: Super, Super Chase Case 2013 – Case N
You might not be shocked to hear that Mattel Distribution does not fire on all cylinders at all times. Items in the warehouse system are sometimes tagged ON HOLD – which of course means it's ON HOLD except for those that get shipped … other times, items will disappear from the inventory completely or to re-appear weeks later like nothing ever happened. Also shocking, there's no set pattern and items will be ON HOLD and no one knows why. I know, shocking, right? Everything else goes SO SMOOTHLY …
So, whether it's PLANES or some other thing – the last 6 cases are all changed – most we have not posted since we never presume things will go smoothly so we usually only post the next case up …
Case J and its twin, CASE K were canceled and the important CARS (new releases) were merged into the original N case making a new N case which replaces J, K & original N … with TWO SUPER CHASES. Not quite as impressive as the Super Duper Super Chase Case of 2012 but a nice upgrade when you merge two cases into ONE.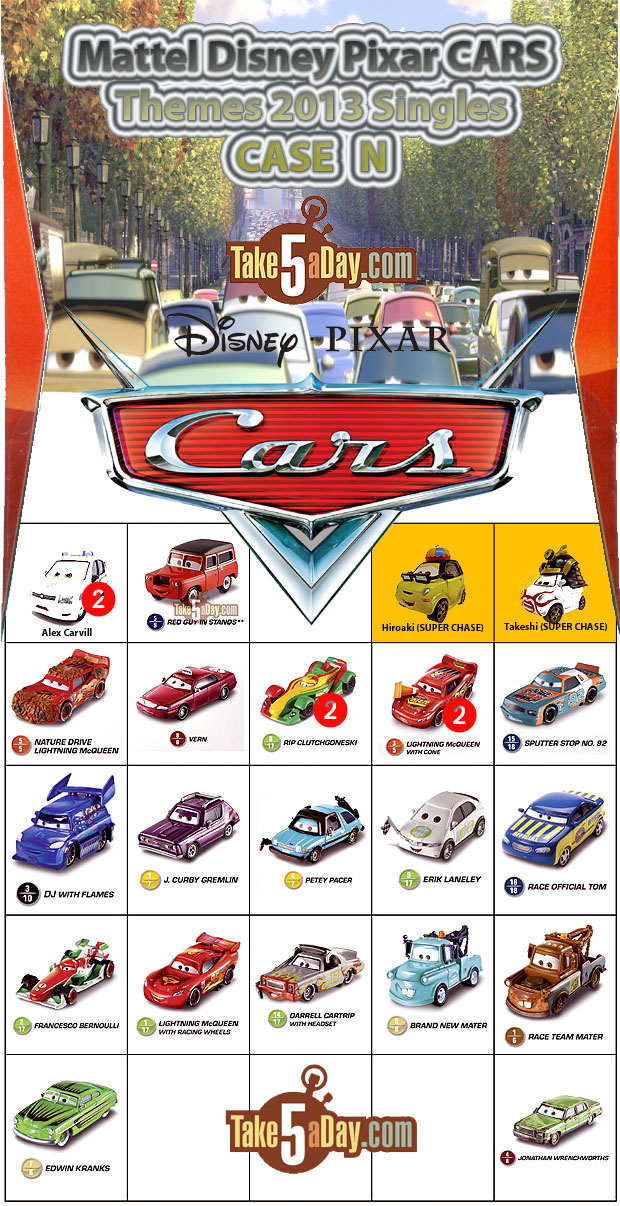 So, CASE N is shipping – though not in huge quantities with TWO Super Chases, Hiroaki and Takeshi plus 2 Rip Clutchgoneski's and NEW RELEASES Maurice Wheelks (red range Rover); 2 Alex Carvill (WGP Security) and; 1 Nature Drive Lightning McQueen. AND new for 2013 (re-releases) – Vern, Sputter Stop & Race Official Tom (as a single). Of course, it'd be nicer if we got TWO of every new release but 2 Super Chases, 4 New CARS, 2 Rip's and 3 new to 2013 re-releases is not bad. ChildrensToyCloset has some on hand and more coming.
If you loathe the Super Chases, Mattel is also offering its new Twin Case, M. Of course, Mattel has to offer a twin case because they need to sell more than 4,000 cases of an assortment so presumably there are about 10,000 of CASE M. The only difference is deleting 1 Heroaki and Takeshi and adding 1 Nature Drive LM and 1 Race Official Tom.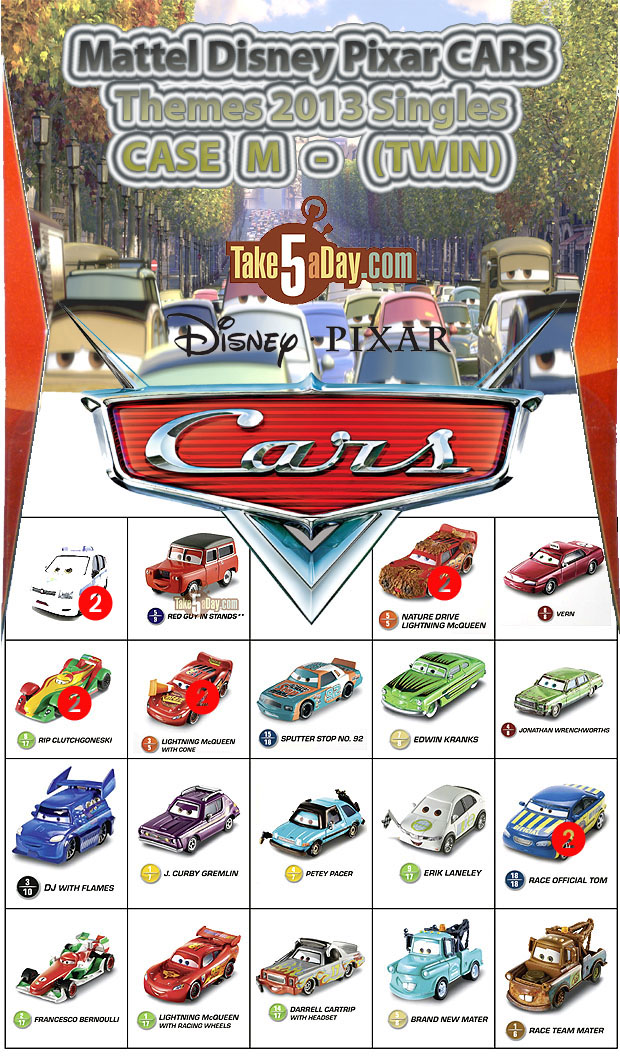 In 2013 Mattel certainly love Lightning with Cone AND Edwin Kranks. Weird.
For those who really care, here's what was in CASE J and its twin CASE K. The only CAR missing is Brent Mustangberger with Headset.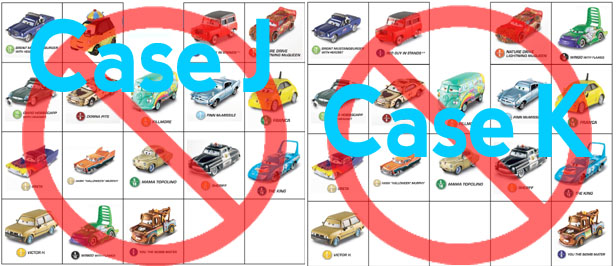 Case L* was also canceled which had some fun CARS but it looks like they're going into CASE Q. There seems to be another "new" CASE – more info to follow. CASE R – the SUPER CHASE "twin or cousin" of CASE H has shipped but it's on quasi-hold … again, more are coming but it's unknown when. But yes, people have actually found SUPER CHASE R on retail shelves– thanks for this photo, Mariela P!
*Elements of CASE L were released internationally under a different case code.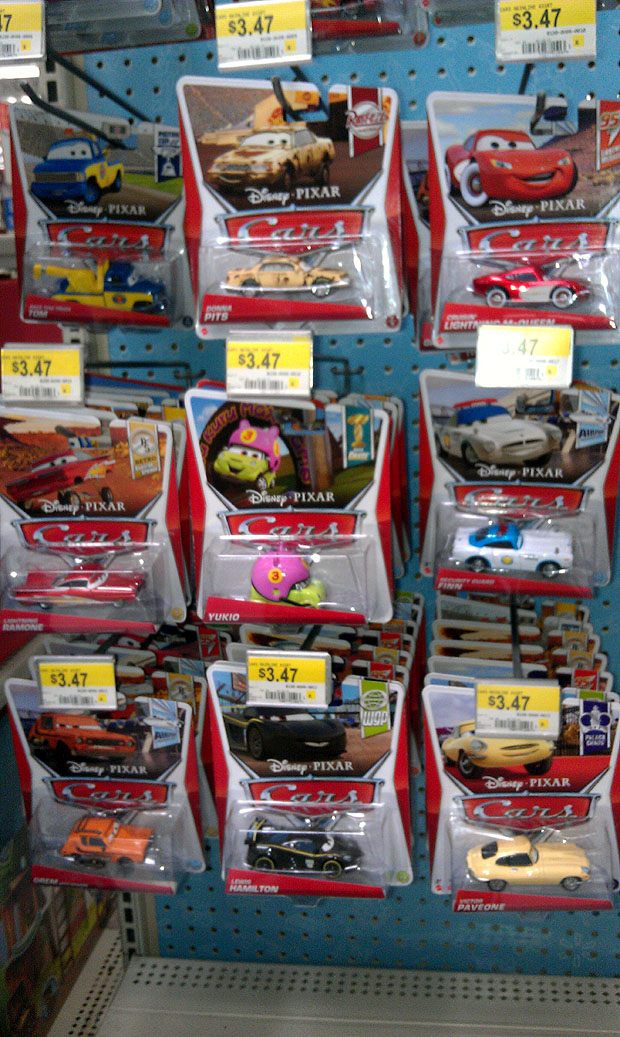 So, unlike in 2012 – some retailers are getting SUPER CHASE Case R & SUPER CHASE'S CASE N. So, you might get lucky or you might want to just order the case. One person found his CASE had 12 Super Chases and 12 Lightning McQueen's. Is that like winning the lottery and getting punched in the face? 🙂 That's one to finish up packing for the day – hope YOU get that lucky from lazy employee packer #27. 🙂
Mariela P also sends us some card photos of the Super Chases.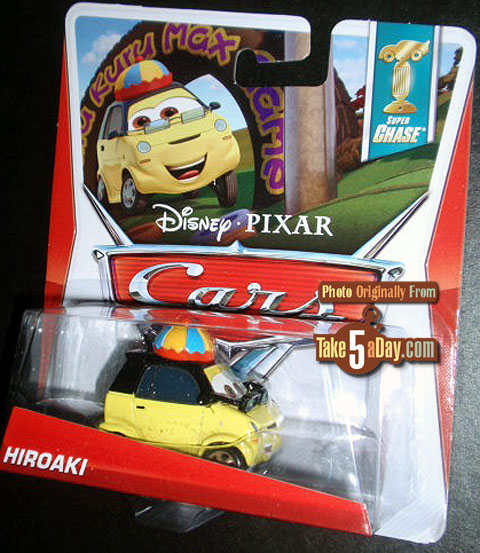 Takeshi is Japanese for "Take5ADay." I may be wrong but I doubt it.  😆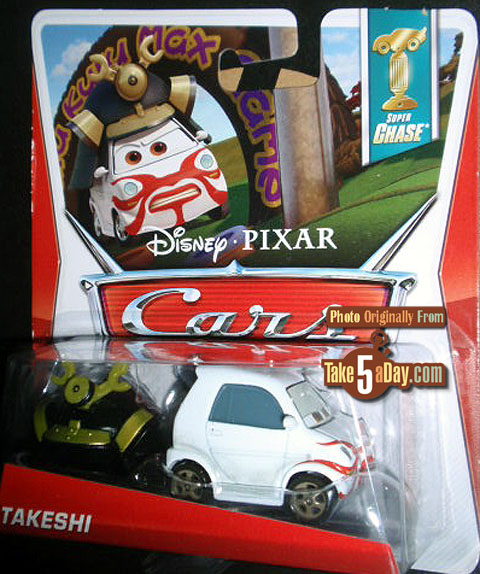 Happy hunting and happy opening!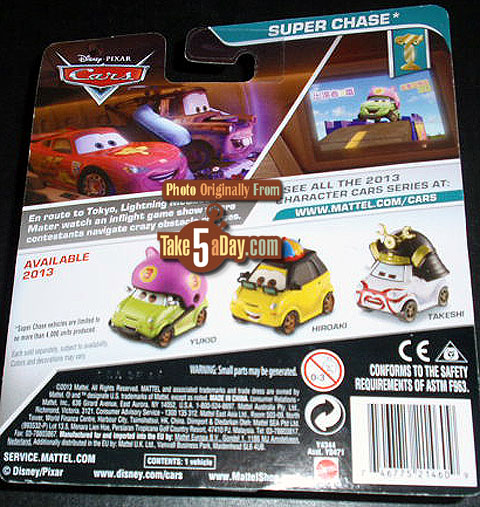 Thanks Mariela P. for the fun Super Chase photos!
So to recap, stores might/might have already or are getting CASES H, M, N or R … so happy hunting!


metroxing

23 August 2013

Disney, Disney Pixar, Disney Pixar CARS 3, Mattel Disney Pixar Diecast CARS 3


10 Comments