Home
»
Disney
,
Disney Pixar
,
Disney Pixar CARS 3
,
Mattel Disney Pixar Diecast CARS
Mattel Disney Pixar CARS: New Radiator Springs Townie Action Shifters Playsets
For the launch of CARS in 2006, they produced 4 Radiator Springs Townie Playsets to scale and with maximum cannoncity. Flo's V8 Cafe, Luigi's Casa Della Tires, Radiator Springs Curio Shop & Ramone's House Of Body Art. Now a couple of them had hidden ramps and launchers but for canon collectors, they tucked inside the playset so all was fine – but of course, the extra cool thing is they all lite up in some manner – besides the fact they were solid, detailed, correct looking and in scale.
Here is an early proto photo of Ramone's – notice the super genius who could not figure what a road looked like … and installed them UPSIDE DOWN.
Since then, we have not really gotten very much in the way of canon townie playsets. Part of it is they want it to have some "super-fun" element for kids but when it's not canon, it is of little interest to the core audience of CARS buyers … in the next months, we'll get another attempt (TRU Christmas Wish Book I believe) that features one sought after playset piece (Sally's Cozy Cone) but then the rest of the set is either a facade or in the wrong size … or features elements not from the film (there's no crane in Mater's yard).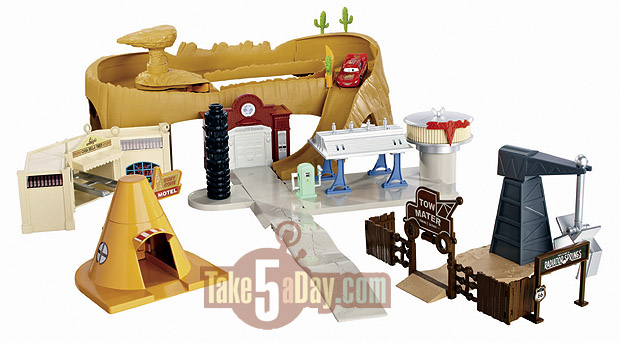 Well, they are taking that facade idea/making up parts of the town to a new series of playsets. Here's Luigi's with some sort of launcher not from inside the garage which might actually make sense but on the outside which is incorrect.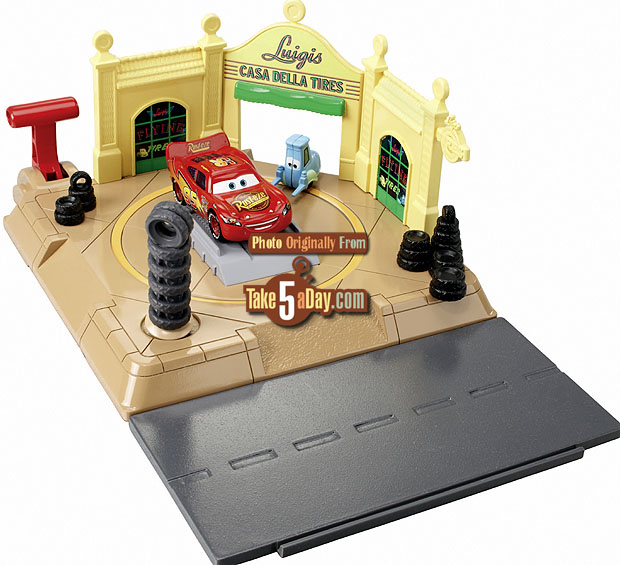 At least they figured which was up on the roadside piece … but poor Guido – plastic and NOT even one casting … he's already coming apart at the seams. I missed that Toon where Guido fell into the bandsaw but apparently the town put him back together – just nobody say anything about his small scar.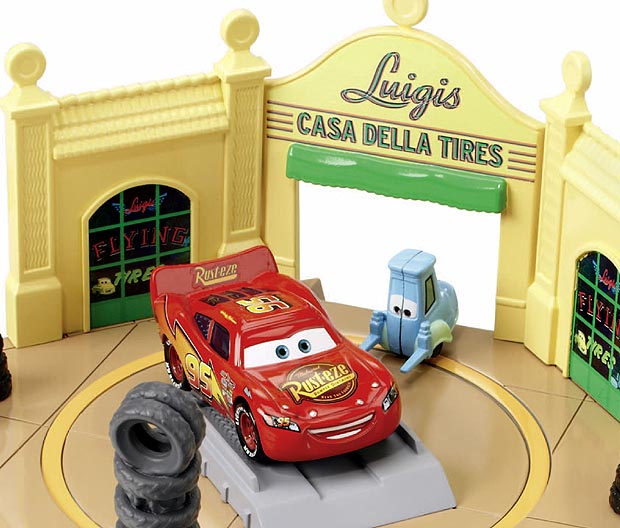 There's also a mostly inaccurate Ramone's House of Body Art which lost its walls into the another lost Toon, "Sandy took my walls but not my art." Ramone also got a intern green Pitty which blew into from the same storm. As Fillmore says, "He's plastic, maannn."
And never mind that Lightning to about to launch at the Pitty and not the door marked EXIT.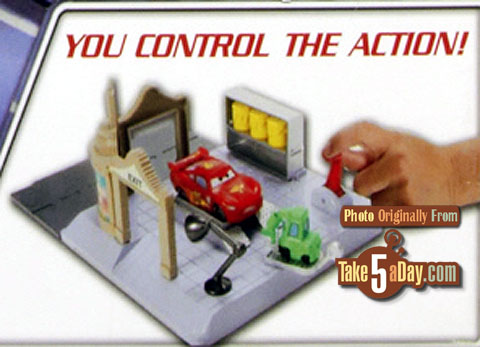 McQueen looks mad he's being serviced in the open.
But Flo's is re-zoned as a drag strip (isn't Sally across the street from Flo's … NOT ANYMORE!)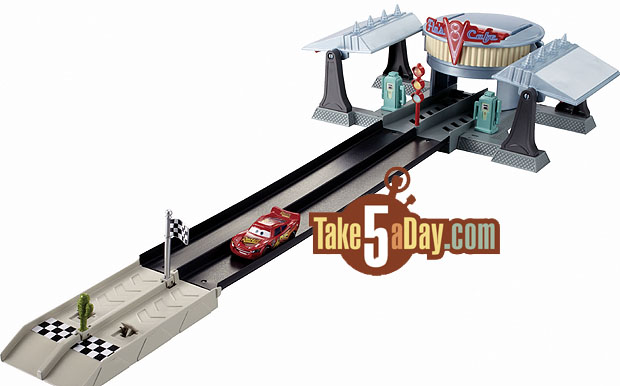 Well, at least with this one, kids can shoot the diecast around the floor.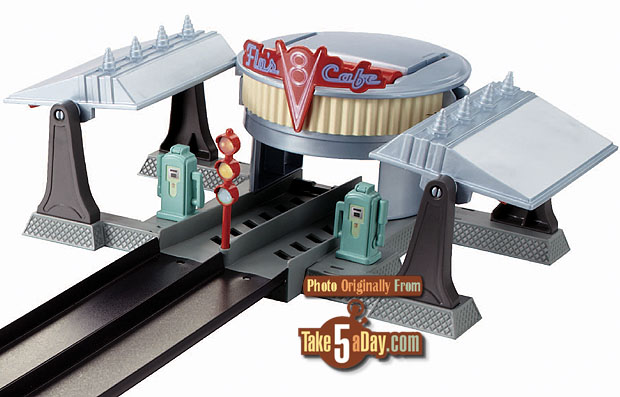 It's hard to tell if this is final art or merely a mock-up but these should be out around Christmas time.
And apparently they connect together … It looks like you can also flip Flo's roof over to hold some CARS.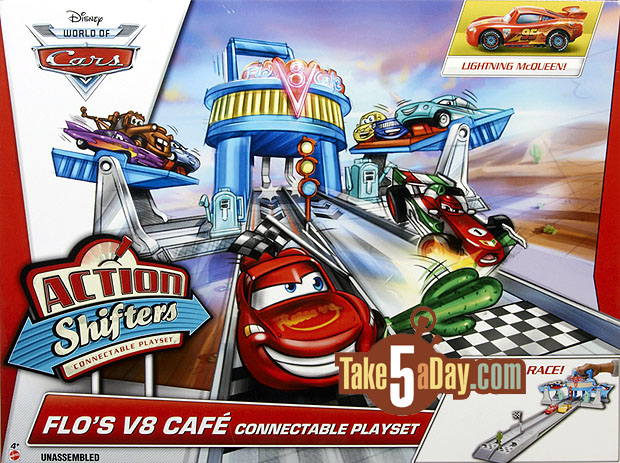 metroxing

14 August 2013

Disney, Disney Pixar, Disney Pixar CARS 3, Mattel Disney Pixar Diecast CARS


4 Comments