Home
»
Disney
,
Disney Planes
Wings – the Talking Plane Movie With Eyes on DVD Now + Planes DVD/Blu Ray
If you really, really, really want a DVD of an "animated" movie starring a plane that talks with eyes on the windshield, who has time to go to the theater or wait 3 months for the Disney DVD …
There's this … WINGS!
Originally in Russian called, "Ot Vinta 3D."
I guesses it loses something in the translation … you know like animation quality and dialogue …
It does feature the voices of … Josh Duhamel, Rob Schneider, Gregg Berger, Hilary Duff, Tom Skerritt, and Jesse McCartney.
If Duece Bigelow is in it, it must be good! Or at least as good as Deuce Bigelow 2.
Danrio tells us Redbox has it also. As Danrio notes, Redbox does warns you that it's not from Disney. Just so you don't get mad when you take it home and realize it's not even the TV series WINGS. Or the first ever Oscar Best Picture winner, WINGS … or even an Opus Bloom County WINGS.
Though Amazon is taking pre-orders for PLANES already – no scheduled release date which makes sense as they would rather you see it in the theaters but I would not be surprised if it came out the same Tuesday as Monsters U (scheduled for October 29, 2013) or the following Tuesday November 5, 2013.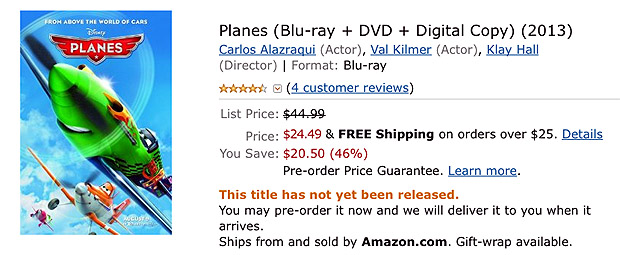 But if Despicable Me 2 is coming out on the 11/5, then PLANES might wait one more week.



metroxing

14 August 2013

Disney, Disney Planes


5 Comments