Home
»
Disney
,
Disney Pixar
,
Disney Pixar CARS 3
,
Mattel Disney Pixar Diecast CARS
Mattel Disney Pixar CARS Diecast: Next Up, Case H Singles – Super Chase Case R Twin?
First, the "normal" portion of this informational post … CASE H … coming next – a shipping date of early July.*
UPDATE – REVISION/UPDATE post HERE.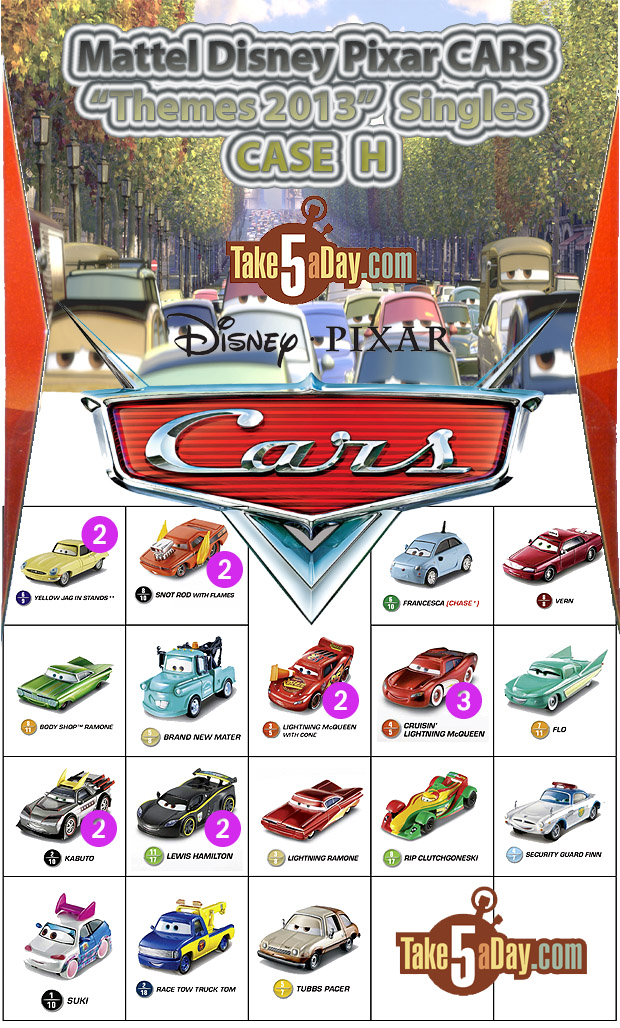 Case H is a nice solid case with a CHASE CAR, Guido's dance partner, Fransceca.
Plus "NEW" Victor Paveone (Yellow Jag in Stands) and Snot Rod with Flames (well, technically a repaint and re-accessory) but still considered NEW.
Rob (My 6 Kids) sends along the singles cards of CASE H …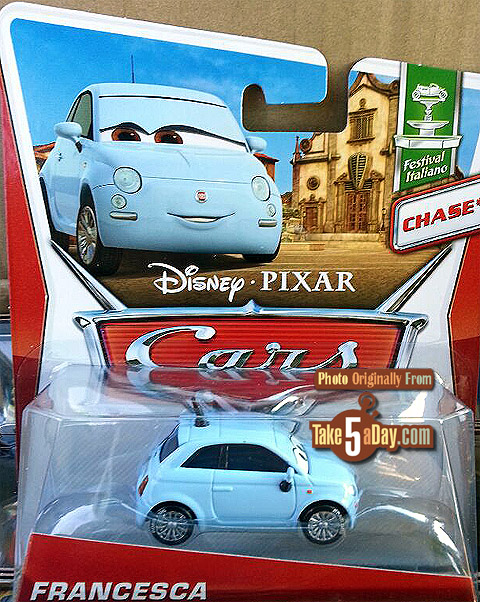 The Chase.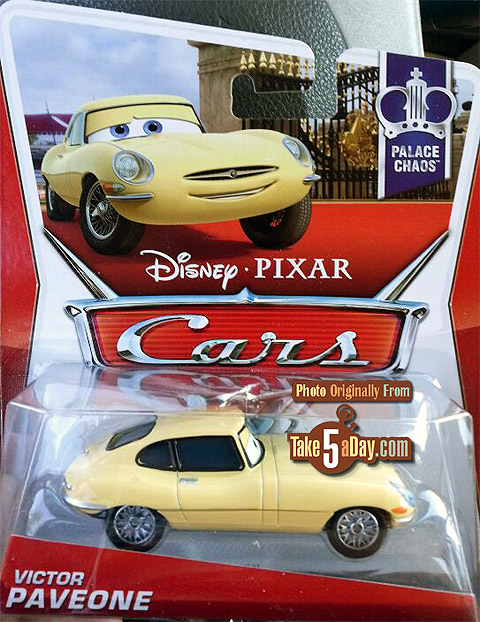 Yellow Jag …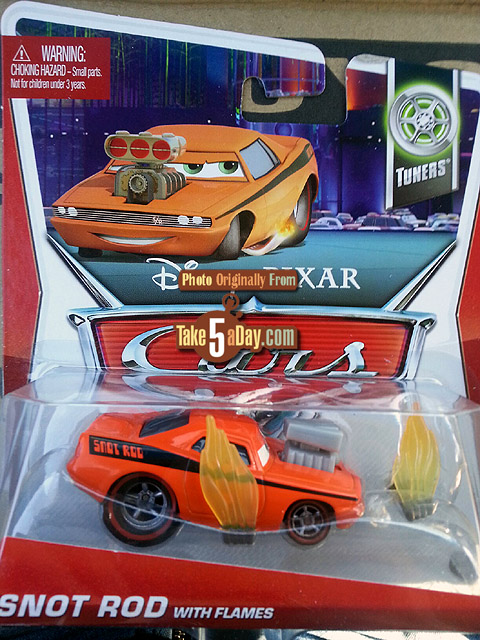 And apparently, the Some-Assembly-Required Snot Rod with Flames. 🙂
Thanks Rob (My 6 Kids) for the card photos.
Also in the case …
First re-release of Vern in 3 years.
And re-releases from 2013 but not necessarily easy to find 2013 releases:
Brand New Mater (unibody return to first release back in 2008);
Kabuto (unibody upgrade from Porto Corsa);
Lewis Hamilton (only 1 in CASE D);
Rip Clutchgoneski (No need to say more plus the next release might be silver Rip so this "regular Rip," might be the last single release of Rip for 2013 at retail if we presume the Super Chase case is NOT for retail);
Security Guard Finn (unibody upgrade from Porto Corsa era);
& Suki (only 1 in CASE A).
Plus long time favs: Flo, Race Tow Tom & Tubbs Pacer, not much to complain about in this case – NO FRANCESCO's!
So, just on this case assortment for CASE H – it's a B+ or A- minus case.
Now comes the weird part. There looks to be a SUPER CHASE TWIN of CASE H – CASE R. But unlike the other SUPER CHASE TWIN cases coming (and the SUPER CHASE TWIN cases from last year), CASE R is the only SUPER CHASE TWIN that subs out the CHASE for a SUPER CHASE.
In this case, CASE R loses the Francesca (Luigi's dance partner) for Yukio.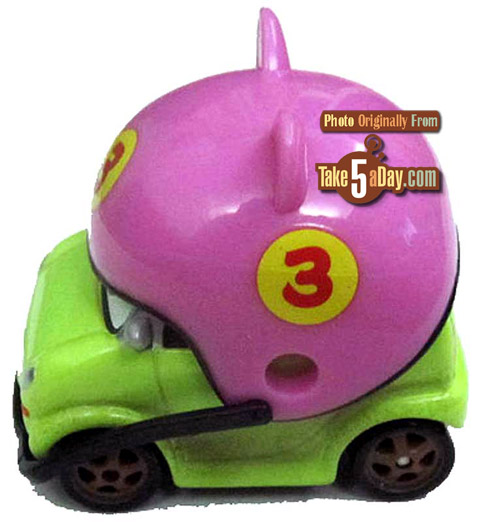 Here's Yukio (photos courtesy of "John H.").
So, here's CASE R.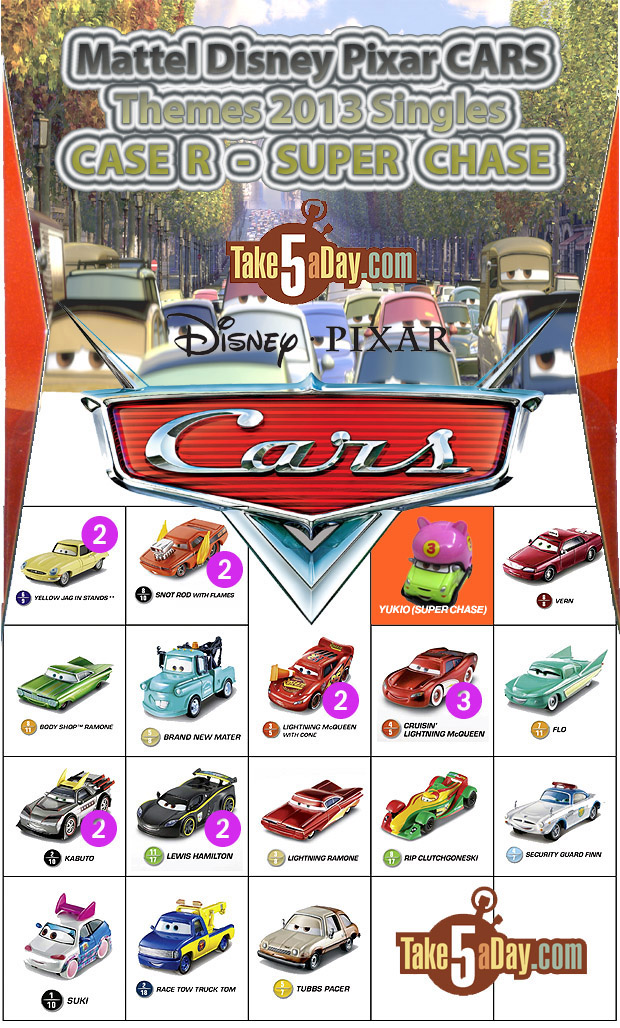 Also what's odd is that CASE R is scheduled for August. So, while it's the twin of CASE H, it won't be out until August and of course, it subs out the CHASE for the SUPER CHASE …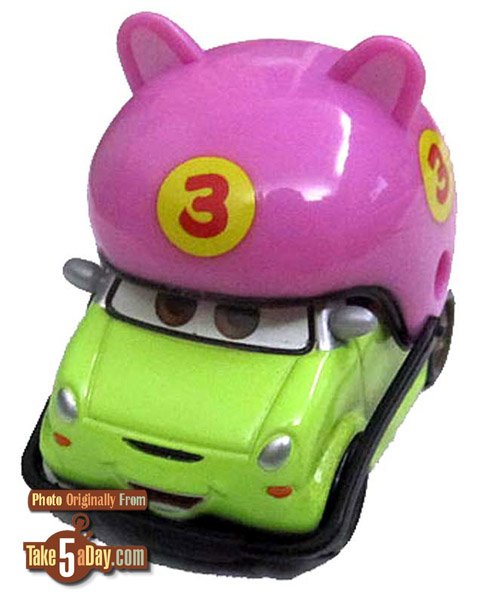 And there have been reports of this SUPER CHASE in International Cases on International Cards. While the cards still reads 4,000 production, does this new count include international or is international its own 4,000 … as legally, the 4,000 count only applies to the US … so whatever happens, it's still consulted.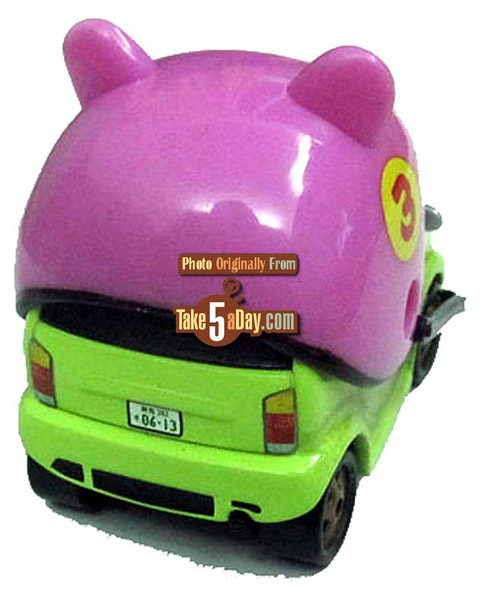 Thanks for the Yukio photos "John H."
* Yes, Mattel has shipped some H cases early but insists it is not available to ship.
So, if you want either case, give ChildrensToyCloset a ring or web ding.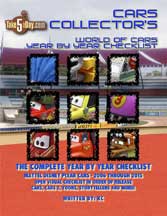 metroxing

1 July 2013

Disney, Disney Pixar, Disney Pixar CARS 3, Mattel Disney Pixar Diecast CARS


12 Comments