Home
»
Disney Pixar CARS 3
,
Disney Planes
,
Mattel Disney Pixar Diecast CARS 3
Disney DisneyToon Planes: Full Trailer & Planes Diecast
"Planes," an all-new, CG-animated comedy action adventure, flies into homes on Blu-ray™ and DVD in Spring 2013.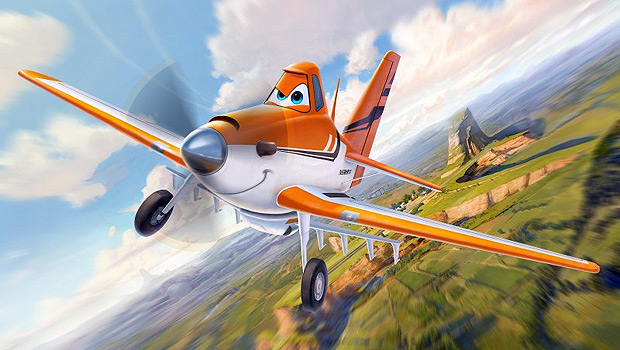 Dusty lives in the small town of Propwash Junction, and the single-prop agriculture plane could not be further from the lean, mean, trophy-winning machines he idolizes – and his co-workers remind him constantly. His mentor Skipper is convinced that Dusty has the engine to compete with the best, and helps encourage him to pursue his lifelong dreams. But if Dusty wants to make his dreams a reality, he"ll need to push himself further than he ever imagined. With the help and support of a crew of all-new and hilarious characters, Dusty wings his way into the biggest challenge of his life.
"Planes," set to introduce audiences to an entirely new and hilarious crew of daredevils from every corner of the globe, draws inspiration from the immensely popular world of Disney•Pixar"s "Cars." Created, written and produced by DisneyToon Studios under the creative leadership of John Lasseter and directed by Emmy® nominated Klay Hall, "Planes" takes off with an international cast of the fastest air racers around, in a comedy packed with action and adventure.
(thanks for the heads up on the trailer, Kevin E.!)
People have asked about my thoughts on PLANES so … Creatively, it will all depend on how much we like the character of Dusty. While it's not a "Pixar" film, clearly with John Lasseter as Executive Producer, it's not going to stray too far in terms of its look and quality of design/cinematography … and of course, expectations are slightly lower since it's a direct to home video project, as long as the story is reasonable & we like Dusty enough, that aspect should be fine. Though it will have one big strike against it as people used to seeing the beloved characters of CARS World will miss them and might be distracted more by how Lightning or Mater might react or be funnier in that section/scene of the film.
So people will go in with less anticipation and a higher degree of "show me." Unlike when the concept of Mater Toons was presented, everyone welcomed it with open arms as a chance to see Mater in new adventures. In this case, no one wants to see Dusty just "play" the Mater or Lightning part. On the other hand, flying literally opens up another animation showcase – as in the few short flying sequences from CARS, Mater Toons and CARS 2, they can be dazzling. But again, if it's all just a "roller coaster" ride in the sky, then it's just repetitive. Overall, I presume it will be an amusing ride and I look forward to seeing it.
As for the "diecasts," yes, Mattel is doing a line. While it won't be as big as a theatrical opening as with CARS 2 this June, it's got the Disney marketing and in case you hadn't noticed, they are a marketing powerhouse especially when it comes to synergizing all their media outlets … from the networks to cruise ships and Disney on ice, no one will NOT know that Planes is coming. So, it should be a pretty big launch but like CARS in 2006, while no one doubts it will launch fairly big – can it be sustained?
No one has ever sold a successful mass market diecast lines of planes. Yes, matchbox sells planes and most every boys toy property has some flying element in it but no one counts on the sale of planes as its core element. Part of the problem is that kids don't know much about planes. Sure, they can identify a bi-plane from a prop plane and that an F-14 looks vastly different but how many of each do they really want? Kids might want all 4 tuners because they are cars and they know Snot Rod is way different than Wingo and can name 10 things different about them … but do they want the 6 prop planes from the AIR MATER short simply because they are painted a different color? Or know the difference between a 707 and a 727 versus they can talk all day long about the differences between a Ford Mustang GT and a Ford Mustang Shelby? Or that each Piston Cup racer is painted different but that the F-14's and other fighters are pretty much the same gray and white with just some helmet differences?
So, while there is interest, if the first waves are simply repaints of bi-planes and prop planes + gray fighters with different helmets, how long with PLANES, the toy diecast line last?
It has to be handled carefully and with planning … or will there be 300 orange & white Dusty, the prop plane left on the pegs after 7 weeks in every store? (well, technically, 100 Dusty (Gear Up), 100 Dusty (Landing), & 100 (Flaps Down).
And for long term collectors, will scale be major issue? As with mass market plane lines (unlike high end collectible lines), like Matchbox, they tend to go by packaging size as the main size factor versus true scale. While Barney Stormin' is mostly to scale, Stu Bop & Marco are definitely not … so while I'm not saying it'll be a hindrance to launch, will it be a major factor to this being a sustaining line? Will people be miffed if the F-14 in the PLANES diecast line is about the size of Dusty the prop plane or that if there an aircraft carrier, it's slightly larger than Mack?


metroxing

1 December 2011

Disney Pixar CARS 3, Disney Planes, Mattel Disney Pixar Diecast CARS 3


15 Comments