Home
»
Disney Pixar CARS 3
,
Mattel Disney Pixar Diecast CARS 3
Mattel Disney Pixar CARS 3: Smokey, We Hardly Knew Ya … Smokey 3.0 Variant
"Toomsterev" uncovered this a few weeks back – that there was an eBay auction of a "longer bed" Smokey which of course did not make a lot of sense – poor color or wrong rims is an easy error or even limited production error but a longer truck bed? It's not like there are a bunch of rusty pickup characters in CARS … my initial thought was somehow it was a bed from the "clean" one coming from the 2-pack and it was just poorly done but it was a puzzler …
But "John H." has solved with his usual  shopping acumen & in-depth photos.
There are variants, there are VARIANTS but … Holy snikey, like the early dirt-track good ole boys of NASCAR – they done tore him down and rebuilt him!
We'll ease you into it. New one in foreground.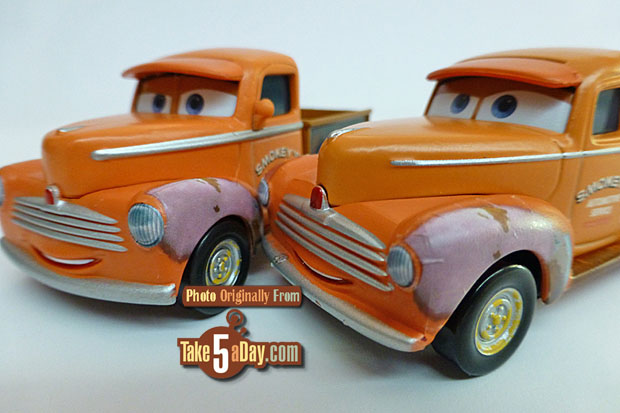 Already you see some differences including the wider bed rails and the wheel well is longer … if that were it – it would still be a major variant but that literally, figuratively and math-wise ain't the half of it.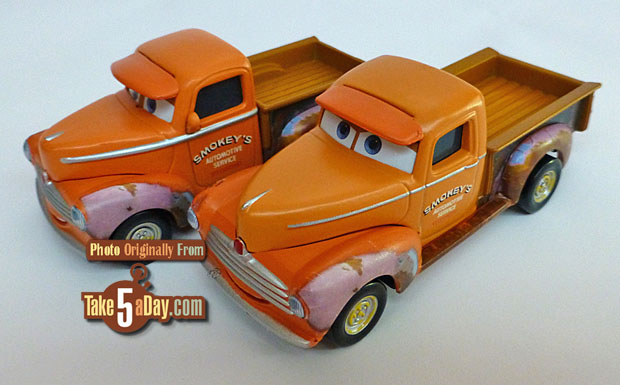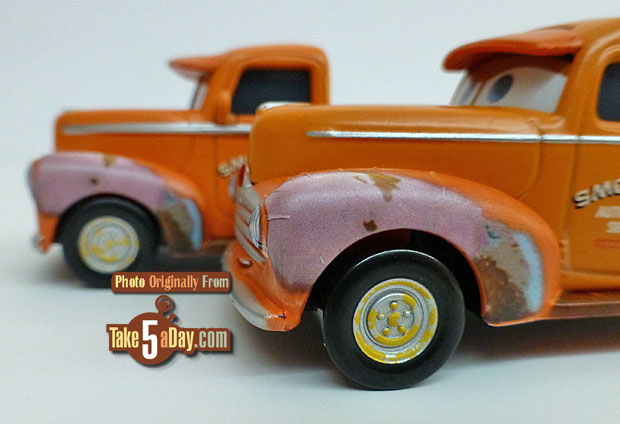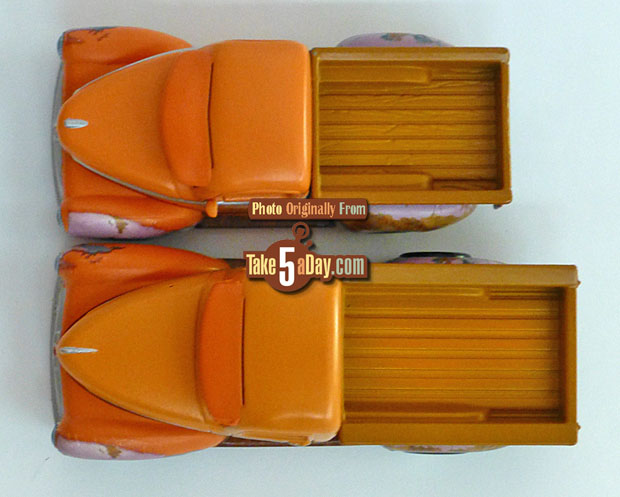 Wow, I do not recall a back end basically re-done.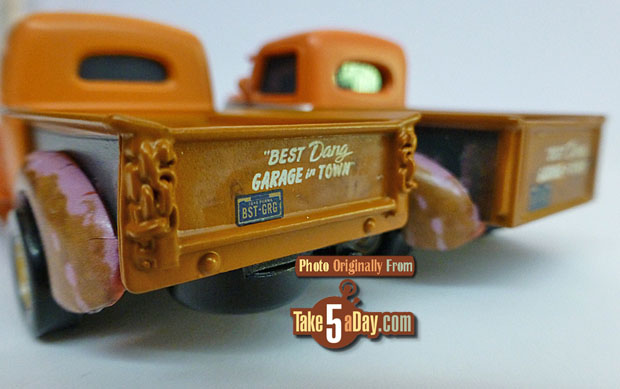 Almost like going from a Chevy to a Dodge/Hudson.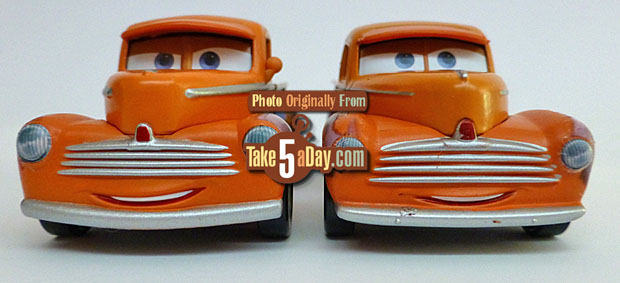 They even redid the base to ADD MORE DETAILS! Maybe we'll get a Precision Series one with a real removeable flat.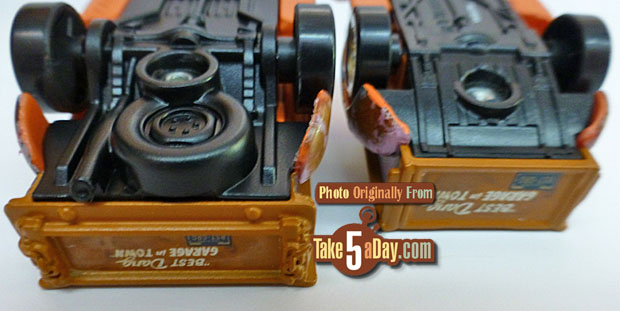 Who does that?

It is strange/surprisingly they didn't change the production number DXV37 internally – hopefully they are out of the old parts as some poor schlub trying to assemble parts of the first one onto the 2nd one will be totally confused.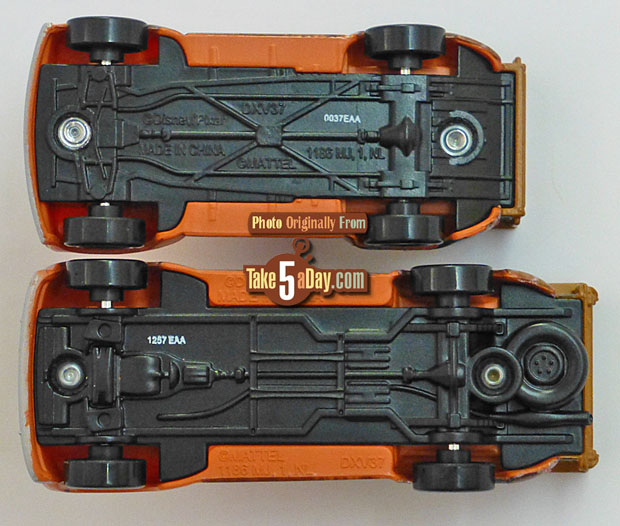 No clues on the front really … unless you have every bubble size & shape memorized.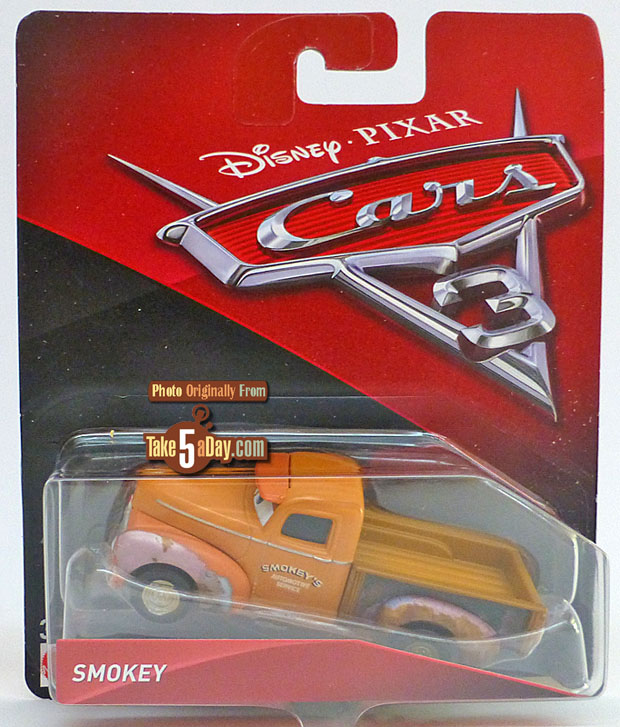 BUT there is a tiny clue on the back. They did not change any of the "also available" CARS on the back. It's virtually identical except for ONE TINY thing.
They added a HUDSON™ (bottom right) so you should be able to spot it.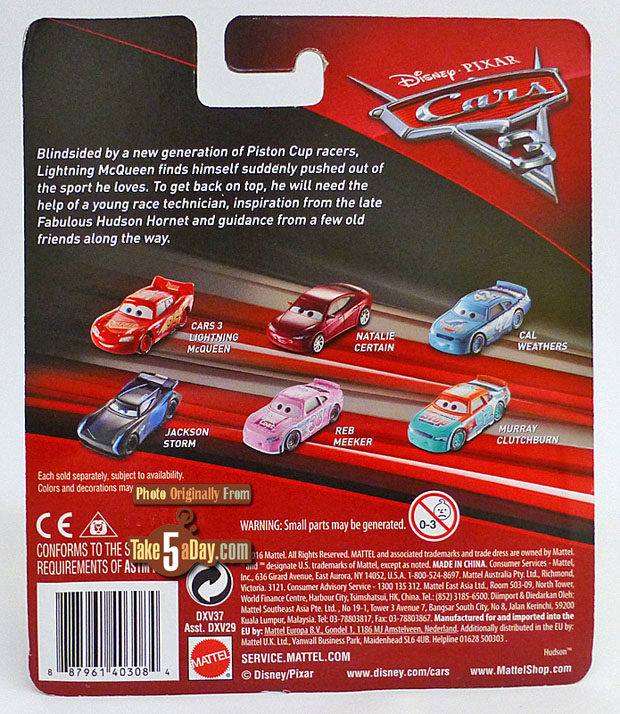 Yea, this is unheard of. We've had the obvious size re-adjustment of FRED but they basically just shrunk the sculpt without any real changes – same with a few others that moved from the regular lineup to a Deluxe (Dinoco Heli, Al Oft the Blimp, TJ) but there are no others who basically got a 90% re-do … perhaps Chrysler-Dodge (who owns the Hudson name) looked at it, "This ain't it." and made them re-do it or the designer of the character at Pixar pointed it out but I'm not complaining. It would be a cynical thing to re-sell you a Smokey if they just added a longer bed (just a plastic part) but this is really a new sculpt, and every plastic piece is re-done plus they didn't just extend out the chassis/base but redid that also. It's basically a new release. It's not just Smokey 2.0 but they skipped a whole version to 3.0 – weird but nice!
I guess you can say Release 1 Smokey is the first retired CAR of CARS 3.
In fact, "John H." has outlined the entire list of differences – holy snikey!
Hood side spear: very thick on short wheelbase version, much more realistic scale on long wheelbase version
​Front fender; was very short, now longer aft of the front wheels
Side mirror; short Smokey has them, long does not
Door handles; none on short Smokey, there on long
Door hinge on new sculpt
Different shape side windows
New version has long bed, longer hood and longer cab
New version tailgate is more realistic and has chain detail
New longer chassis has much more detailed engine and a spare tire under the bed
Old version had wood grain bed floor
Rear valance below tailgate on the new version (old had odd tall tailgate)
Most extensive re-do since Fred?
​I like the new one a lot better.​
Thanks for the great photos and clearing up the mystery, "John H."

metroxing

24 July 2017

Disney Pixar CARS 3, Mattel Disney Pixar Diecast CARS 3


4 Comments