Article Archive for 11 July 2016

Disney Pixar CARS: Disney Store New Diecasts
Posted in
Disney Pixar CARS
,
Disney Store
on 11 July 2016
Stats: and
1 Comment
Thanks for the heads up, "Carromato95." No Stall-Todd "The Shockster" Marcus (I think he was out years ago?) Trunk Fresh is also back. The Chip Foose 1;43 CARS are also out. If you sign up for eBates (our link), new members get a $10 gift card with purchase. Then search for the Disney Store – […]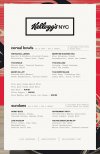 Kellogg's Has Opened a Cereal Store in NYC
Posted in
Food
on 11 July 2016
Stats: and
No Comments
Kellogg's is now available without you having to do any work except strolling in … Sadly only in NYC.

Mattel Disney Pixar CARS: New "Movie Moments" Lineup with Accessories
Posted in
Disney Pixar CARS
,
Mattel Disney Pixar Diecast CARS
on 11 July 2016
Stats: and
1 Comment
Thanks for the heads up and links, "John H." The Piston Cup racers with barriers were previously announced but now, it looks like the line is expanded with Piston Cup themed diecasts – all with accessories. These photos presumably show the previous release of the racers with raised eyebrows/windshields versus the current releases which are […]